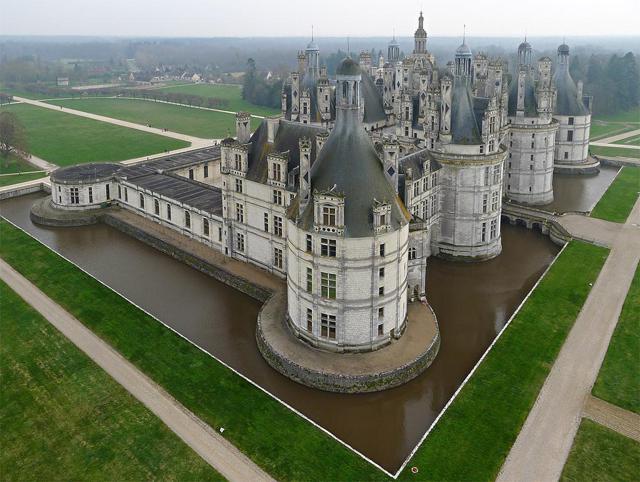 Click to enlarge
Much like the Chateau de Chambord in France, a defensible moat surrounding the technology ecosystem of products from Fitbit (NYSE: FIT) now exists and it is rapidly growing stronger. In fact, the technology barrier to entry in the entire wearables category has emerged to become increasingly formidable for companies wanting to launch a new product and achieve sizeable market share.
It is still early days in the wearables category, but for a number of these companies, the defensible technology moat already exists and it is growing rapidly. The rise of the personal wearables computer is upon us and the technology is advancing. We know that a moat exists in wearables technology because a number of major companies have tried to enter the wearables category with either limited success or something resembling failure on their initial attempts.
Numerous companies have attempted products in wearables, but not all have succeeded on their first run. Major companies, as well as smaller and new companies are scrambling for a place in the wearables market. Because of the rising technology barrier to entry, it is taking some major companies a second attempt to get it right in wearables.
At this time, the Top Five Wearables Vendors, as measured by the IDC in the graphic below, are all in the wrist wearables sub-category. But this will likely change in the near future as other types of wearables are now being brought to market and gaining traction. It is likely that the IDC, Gartner, and others will create future sub-categories for wearables to include the emergence of headsets, smart glasses, clothing wearables, etc.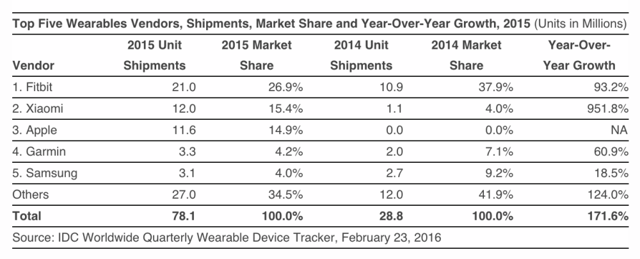 Click to enlarge
In 4Q15, there were only 5 companies achieving noteworthy success as shown in the IDC report. Each of the top five companies in wearables have something other than being wrist wearables in common: they each have an in-house design team with engineers and developers able to perform successful research and development. Having this in-house R&D capability gives a company greater control over the direction of their products and seems to have resulted in higher quality products, with Xiaomi being the exception due to its low cost/low quality product strategy for the Asian market. The technology barrier to entry in wearables is one reason why only five companies have gained significant market share in the category. The trend towards higher levels of innovation and a greater technology barrier in wearables will continue.
The defensible moat in wearables technology exists. A few notable misses by major companies attempting to enter the wearables category is evidence:
Alphabet also suffered a setback on its initial wearables product entry called Google Glasses. But get ready for the return of the glassholes, as early adopters of Google Glasses were infamously labeled. Google has filed an application for GG1 with the FCC that will actually become Google Glasses version 2.0. And Google has several other innovative wearables products that are being developed. Google is likely going to be a key player in wearables for the future.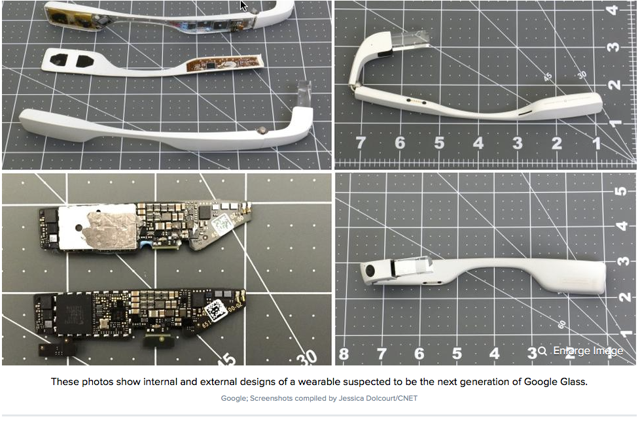 Click to enlarge
Nike (NYSE: NKE) withdrew its wrist wearables entry from the marketplace.
Under Armour (NYSE: UA) has just released a questionable wrist wearable with inferior technology and a high price tag. Please reference our article discussing this recent product release via this link.
Microsoft's (NASDAQ: MSFT) wrist wearable has been unable to achieve significant market share. But another Microsoft wearables initiative called HoloLens headset is an amazing technological advancement that we will be discussing in an upcoming article by Bull-Bear Trading as we address the numerous wearables products coming to market. Please follow Bull-Bear Trading so that we can deliver these articles to you.
Both large-cap and smaller-cap companies have stumbled in wrist wearables on their early attempts. These companies understand that future growth in this category is very valuable and they are wanting to be included. This high growth category is becoming increasingly important, as wearables technology will become integral to our lives both at the office and at home. So companies seeking future growth markets have been trying to develop an early presence in wearables to avoid being left behind by the competition. Companies trying to enter wearables have learned that a technology barrier exists and the amount of resources required to achieve entry is rapidly increasing.
One recent example of the increasing usefulness and efficacy of wearables products has come from media coverage of the Fitbit ecosystem. The following provides a glimpse into the future capabilities of what wearables will be able to contribute to society as companies like Fitbit are investing heavily in their R&D effort:
Please use this link to access the ABC news segment, Saved By Fitbit. The still image below is not interactive.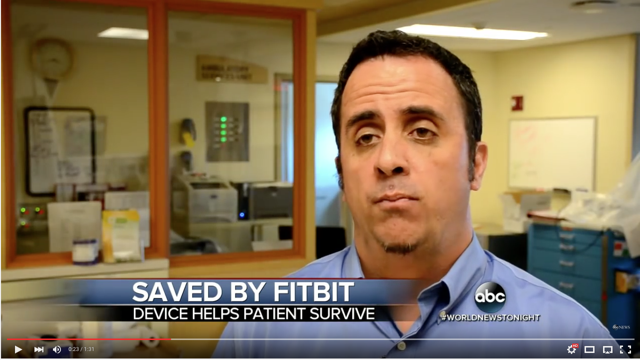 Click to enlarge
Can your fitness tracker save your life in the ER?
Clearly, emergency room physicians displayed creative thinking to gather key information about the patient from his Fitbit in the news story above. The logical progression for this watershed event is for physicians to use this as a medical case study to make the use of mHealth wearables devices like Fitbit a part of their standard practice so physicians can gather key data about their patients. The genie is now out of the bottle for mHealth wearables devices and continued innovation will drive the growth of industry leaders like Fitbit.
This high profile, media story in the U.S. involving the application of the Fitbit technology to arrive at a life-saving solution in the hospital emergency room may very well become a watershed event that leads to more widespread usage of Fitbit and other mHealth wearables. But for those who have been watching Fitbit closely, we know that this is actually the third instance of Fitbit being credited with providing life-saving biometric data during recent months. It seems that as this mHealth device is being used by an increasing number of people, more life-saving incidents are occurring.
It is hard to say how many positive events involving mHealth tech have occurred without being reported in the media. The first widely publicized event where a Fitbit was credited for saving the life of a teenager occurred in the United Kingdom during January 2016.
Then in February 2016, this media report of an Australian man whose heart rate had become abnormal was suffering dizzy spells. His visit to the medical doctor did not uncover any issues. But when his daughter bought him a Fitbit they quickly identified his highly irregular heartbeat and with this information he was able to receive life-saving medical treatment. These positive mHealth events are likely to continue as the number of devices continue to proliferate into the marketplace.
Many people suffer from heart issues and would benefit from the use of a mHealth fitness tracker. An even greater number of people will likely adopt the use of a mHealth wearables device as a preventive measure to guard against the unexpected. The fact that an mHealth wearables device has saved at least three lives in highly publicized events during the start of 2016 means that this phenomenon is likely to be repeated. We will continue to see numerous incidents of wearables devices delivering key biometric data to consumers that can be important and even life-saving. Increasing numbers of consumers will adopt the use of mHealth wearables in the future.
The range of applications for wearables is expanding as innovation continues at a rapid pace in this high-growth category. The possibilities for an expanding range of applications by wearables in the future is beginning to come into focus. Consider the January 2016 case of a man who lost his personal relationship with his significant other at about noon and then happened to notice that his emotional stress level was elevated as a result due to it being recorded by his Fitbit's ecosystem. The future is going to bring a great deal of innovation and self-monitoring of biometrics to improve individual health. Today's leaders in wearables are likely to benefit greatly from the continued high growth of the category and continued innovation of products, technologies, and applications.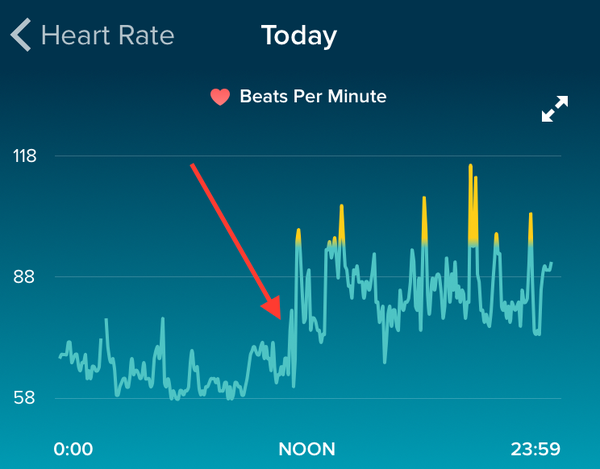 Additionally, there is the February 2016 report of a couple discovering that the woman was pregnant due to her new Fitbit registering her elevated heart rate. Some research into the matter led them to the possibility of pregnancy, which was confirmed by a medical checkup. It is very early days in wearables and mHealth but already we are getting indications of how significant these devices are becoming to all of us for many reasons.
Another unexpected application for the Fitbit activity tracker just surfaced: crime sleuthing. Detectives used a woman's Fitbit to help prove that she was lying about a false rape claim. The innovations and applications for wearables and mHealth are becoming numerous today and they will increase tomorrow.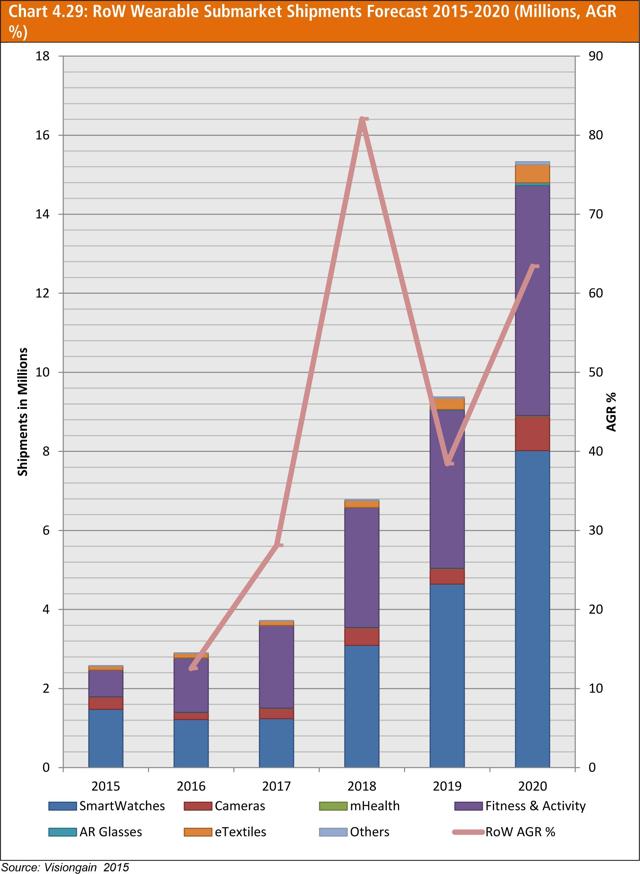 Click to enlarge
Some wearables in mHealth will require FDA approval but for now devices like the Fitbit ecosystem are not considered medical devices. This may make sensors like a heart rate monitor slightly less accurate than the high cost, less mobile devices that you would encounter in a hospital. However, the independent and reliable Consumer Reports organization has completed two separate tests on Fitbit products and found the heart rate monitors to be, "very accurate." This high degree of accuracy makes the device useful for most consumer needs short of a visit to the doctor. This finding by Consumer Reports may also be useful to dispel a recent attempt to file a class action lawsuit against Fitbit regarding their PurePulse patented heart rate monitor technology. Fitbit has stated that the lawsuit is without merit.
The National Institutes of Health provide a service called ClinicalTrials.gov revealing there are currently 88 different trials being conducted with the use of Fitbit's ecosystem. It is undeniable that the amount of biometric data being compiled and released in credible studies will promote the benefits of increased activity for all of us. It is notable that Fitbit is the owner of the world's largest library of biometric data.
Possibly, this database will be monetized in the future as insurers, researchers, and healthcare may benefit from access to this unique biometric information. The fact that Fitbit is the ecosystem of choice for researchers in so many clinical trials is making this company's products the national standard in fitness trackers. The heavy R&D spend at Fitbit will bring innovations that will advance mHealth and the wearables category. Importantly for investors, these innovations are also likely to advance the price of Fitbit's stock for years to come.
Employers are increasingly aware of the benefits of implementing a corporate wellness program. Over 70 companies in the Fortune 500 are already customers of the Fitbit corporate wellness program. Here is an example of how significant the cost savings can be for a small/medium-sized business to implement a Fitbit wellness program. This business earned a $280,000 savings on their insurance costs.
In addition, Anthem gave the business a $20,000 grant to implement the fitness program and then renewed another $20,000 grant again this year. Total benefit to the business of $300,000 in the first year and then a greater benefit as the company adds more employees to the wellness program going forward. Please also note that this small business discarded their initial choice to use Jawbone trackers due to problems and then upgraded to the Fitbit ecosystem with success.
Health insurers understand that these wellness programs save huge amounts of payouts for coverage of expensive healthcare. And life insurance companies have done the math to understand that Fitbit trackers significantly reduce the amount of benefits paid out. Consumers, employers, insurers, and healthcare providers agree that usage of the Fitbit ecosystem is a win-win for all.
The pace of innovation at Fitbit may quicken as the company has been ramping up its R&D spend. CFO Bill Zerella reports that an entire 2/3 of Fitbit's nearly 1000 employees are now involved in R&D. The quantity and quality of talent being attracted by Fitbit is evidenced in this article on Fitbit's Boston office. A look at the job openings on Fitbit's website communicates volumes on the direction of this wearables/mHealth pioneer. Scroll down to the bottom of the job openings board and count the number of engineers, designers, and developers being hired. Also note that Fitbit is even drawing engineering talent from Eastern Europe into its Minsk office.
The growing library of Fitbit patents is likely to accelerate as the recent ramping up of the R&D effort continues to deliver results. Possible innovations may include sensors that indicate blood pressure, stress, blood glucose levels, hydration, etc. Keeping in mind that Fitbit co-founders Park and Friedman are software guys by trade, innovation may also arrive in the ability of the ecosystem to transfer biometric data from the consumer to employers, insurers, and healthcare providers via the online platform. No other wearables product has achieved the worldwide scope of consumer and corporate acceptance that Fitbit enjoys. This gives this rising wearables star many first-mover advantages in the years ahead as new products are launched.
A member of the Russell index, Fitbit's future is very bright and the current substantial discount in its stock price presents a compelling buying opportunity. Fitbit is a rising star leading a fast-growing category with great promise for the future with new technology that will help to shape the business and consumer mHealth landscape. The concept of being able to save insurers, employers, and consumers money by helping to improve the quality of people's lives is a win-win for society globally. Fitbit is at the forefront of this ongoing preventive healthcare revolution.
Shares of Fitbit have recently undergone an unjustified sell-off from $31 in January down to $12 in February. Please note that after a six-week period of distribution/accumulation, a bottom has formed on the chart. Also, the stock has just broken the long downtrend line. With the stock trading at about $17 as of this writing, it appears that a cup and handle pattern may be forming on the chart.
Shares of Fitbit stock are still very undervalued by its forward P/E of only about 11 and a PEG of about 0.6. Bull-Bear Trading believes that a valuation for Fitbit shares in the mid-$30s may be more reasonable for the wearables industry leader that delivered 92% revenue growth in 2015. During a recent investment conference, CFO Bill Zerella indicated the possibility that we could see a beat on both lines along with a raise in guidance during the 1Q16 earnings report in May. This is due to the success of both new product launches for Blaze and Alta that have, "exceeded expectations" and resulted in early re-orders according to Bill Zerella.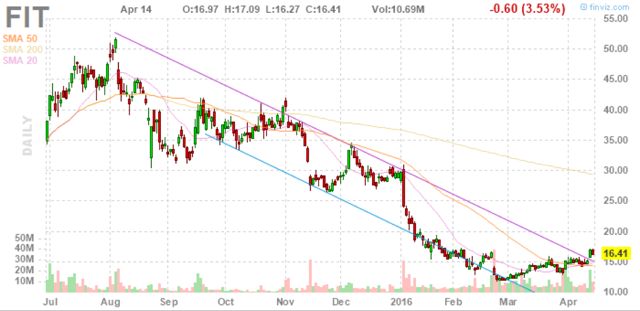 Click to enlarge
Please reference Bull-Bear Trading's recent article on the unjustified sell-off but this has since begun to correct itself back upward on continued good news from the company. We have been positive on Fitbit stock over the course of a half-dozen articles starting in late January of this year that you may find helpful. These articles can be found by using this link or the link from our Bull-Bear Trading name and avatar above this article.
The popularity of Fitbit's ecosystem has soared on Main Street from late December 2015 through the present according to Alexa data. Compare the two chart patterns below of Alexa traffic ranks for fitbit.com against the stock chart for Fitbit shares during the January-February time period. Note that these two charts display an inverse relationship. It is unusual for such a dissonance to occur and highly unlikely that both charts could reflect a correct sentiment.
Either Fitbit is not as popular as Alexa.com data states, or else the price of Fitbit stock should not be as cheap as it has now become. The data from Alexa provides incontrovertible evidence that the popularity of Fitbit products has indeed soared during the holiday/post-holiday time period as measured by visits to the fitbit.com website. This could signal that Fitbit stock is oversold based upon errant sentiment. Since the fundamentals at Fitbit are excellent and improving, it may stand to reason that the recent sell-off in shares of Fitbit have been unjustified.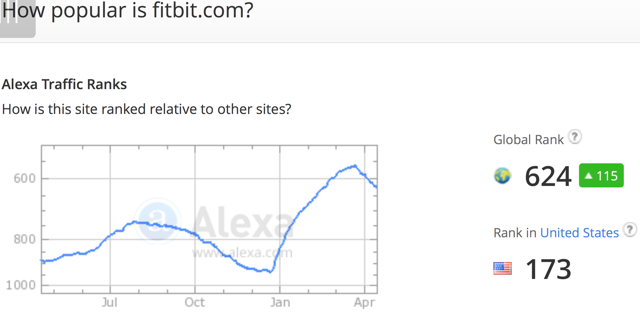 Click to enlarge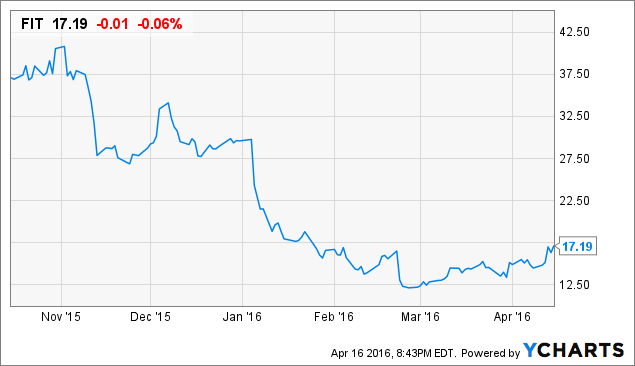 FIT data by YCharts
And the following graphic demonstrates that Fitbit actually took back market share from competitors in 4Q15: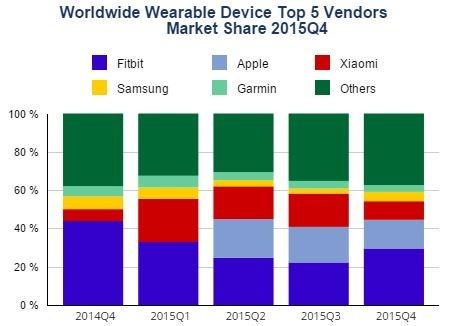 This dissonance in stock price movement and sales growth has created an opportunity for investors. Most industry leaders of a category that grew 171% in 2015 would trade at a substantial premium instead of a discount. There is certainly the existence of a cognitive-emotive dissonance in the current price of Fitbit shares. While the facts of Fitbit's strong fundamentals appeal to our more thoughtful processes, the errant negative sentiments and emotional confusion regarding this stock has created an excellent opportunity for investors able to discern the facts. The current misunderstanding of Fitbit and its oversold condition is reminiscent of the Facebook (NASDAQ: FB) stock price decline following its unfortunate IPO experience. Wall Street had that tech stock wrong also, and it created a tremendous buying opportunity for investors able to separate fact from fiction.
Fitbit is currently the fastest growing pure-play in wearables worldwide and its strong fundamentals and high growth make its oversold stock price a compelling buying opportunity.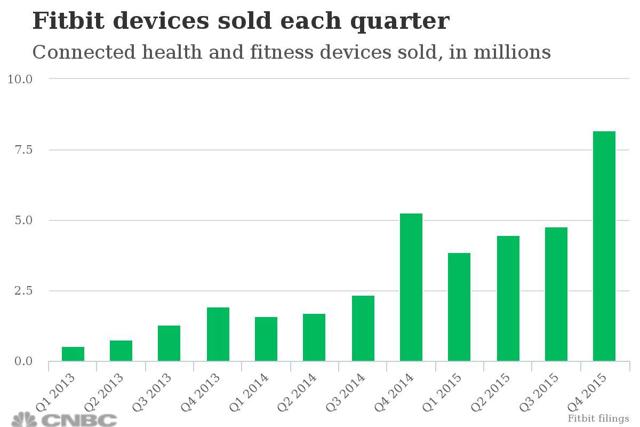 Click to enlarge
The existing technology barrier to entry in wearables has been established by the category's pioneering companies, such as Fitbit. This company has established first-mover advantages worldwide and may likely reap the rewards of this position for the foreseeable future.
The wearables category is now experiencing rapid growth as new products are being brought to market. Some of the new wearables products are headsets, smart glasses, cameras, contact lens, clothing, etc. Applications are being developed for virtual reality, augmented reality, and mixed reality wearables products. These revolutionary products are upon us now and Bull-Bear Trading is excited to be providing coverage of these products for the Seeking Alpha community immediately. Please follow us as we look forward to discussing these ideas with you!
Disclosure: I am/we are long FIT.
I wrote this article myself, and it expresses my own opinions. I am not receiving compensation for it (other than from Seeking Alpha). I have no business relationship with any company whose stock is mentioned in this article.