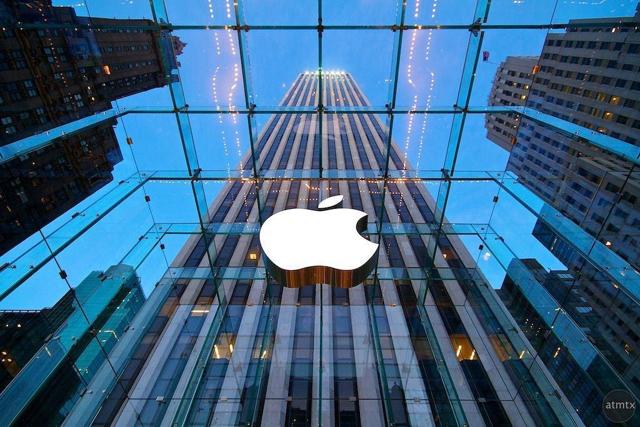 Click to enlarge
My investment strategy normally is to find an informational edge on smaller and less followed stocks. Apple (NASDAQ:AAPL) is neither of these and probably never will be, but there is a reason why I like the investment. It is hard to say if Apple is grossly mispriced, as fellow SA author Erik Bergseng put it, with the number of investors looking at the company. Could the market be so wrong? It is one of the most heavily-followed stocks, and would be very difficult to take advantage of information that is regularly available to all investors. I still see profits to be made with limited risk.
So why do I like Apple?
I believe a lot of bearish investors are looking at the company the wrong way. Sometimes when I look at large-cap companies I think to myself, "Would I want to own 100% of this company if I could at the current market capitalization?" The answer for me is yes on Apple.
Apple currently has an enterprise value less investments of $440 billion and is generating $63 billion a year in free cash flow. This is good for a FCF yield of 14%. Why wouldn't any investor want to buy the whole company at that current cash flow yield? What is the difference if you only own a small portion of the company? Yes, if you owned 100% of the company you could steer it in the direction you wanted it to go in, but other than that I don't see a compelling argument. Even if there was a 10% decline in FCF in the next two years the company would still be generating $56.7 billion or 12.8% FCF yield at a $440 billion value. These are great FCF yields for any business owner, so why not start looking at it in this prospective.
The law of large numbers has finally caught up with Apple. Growth has slowed and is the reason for the mispricing. Psychologically, investors are still in the mindset that Apple is a growth stock. To see any large growth in iPhone sales will be very difficult, but we do have a business that appears sustainable and generates outsized cash flows at current prices. Any wholly-owned business that generates 10% or greater yields would be snatched up quickly at an attractive price.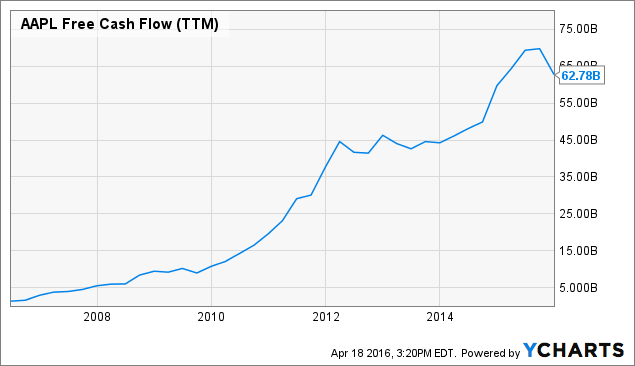 Concern
The main concern I have as an Apple investor is its turnover rate. What I mean by turnover rate is how quickly can Apple get costumers that already own an iPhone to buy a new one. I see Apple's ecosystem as a very sticky business, and it would be hard for consumers to switch once they have all their music, apps, and images/videos with Apple. So, I'm not worried much about costumers switching to another competitor.
The turnover rate is the most important now, especially after passing a billion active devices. It appears Apple would like consumers to buy a new iPhone every two years. The main way Apple completes this task is by sending out updated iOS versions that work great on the newest iPhones, but can run horribly on older phones because of less processing power and features. This is a good strategic move on Apple's part, because it brings customers back much more quickly than they would have if the iPhones were working smoothly for five-plus years.
Conclusion
I have an overweight position in my portfolio with Apple. Mostly because of the cash flow yield and the large amount of cash/investments currently on the balance sheet. Both of these protect the investment from downside risk. If turnover rates stay consistent with the two-year cycle, Apple could outperform the market in the near term. I only have a medium-term horizon on this investment because the technology sector is a highly competitive and ever-changing industry.
I hope to keep writing articles on stock spin-offs and deep value situations. Please follow me on Seeking Alpha if you like what you're reading and you will be notified when I publish new research.
Disclosure: I am/we are long AAPL.
I wrote this article myself, and it expresses my own opinions. I am not receiving compensation for it (other than from Seeking Alpha). I have no business relationship with any company whose stock is mentioned in this article.