Despite putting on a gain of over 16% this year for shareholders, we believe that at 8.34 times trailing earnings, GameStop (NYSE:GME) is a bargain right now. A recent move into publishing could give the company a much-needed lift and help it keep growing its bottom line.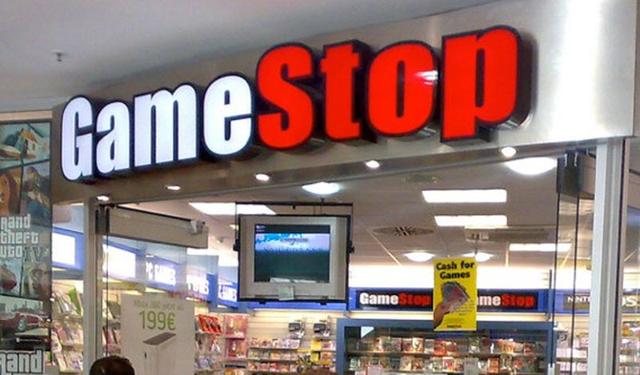 Click to enlarge
Unfortunately for GameStop, the industry has changed dramatically in the last decade. There was a time, not that long ago, when consumers had to visit a store to purchase the latest video games. But technological advances mean this is no longer necessary. Online shopping and digital downloads are helping gamers - who aren't generally known for being overly active - get hold of the latest games from the comfort of their own home.
We feel GameStop can still compete online. It may be getting undercut by Amazon (NASDAQ:AMZN) by a few dollars here and there, but with its PowerUp Rewards program, it does make paying that few dollars more potentially worthwhile for gaming enthusiasts. We have all seen how successful reward programs are, and we expect this to be successful too.
Especially because the price differences really aren't always that big. For example, the current number one selling PS4 game in the US is Tom Clancy's The Division by UbiSoft (OTCPK:UBSFY). This is currently $57.19 on Amazon, or $59.99 from GameStop. Another advantage is that if the customer is desperate for the game, they can pick it up from the store, rather than wait for delivery.
There is, of course, a danger in the future that consumers will just buy directly from PlayStation and Xbox and do away with the need for ever using GameStop or even Amazon. Buying and downloading games directly through the console is both easy and convenient.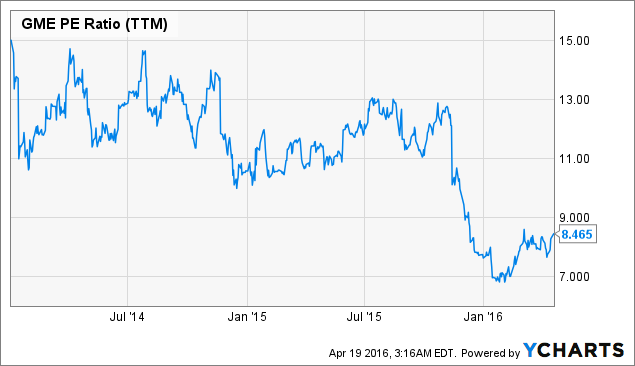 Perhaps for this reason we won't be seeing GameStop's stock trading at the 11-13 times earnings range any time soon, which is shown above. But the ability to buy games this way has been available to consumers for some time and still GameStop and Amazon are doing just fine.
The announcement that GameStop is launching its own publishing division is a great move in our opinion. GameTrust, as it will be known, has signed up a number of independent studios, including Ready at Dawn, Tequila Works, Frozenbyte, and Insomniac, in the hope of releasing up to 10 new games per year. If these studios can develop some successful games, and they have the talent to do so, it could give GameStop a slight edge over its competitors by having exclusive content.
We are very pleased that the company won't be taking an active role in the creative process. We are of the opinion that it is best to leave that to the developers which know exactly what they're doing. Too many cooks spoil the broth, after all.
One such game that is in the works is Song of the Deep. We are eagerly awaiting its release in July, and judging by the company's plans for it, it could be huge. GameStop's Mark Stanley was quoted saying that: "With Song of the Deep, we are publishing a book and we are also looking at potential TV and movie deals." Exciting times for GameStop in our opinion.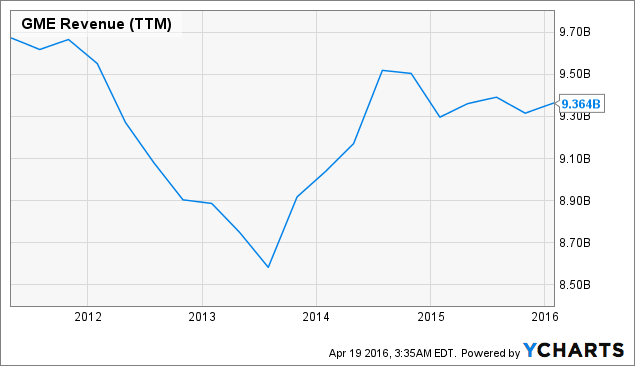 Exciting times is exactly what shareholders need. There has been little to get excited about recently, with the company's revenue growth stuttering to some extent, as you can see above. The launch of GameTrust could be just what the company needs to get revenue pumping again.
We are expecting the company to grow earnings by around 5% on last year. This means full-year earnings of $4.09. We believe the reports that Nintendo will imminently release a new console will be a big boost to retailers such as GameStop. In our opinion, Nintendo brings out a lot of casual gamers which have little interest in owning a PlayStation or Xbox.
If we were to value the shares at a price-to-earnings ratio of 9, then we see fair value for GameStop being $36.81 by the end of the fiscal year. A 14.2% return on your investment today is not to be sneezed at.
There is at long last a lot going for GameStop which could create buying pressure that drives the share price higher in the next few months. Hence, why we bought in before it was too late.
Disclosure: I am/we are long GME.
I wrote this article myself, and it expresses my own opinions. I am not receiving compensation for it (other than from Seeking Alpha). I have no business relationship with any company whose stock is mentioned in this article.