The past 2 years have not been kind to Emerson Electric EMR as the company has fallen almost 20% compared the S&P's nearly 12% gain. 2014 and 2015 both saw falling revenues for the company due to industrial demand slowing and an unsuccessful attempt to enter the data center market.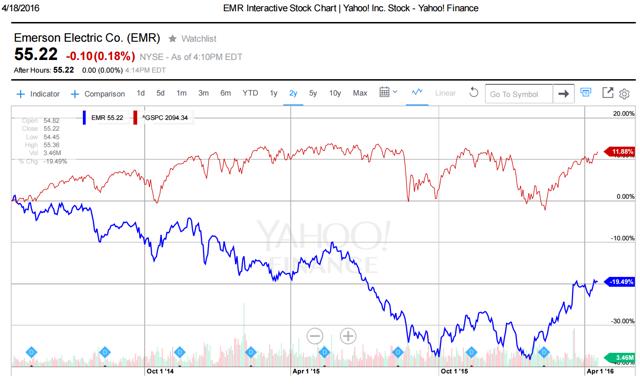 Click to enlarge
But 2016 is looking like it could be the year things turn around with the latest internal EPS guidance of $3.05-$3.25 for FY2016 beating analysts consensus of $3.03 EPS. Could we be seeing the start of a turnaround at Emerson Electric, or is there more room to fall? If you are a long-term investor now may be a great time to establish a position in this stock and collect a very respectable dividend that has seen consistent annual increases.
How We Got To Today's Price
While the company is still forecasting EPS to be better than the consensus, 2 years of falling revenues and the anticipation of falling sales throughout the 2nd quarter of fiscal 2016 have drove the share price down. Since the second quarter of fiscal 2015, the company has seen steadily declining sales from (.3%) all the way down to (9%) in its most recent quarter.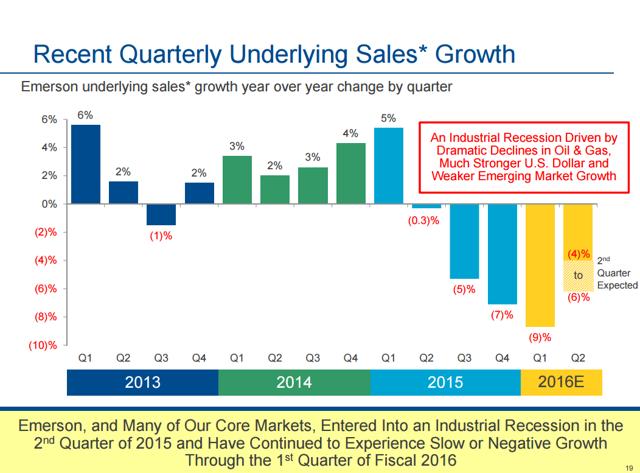 Click to enlarge
While this certainly is not an encouraging sign for investors the company is predicting that by Q3 of this fiscal year the company's sales should be turning slightly positive and remaining flat or growing up to 2% in the second half of this year.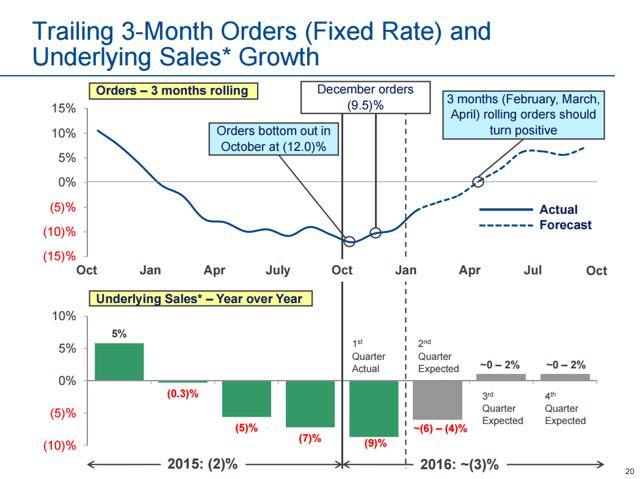 Click to enlarge
While zero is better than negative numbers, it may not leave investors feeling all too confident in the company's potential turnaround in the near future. But, Emerson Electric has not been in business for 125 years by just sitting around and this company does have competent management with a plan to right the ship.
Where is the Company Going?
CEO, David Farr, laid out a plan to restructure the company and transform it into a leaner, more focused organization by selling certain segments of the business and aggressively pursuing acquisitions to rebuild the new Emerson to approximately $20 billion. These specifics include to sell or spin off its network power segment (which Siemens is reportedly interested in). The company also plans to spin off its data center investment and sell its motors & drivers and power generation business sometime in 2016 with the remaining storage business to be sold sometime in the first half of 2017.
If the plan does come to fruition, the new Emerson Electric will be a lower-revenue but higher-margin company with about two thirds of revenue being derived from industrial automation and the remaining third from commercial and residential solutions.
The company shared a 2016 forecast on 1 of the 2 segments, "Commercial & Residential Solutions" in its most recent investors presentation. This segment is projected to grow about 1-4% while providing an EBIT margin of ~23.7%, and it is encouraging to see they have selected this growing segment as part of the "New Emerson".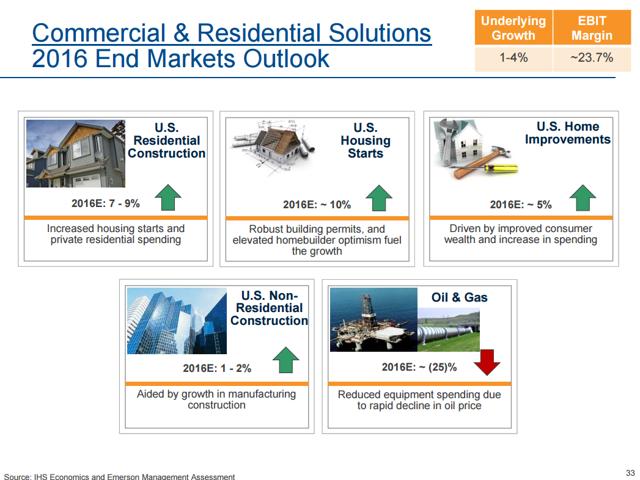 Click to enlarge
But what about the other segment, Industrial automation? The only slide found is the one below: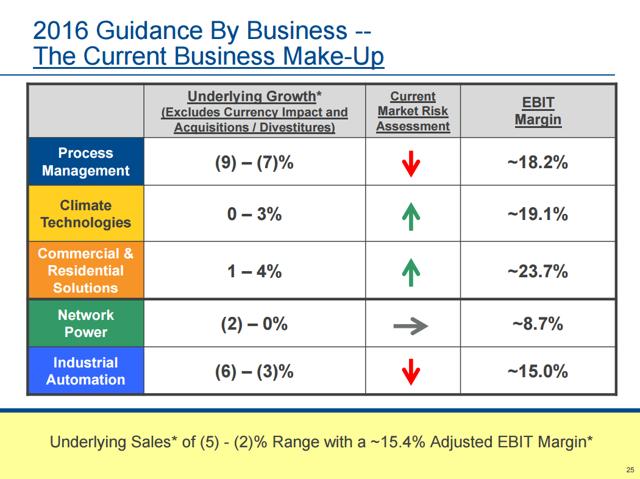 Click to enlarge
We see that the underlying growth is decreasing between three and six percent; and it is the performance of this sector will be one of the key items to watch over the next couple years as it is supposed to provide two thirds of revenue to the newly restructured Emerson Electric.
The company has mapped out three broad scenarios of how things could potentially play out given the effects macroeconomics will have on the company for the remainder of 2016; with outcomes ranging from recovery to recession.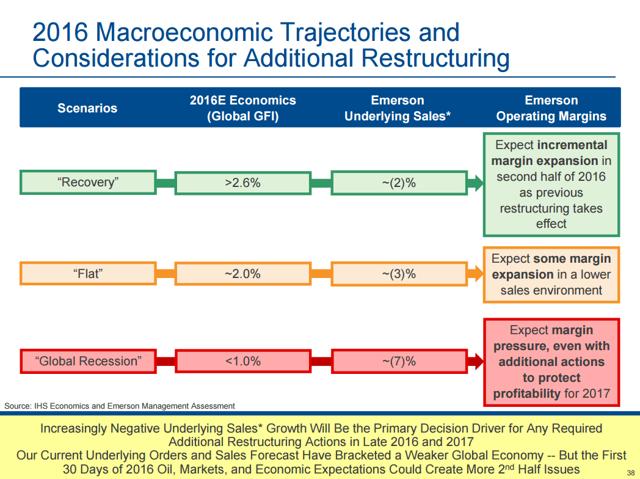 Click to enlarge
That being said, the company feels that the World GFI will be about the same as 2015 at ~2% and see the second half of 2016 providing some relief for the company. If not, it will be interesting to see what "additional actions" the company takes to protect itself should a global recession occur.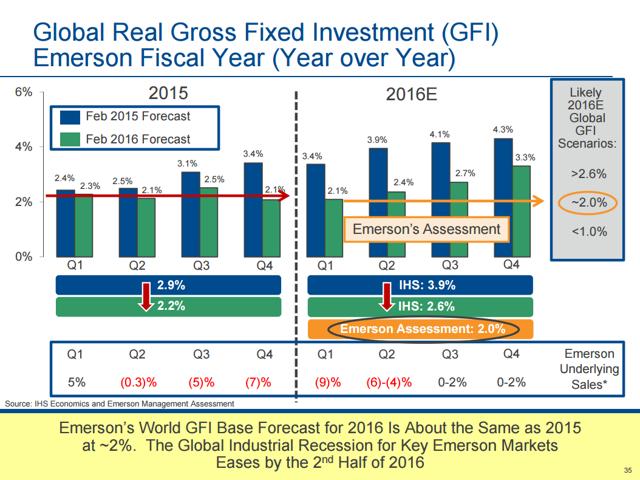 Click to enlarge
The Dividend
This restructuring will take some time and investors today can currently collect a sizeable dividend that is currently over 3%. If that is not enough to get you excited, keep in mind that the company has raised dividends annually since 1956.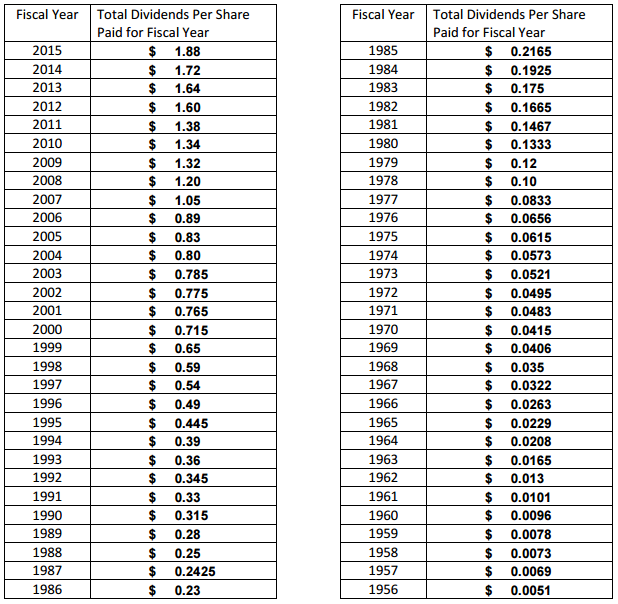 Of course now we get to answer the question any smart investor asks when seeing a dividend. Is the dividend safe? The answer is yes. This coming year's guidance calls for $3 billion in operating cash flow and about $2.38 billion in free-cash-flow. That equates to roughly 1.9 times last year's dividend payout. So for anyone unsure of collecting that dividend, rest assured you will not only be getting it, but may see the company's 61 st annual increase.
Conclusion
While we watch this scenario unfold, three key things as investors we should watch are:
Execution of the restructuring plan by the management
Signs that the dividend is safe and will increase
Industrial automation needs to rebound
I think that in the long run we will see this company make a resurgence if the company can effectively execute its plans and we see a recovery in industrial automation. Investors will be justly compensated in share price appreciation as well as dividends that have a long history of annual increases.
Disclosure: I am/we are long EMR.
I wrote this article myself, and it expresses my own opinions. I am not receiving compensation for it (other than from Seeking Alpha). I have no business relationship with any company whose stock is mentioned in this article.