United States Steel (NYSE:X) has had a blistering run on the stock market in 2016 so far, appreciating in excess of 135% so far as the conditions in the steel market have improved. In fact, United States Steel has continued to march higher despite negative analyst views, indicating that investors are confident that the company is well-placed to benefit from favorable developments in the North American steel market. As such, in this article, we will take a look at the reasons why United States Steel remains a good investment despite its impressive run on the market so far this year.
Favorable conditions will drive growth
Steel prices have been on the rise so far this year. In fact, in a period of just two weeks from March 28 to April 11, steel prices have improved in a range of 8%-15% across the globe. More specifically, in the U.S. itself, steel prices for hot-rolled band have shot up 8% to $504 per metric ton in this two-week period. In all, the price of hot-rolled band has increased around 19% in 2016 so far, indicating that conditions in the U.S. steel market are improving.
Additionally, the export price of steel across the globe has increased around 15% to $370 per metric ton on April 11 from $321 per metric ton on March 28, while the rise so far this year stands at approximately 32%. The following chart shows the global trends in steel pricing:

Source: Steel Benchmarker
Thus, as evident from the points discussed above, the price of steel in the U.S. has increased at a far slower pace than the export price. This is good news for United States Steel since the advantage that cheap, imported steel had over locally-produced steel in the U.S. is eroding. In fact, as shown above, the price of steel from China has increased over 40% since January, driven by an increase in duties that are imposed on the imports of cheap Chinese steel.
Looking ahead, it is likely that steel produced in the U.S. will become more competitive as compared to global steel, and this is good news for United States Steel. Let's see why.
U.S. Steel will get a fair playing field
According to a report by the Wall Street Journal, the U.S. Commerce Department has recently imposed a huge duty of 266% on imports of steel from China. With this duty in place, steel makers from China will not be able to dump or sell their product at throwaway prices in order to improperly gain market share in the U.S. In fact, the Commerce Department has also imposed duties on goods coming from Brazil, India, South Korea, Russia, Japan, and the U.K.
More specifically, the imposition of duties on the imports of cold-rolled steel from these countries should allow a domestic steel producer such as United States Steel to compete in a more effective manner with the imported products, which were earlier sold at below-cost on the back of subsidies from their domestic governments.
In my view, this is great news for United States Steel in particular as its cold-rolled sheet has the maximum revenue share of 33% of its product mix, as shown in the chart below.

Source: United States Steel
Meanwhile, the Chinese government has also decided to cut its steel capacity in order to counter the oversupply that has been prevailing in the domestic market due to the economic slowdown. According to Bloomberg, the government of China is expected to reduce its steel capacity by 100 million tons to 150 million tons by 2020. The government has been forced to take this step in order to support better steel prices that led to an estimated $12 billion loss for the steel industry in China last year.
Now, as a result of this move, the oversupply in the global steel industry will come down, while China will also start dumping less of its cheap steel into the global markets due to reduced production. On the other hand, as demand for steel increases, the price of steel will continue to rise.
According to Steel Market Developments, the construction sector that accounts for 52% of steel use across the world is expected to pick up pace with growth of 3.6% in 2016, which is substantially better than the growth of 2.6% recorded in 2015 and 3.3% in 2014. Meanwhile, the automotive sector that accounts for 11.6% of overall steel use is expected to grow by 3% this year.
It is expected that a substantial portion of the growth in steel demand this year will come from the U.S., India, and few regions in Asia. The chart below shows the growth in apparent steel use across the world in 2016.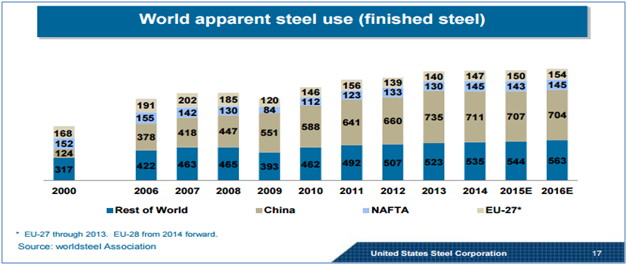 Source: World Steel
Conclusion
It is clear that the conditions in the steel market are getting better, which is great news for United States Steel. The company has benefited from an improvement in market conditions in the U.S. on the back of favorable trade rulings, and it should continue getting better as demand for steel grows and supply from a huge producer such as China falls. So, in my opinion, given the favorable developments in the steel market, investors should remain invested in United States Steel.
Disclosure: I/we have no positions in any stocks mentioned, and no plans to initiate any positions within the next 72 hours.
I wrote this article myself, and it expresses my own opinions. I am not receiving compensation for it (other than from Seeking Alpha). I have no business relationship with any company whose stock is mentioned in this article.