An update on the Yale University's endowment portfolio is long overdue. More than two years have passed since my original analysis of it. To remind, I endeavored to replicate the original portfolio, which has shown a spectacular return (more than 11% per annum) over the last decade thanks to the fund's CIO's, David Swensen's, efforts. To do so, I picked 15 ETFs and three stocks, which, I believe, offer the best publicly-available instruments that can track the original portfolio's performance. The list is given below (see the instruments' description in the article):
Alternative Strategies
Wisdom Tree Global Real Return (NYSEARCA:RRF)
Wisdom Tree Managed Futures Strategy (WDTI)
Real Estate
Vanguard REIT ETF (NYSEARCA:VNQ)
Wisdom Tree International Real Estate Fund (NYSEARCA:DRW)
iShares FTSE EPRA/NAREIT Global Real Estate ex-U.S. Index Fund (NASDAQ:IFGL)
Domestic Equity
Rydex S&P Equal Weight ETF (NYSEARCA:RSP)
Vanguard Small-Cap ETF (NYSEARCA:VB)
Foreign Equity
Vanguard FTSE All-World ex-US ETF (NYSEARCA:VEU)
PowerShares DWA Developed Market Tech ETF (NYSEARCA:PIZ)
Fixed Income
SPDR Barclays Capital High Yield Bond ETF (NYSEARCA:JNK)
iShares Barclays 7-10 Year Treasury Bond Fund ETF (NYSEARCA:IEF)
Natural Resources
iShares S&P North American Natural Resources Sector Index Fund ETF (NYSEARCA:IGE)
SPDR S&P Oil & Gas Exploration & Production ETF (XOP)
iShares Global Timber & Forestry ETF (NASDAQ:WOOD)
Private Equity/Investment Funds
PowerShares Global Listed Private Equity Portfolio (PSP)
The Blackstone Group L.P. (NYSE:BX)
BlackRock, Inc. (NYSE:BLK)
Evercore Partners Inc. (NYSE:EVR)
Yale's portfolio's asset distribution looked as follows a few years ago: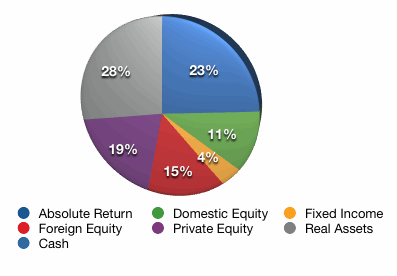 (Source: thehumanportfolio.wordpress.com)
Accordingly, the custom-built retail investor's portfolio had to have the same weights among asset classes: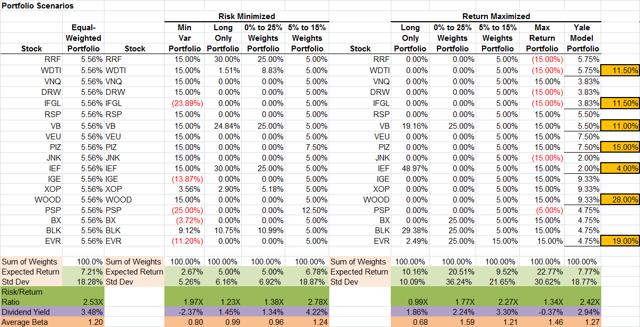 Click to enlarge
(Source: Seeking Alpha)
As seen in the illustration above, the replica's expected return totaled ~7.8% per annum with a standard deviation of returns totaling ~18.8%. The portfolio was expected to be more volatile than S&P 500 (SPX), as its beta was calculated to be almost 30% higher than the markets (beta = 1.27).
Let us now see how the original portfolio performed in 2014 (the year when I wrote the original article):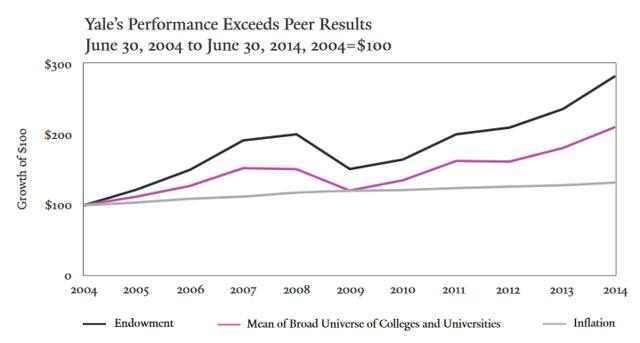 Click to enlarge
(Source: 2014 Results Presentation)
Unfortunately, the graph is not clear enough to show what return the university's portfolio has shown in 2014 (data for 2015 is not available yet). On the other hand, we know that the average return has been around 11% over the last ten years. The replica has shown poorer returns: an average of 4% over the last decade (geometric mean of 2.3% per annum) with a standard deviation of returns being at 18.5%. This does sound like a big difference, detrimental to the replica's owner. However, this direct comparison is not completely fair.
First of all, the original portfolio's returns include dividends, which I have not accounted for in my calculations. Assuming a yield of 2.5% - 3%, which is, in fact, lower than the current yield of ~3.2%, the annual return would equal to at least 7% per annum (assuming the money is not reinvested. Otherwise, it would be in the neighborhood of 7.5% - 8% a year for the decade analyzed).
Secondly, the endowment's beneficiaries accept a premium for liquidity as at least 68% of the fund's capital is allocated to illiquid investments (as of June 2014):
17.4% is dedicated to Absolute Returns (i.e. hedge funds);
17.6% goes to Real Estate (most likely, not public REITs);
33% is locked at Private Equity (LBOs, Venture Capital, Growth Equity, etc.).
A reasonable assumption for the liquidity premium would be at least 1% per year (although my assumption is not backed by actual data, I believe this is a good educated guess). Adding this number to our mid-return of 7.5%, we get at least an 8.5% annual adjusted return on the replica's portfolio.
Finally, keep in mind that our private equity and asset management substitutes (Blackstone, Blackrock, etc.) are imperfect because the endowment participates in the actual deals run by these financial firms, while the firms' investors receive returns in the form of fees and carried interest collected from the firms' clients (one of which is Yale's endowment). In addition, because the firms' equities are publicly traded, they are susceptible to market volatility, unlike many of the firms' projects, whose owners are institutions like the university's endowment. Of course, do not forget that the endowment receives levered returns from its private equity holdings, which are difficult to replicate with marketable securities (unless investors trade on a margin). Adding all these factors to the replica's data would give us similar historical returns to the original (a more precise answer can be obtained via a rigorous statistical analysis).
I by no means insist that my selection of securities represents the closest approximation to the original portfolio. In fact, if you read some comments in the comments section of my previous article on Yale's portfolio, you will be able to see some alternative portfolio compositions that the readers offered. Keep in mind, however, that these instruments were mostly mutual funds, which are typically more expensive than ETFs (in terms of fees) and are less liquid.
Assuming that readers are convinced that my selection is adequate to replicate Yale's endowment's returns, they will need to change the asset classes' weights in their portfolios in order to stay updated with the original portfolio's composition: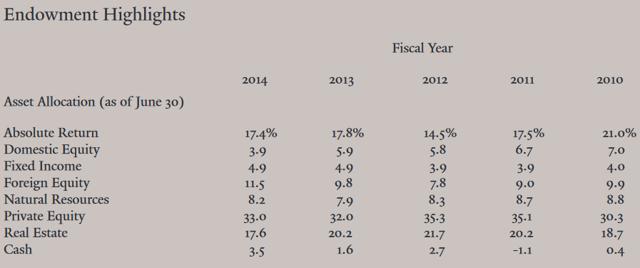 Click to enlarge
(Source: 2014 Results Presentation)
Note a few noticeable trends in the portfolio's asset allocations:
Yale reduced exposure to Domestic Equity over the last five years, preferring Foreign Equity;
The portfolio's exposure to Private Equity has noticeably increased over the years, while its exposure to Absolute Return, Real Estate, and Natural Resources has remained almost unchanged;
In 2014, the fund had the highest relative cash balance in the five-year period.
The updated replica portfolio looks as follows: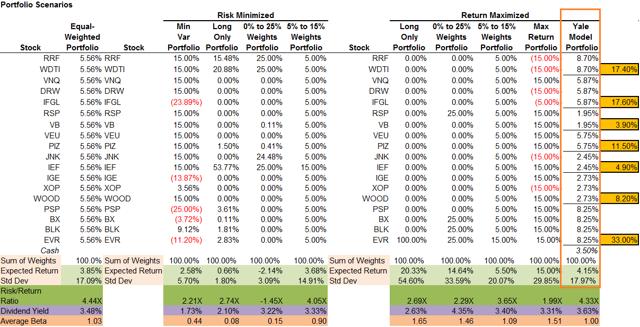 Click to enlarge
(Source: author's calculations)
A few developments in the data since 2014:
In most selected portfolios, betas have decreased indicating less sensitivity to the broader market's returns;
Dividend yields have increased in nine portfolios out of ten. I attribute most of this increase to the decline in ETFs' values;
Expected returns have decreased in nine portfolios out of ten. This can be explained by poor performance across most ETFs in the replica's portfolio in 2014 and 2015;
The Yale's replica seems to offer the least attractive risk-return ratio (i.e. the lowest expected return per a unit of risk). On the other hand, it has the second highest dividend yield, so the total return figure shifts its overall ranking higher. In addition, it has an average beta and the third-lowest standard deviation of returns (i.e. market risk).
Epilogue
In this article, we have seen one important point: retail investors do not have the same edge as institutional investors. Despite the relatively high similarity in returns of the replica's portfolio, it is still a few percentage points less attractive than the original. This difference, accumulated over years, can result in a significant discrepancy in the investors' wealth (to their detriment).
ETFs offer the best cost-adjusted opportunity to follow institutional investors' portfolios. I agree that specific mutual funds can do a better job tracking the "big guys'" returns, but the other side of the coin is that they are almost always more expensive than ETFs (and the more exotic you get, the more you pay in management fees, which can eat a substantial chunk of your cumulative returns). In addition, ETFs are more liquid than mutual funds.
To end on a positive note, retail investors are usually more flexible. For example, retail investor can exit the market completely in the event of a meltdown, while institutional investors would typically have to weather the storm. This is especially true with Yale as more than two-thirds of its portfolio consists of illiquid assets. Also, contrary to Yale's endowment, retail investors can use options strategies more effectively to enhance their portfolios' returns (as their portfolios mostly consist of equities). When used effectively, these strategies can add a few percentage points to the annual results. Over time, this adds up quite substantially.
Finally, please remember that expected returns and volatility (standard deviation) are based on historical results, which may not persist in the future.
Disclosure: I/we have no positions in any stocks mentioned, and no plans to initiate any positions within the next 72 hours.
I wrote this article myself, and it expresses my own opinions. I am not receiving compensation for it (other than from Seeking Alpha). I have no business relationship with any company whose stock is mentioned in this article.