Since I published my first article on American Equity Life (NYSE: AEL) on February 17, 2016, the stock has advanced about a modest 11% as of April 18, 2016, trading at $15.18 per share. But it took a recent tumble following the Department of Labor's announcement of its final fiduciary proposal on April 6, 2016. I am attempting to address the impact of the rule on AEL, especially with new sales, and discuss why current valuation levels still support a strong risk-reward trade with about 30% potential upside even in a run-off scenario.
4/18/2016 Market Trading Stats:
Share Price: $15.18
P/BV: 0.64x
P/BV ex AOCI: 0.71x
P/2016 EPS: 6.0x
P/2017 EPS: 5.7x
Dividend Yield: 1.4%
Final DOL Fiduciary Rule: A Surprise
On April 6, the Obama administration released a number of new regulations aiming to raise standards for retirement investment advice, which could trigger a large impact on how life insurers and advisors conduct business. The Department of Labor's final fiduciary rule broadened the types of financial advisors considered fiduciaries in an attempt to eliminate potential conflicts of interests in helping clients' retirement assets. Those changes are likely ripple through the brokerage sector and into the life industry, forcing insurers to ultimately change its business model and product designs.
One surprise from the final proposals is the inclusion of indexed annuity within the best interest contract requirement, which DOL did not initially propose. This would likely pressure indexed annuity sales. Since 70% of AEL's sales are to qualified accounts and will be affected by the DOL inclusion. The key question is whether the company's independent agents would be willing and able to sell fixed index annuities under the final proposal going forward. It's hard to imagine the production in that channel to drop 50% overnight; assuming a third less in sales, it's equivalent to ~$4.7bn in 2016 production. Given annual projected outflows of ~$2.3bn (2015 level), AEL would still generate positive net flows in that scenario.
Run-off Scenario: Floor Valuation
Let's assume starting immediately, due to the fiduciary rule, AEL is being placed under run-off, i.e. no more new business, which is the worst scenario. There are actually three notable benefits in this scenario:
No growth / low growth, which eliminates concerns around capital consumption
In run-off, theoretically, no rating should be needed, company can operate even at a lower RBC / thinner level of capital
Expense management can be more drastic, which enhances profitability at least earlier on
In the run-off scenario, which would be considered the floor valuation for AEL, the intrinsic value of the in-force book actually greatly exceeds the current market cap, by almost 30%, based on the following conservative assumptions:
10% discount rate
No new business
Using 4Q15 investment spread as a basis, 2.67% (refer to my previous article), conservatively assuming portfolio yield drops 10bps annually for 10 years and then stays flat thereafter
Further assumes management can pass on 50% of the yield drop (i.e. 5bps) to consumers during the first 10 years, and then stay flat thereafter just like the portfolio yield
Portfolio assets run-off was about $2.3bn in 2015. Assumes 2016 lapses stand around $2.5bn given the uncertainty, which equates to about 6% of the assets under management, and applied equally going forward
Conservatively assumes that OpEx runs the same rate as 4Q15 in the beginning and slowly runs off along with assets until it reaches $25 million a year. In a run-off mode, management could implement an extensive cost structure overhaul to improve margin
Assets / equity assumes to be maintained around 17.6x, just like 4Q15. I believe this is high given company could run the business at a much thinner level of capital post run-off. Earnings and excess capital are distributed to shareholders
No dividend in the first year for regulators comfort in terms of the run-off strategy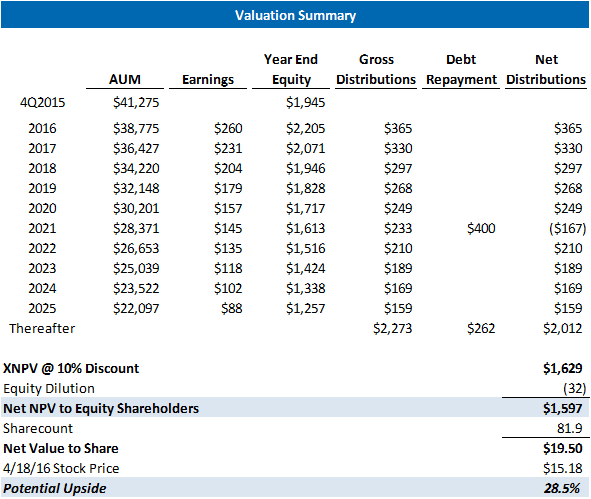 Summary results:
The analysis implies an almost 30% upside in its stock price from the current level, providing comfort for a better risk-reward trade given the conservative assumptions
Further potential upside may be derived from 1) interest rate rising sooner 2) expense savings, 3) more aggressive cost of money reduction as management expressed there is about 48bps of potential crediting rate reduction as of 2015YE, 4) more substantial and faster capital release given run-off mode may only require much less capital cushion
Some considerations include 1) dividending from the statutory entities would require regulators approval given the size, 2) prolonged low interest rate environment beyond 10-year horizon in the analysis and the magnitude of the drop, 3) capital release timing
Coming Next
In order to assess whether the business could generate any growth or new business at all, it requires better understanding of the impact from the DOL fiduciary rule, especially with independent agents selling these annuity products. Over the next few weeks, we should get a better sense of how the distributors and the company would react to the rule. We will pay special attention to what management has to say during the first quarter 2016 earnings release and investor call on April 27 and 28th, respectively.
Summary
With conservative assumptions in a run-off scenario, I believe AEL's current in-force business has a much higher intrinsic value than the market cap. A financial sponsor or quasi-strategic like Athene Holdings could be interested in this name, given the potential upside and long-duration assets.
Disclosure: I/we have no positions in any stocks mentioned, and no plans to initiate any positions within the next 72 hours.
I wrote this article myself, and it expresses my own opinions. I am not receiving compensation for it (other than from Seeking Alpha). I have no business relationship with any company whose stock is mentioned in this article.
Additional disclosure: Readers are advised that the material contained herein should be used solely for informational purposes. Readers should conduct their own research and due diligence and obtain professional advice before making investment decision. We will not be liable for any loss or damage caused by information obtained in our materials. Readers are solely responsible for their own investment decisions.