Treasuries opened slightly in the green Monday following the failure of the Doha oil talks and initial broadly negative market reaction reflected in heavy losses in Japanese stock overnight and a new low in the 30-year JGB yield. But a reversal started after brief comments by New York Fed President Dudley on the economy that continued into midday, as oil reversed most of the initial reaction to the failure to curb supplies, boosting stocks and credit while pressuring rates. Not much happened in the afternoon after the morning reversal, leaving the Treasury yield curve with a mild bear steepening selloff at the close.
It's unlikely President Dudley was looking to send any new policy messages in his opening remarks at the New York Fed's "Transatlantic Economy: Convergence or Divergence" conference, but some investors were apparently looking for a trigger to sell into the stronger open (though we saw better morning buying overall), and headline flashes of Dudley's paragraph on U.S. economic developments, which he called "mostly favorable," provided it. A bear steepening sell off in Europe, with German 2's-30's up 3 bp on a 4 bp backup in the 30-year Bund yield, also pressured Treasuries during overlapping European trading hours.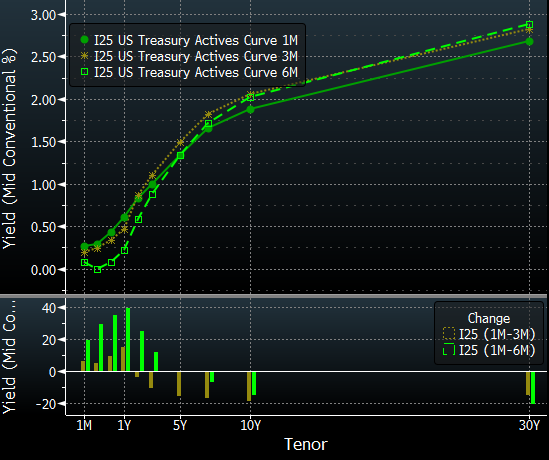 Ultimately, though, it was the surprising resilience in oil prices that was the day's major development that supported the modest gains in stocks and losses in Treasuries. After closing as high as $42.17 a barrel last Tuesday then pulling back to $40.36 Friday as doubts rose about prospects for the hoped for oil production freeze, May WTI dropped as low as $37.61 overnight. But it recovered to end New York trading at $39.78, only down 1.4% on the day. Investors it seems were quick to set aside the supply side disappointment in favor of optimism that demand could be picking up. While the U.S. growth picture remains sluggish, there have been some recent signs of potential improvement in the weak global growth backdrop, incrementally in China in particular.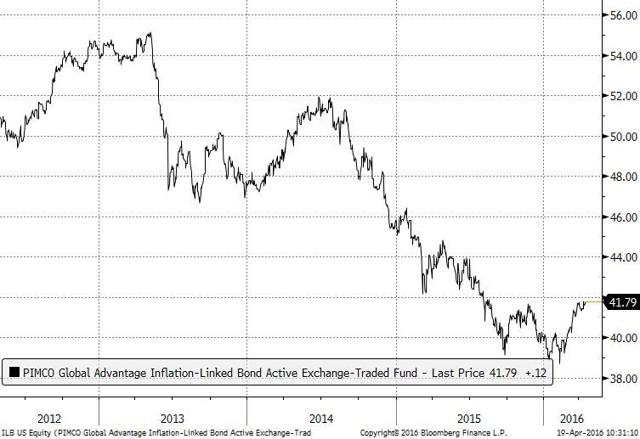 Click to enlarge
For now, though, the intraday recovery in oil prices resulted in a 1.6% rally in the energy sector leading a 0.7% gain in the S&P 500, and energy companies were also leading performers in a 2 bp tightening in the IG CDX index.

Click to enlarge
On the other side of that, at the 3:00 close benchmark Treasury yields were 1 to 2 bp higher and the curve a little steeper, with the 2-year yield up 1 bp to 0.74%, 3-year 1 bp to 0.89%, 5-year 2 bp to 1.23%, 7-year 2 bp to 1.54%, 10-year 2 bp to 1.77%, and 30-year 2 bp to 2.59%.TIPS were at the open by the overnight drop in oil, and the front end sustained some underperformance into the close, but as oil rebounded our desk saw better real yield buying in the longer end, supporting a steepening in the TIPS inflation breakeven curve. The 5-year TIPS yield rose 3 bp to -0.30% and 10-year 0.5 bp to 0.19%, while the 30-year was unchanged at 0.84%, resulting in corresponding breakevens rising 0, 1, and 2 bp.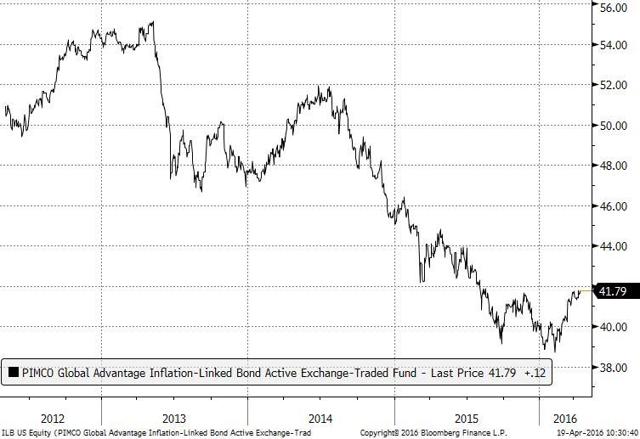 Click to enlarge
Newswire headlines covering Dudley's comments may have provided a trigger to start the reversal of overnight gains, but they didn't translate into any change in the near-term Fed outlook priced into futures, which has next week's FOMC meeting as a nonevent and a June hike all but off the table for consideration. Jul 16 fed funds were unchanged at 0.405%, which is only 3.5 bp over where effective fed funds has been consistently averaging over the past month aside from quarter end volatility on March 31. So only about a 15% risk of June hike is priced. Pricing of a hike later this year was actually lowered slightly in a 0.5 bp rally in Jan 17 to 0.53%, consistent with a 64% chance of one 25 bp rate hike this year. Aug 17 remains the first contract fully pricing one 25 bp hike after losing 0.5 bp to 0.63%.

Click to enlarge
In this low interest rate environment, commodities and risky assets have been favored and now have a strong foothold. In the last 5 years, the inflows into Emerging Markets and commodities have been strongest. Inflation protection products, such a inflation-linked bonds have been pricing a pickup in inflation for some time, as you can see in the price charts of some linked ETFs. It seems the downtrend of the last few years in inflation-linked products is trying to break higher. This could very well prove to be a good time to buy some inflation-linked assets for the next few years.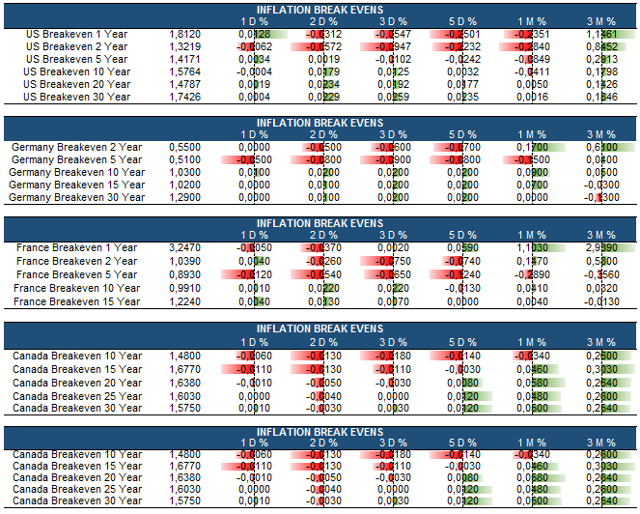 Click to enlarge
Disclosure: I/we have no positions in any stocks mentioned, and no plans to initiate any positions within the next 72 hours.
I wrote this article myself, and it expresses my own opinions. I am not receiving compensation for it (other than from Seeking Alpha). I have no business relationship with any company whose stock is mentioned in this article.