Kinder Morgan (NYSE:KMI) is gearing up to report earnings on Wednesday and while much of the focus will remain on revenue and EPS, there will be key updates on various aspects of the business that are crucial to the company's long-term success. In the earnings report, changes to the pacing of distributable cash flow growth, changes to capex composition and management's comments on the equity's performance will be key areas to watch. Depending on how these areas change, the future of Kinder Morgan could be altered significantly.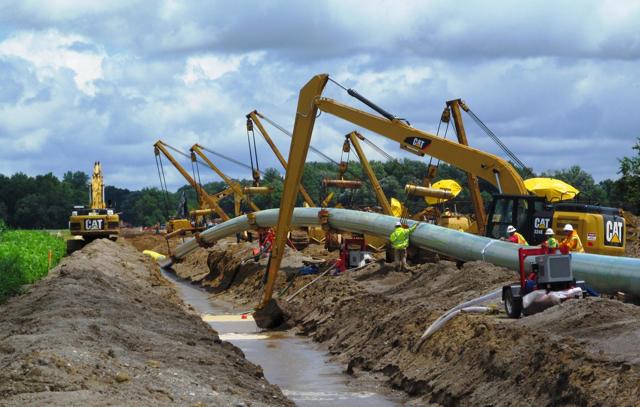 Click to enlarge
Source: New Hampshire Public Radio
Watch For Distributable Cash Flow Growth Rate
Kinder Morgan is not an MLP, it is a C-Corp and hopefully everyone knows this by now. However, the company reports many of the same metrics as MLPs. Thus, distributable cash flow (DCF) becomes a very important figure to watch as it relates to growth and as it relates to the prices of oil and gas.
KMI has structured its expectations for the underlying environment based on $38 WTI and $2.50 Henry Hub. In Q1, the WTI averaged $32.61 and the Henry Hub averaged $1.98. These are both well-below the company's expectations and will result in adverse DCF impacts of $38.12 million and $3.13 million, respectively. This is based upon the commodity sensitivities listed in the 10-K.
The reason these are important is that Kinder Morgan has held an 11.81% CAGR over the last five years, but is projecting a lower per share distributable cash flow figure for the first time due to the operating environment's pressure.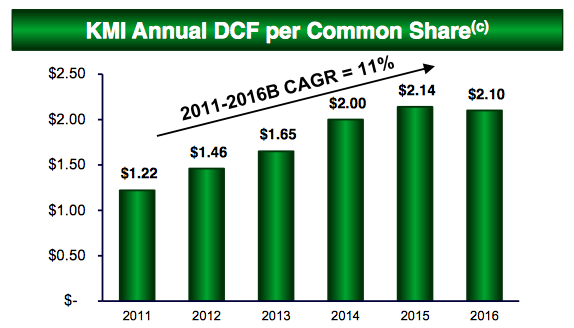 Source: Investor Presentation
Analyzing that chart further, if Kinder Morgan were to sustain an 11.81% CAGR through 2020, it would pass the $3.00 distributable cash flow per share mark in Q1 2020. This is indicated below: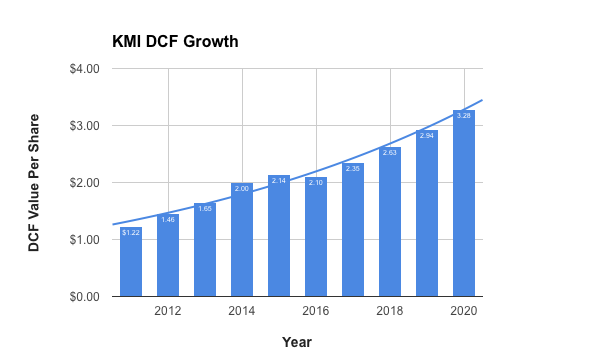 Source: Author
However, should the operating environment show increased pressure on Kinder Morgan during this past Q1 and that growth rate retracts, the company's timeline to the $3.00 mark is going to inherently be longer. That would be a negative occurrence, and would likely lead to a share price decline.
Watch For Comments On Correlation
When management and the analysts on the earnings call talk about the equity's performance, be cognizant of any talk about the equity's correlation to the WTI. Management, in the past, has talked about the correlation between its stock and crude oil being unfair. While it is right to an extent as it derives a majority of the revenues from fee-based natural gas, there's also a risk that Kinder Morgan takes on with its clients as not all of them are pure natural gas E&Ps, but rather integrated or oil-only producers. Thus, that risk is reflected in the correlation.
Since oil started to dip from its high in mid-2014, Kinder Morgan has held a decently strong correlation to the WTI, with a correlation coefficient of 0.4. This number would likely be higher had several one-time events not occurred. For example, there was the aggravated slide after the company cut its dividend. This correlation is increasingly important because if management can reinstate confidence in its shareholders that a recovery will occur irrespective of crude prices, then the stock will likely rally after the earnings report.
Below is KMI just over the LTM against the Henry Hub and the WTI: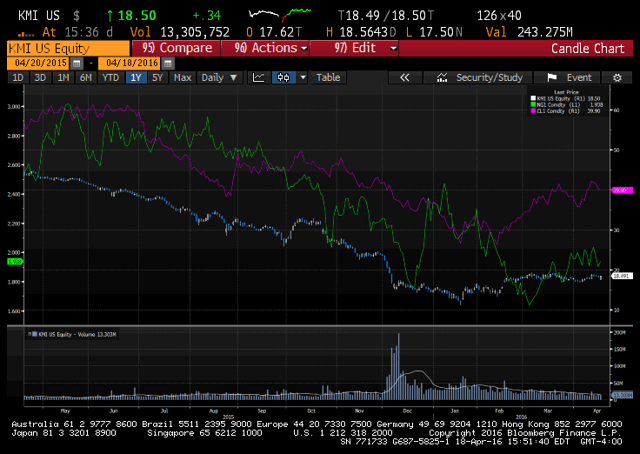 Click to enlarge
Source: Bloomberg
On the earnings report, I'm looking for either management or analysts to address this correlation more head on, so that investors may be able to gain a better idea of what risk/reward scenario the stock is in. Additionally, I'm looking to hear about the potential for the equity to break the correlation with the WTI and at what level management thinks that's capable of happening.
Watch For Capex Changes
Right now, Kinder Morgan has a five-year, $18.2 billion capex program. For 2016, the guidance is $3.3 billion in capex, which was cut back in Q4 2015 from $4.2 billion. This allows the company to finance a significant portion of its backlog, which has been cut in value to meet a stricter minimum return requirement of 15%. I am in favor of this stricter IRR, but the backlog reduction was met with a stock decline back in December.
Kinder Morgan has an incredibly strong North American asset base which it effectively uses to secure long-term, fee-based contracts, but again, it is not totally immune to the underlying environment, especially when reflecting on management's reduced capex guidance, reduced DCF guidance and Q4 2015 dividend cut. Its capex program, however, is so critical in importance because of its ability over the next five years to generate $2.2 billion in EBITDA.
No material changes to the current capex guidance should occur on the earnings call, as the company has already reduced considerably YOY. However, I believe it would be highly bullish, if Kinder Morgan announces that acquisitions will now be comprising a larger portion of the capex budget than originally intended. The rationale behind this is that the WTI is still at multi-year lows, so the price for other companies' assets are going to be at the cheapest levels in quite some time. It's a once in a decade opportunity and the time for Kinder Morgan to further strengthen its asset base.
Below, notice how Kinder Morgan has significantly reduced for 2016 the ratio of acquisition capex to expansion capex. In order for Kinder Morgan and its equity to continue growing at a shareholder-approved rate, acquisitions, and the subsequent leverage of those acquisitions, is going to need to occur. Right now, the below image paints a far more grim reality.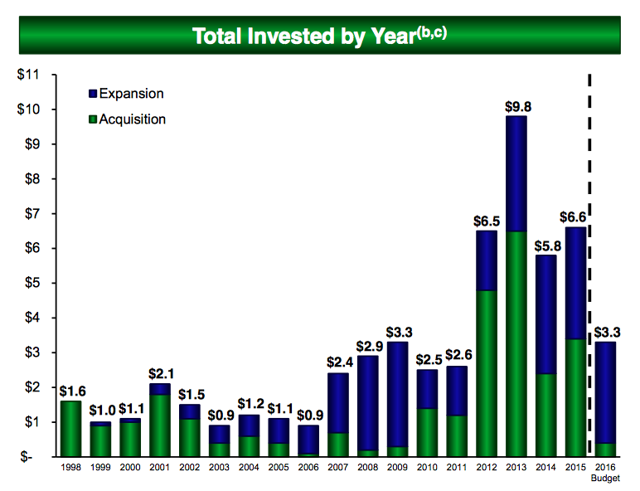 Click to enlarge
Source: Investor Presentation
Conclusion
I believe Kinder Morgan may miss earnings based upon how high the Street's expectations are for this name to perform, especially now that it has the backing of "famous" institutional investors like Warren Buffett. Thinking about how critical Wednesday will be, the stock will likely be affected materially. The average move after an earnings report for KMI is 3.52%, with an implied move of 5.02%, which is significant one-day appreciation.
Disclosure: I am/we are long KMI.
I wrote this article myself, and it expresses my own opinions. I am not receiving compensation for it (other than from Seeking Alpha). I have no business relationship with any company whose stock is mentioned in this article.