Oil prices are rising in ignorance. Ignoring recent statements and the actions of Saudi Arabia is probably foolish. I believe Saudi Arabia means business with regard to its defense of market share and its interest in limiting the progression of its rival to the north, Iran. As a result, recent market enthusiasm about the possibility of a supply curb via a production freeze could quickly be replaced by fear of the impact of a production increase from Saudi Arabia and others. Oil prices should correct on that eventual announcement and on other actions by Saudi Arabia as it defends market share and its place in the Middle East.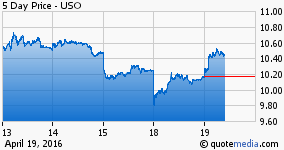 5-Day Chart of USO at Seeking Alpha
Sunday's failed oil producer's meeting in Doha had oil prices cascading in early Monday trading. While oil rebounded intraday and into Tuesday, partly due to a strike limiting production in Kuwait, I expect the selling could accelerate as discord between oil producers manifests into a market share battle.
Saudi Arabia came out of the meeting, having killed the prospect of a production freeze, threatening to instead boost production given Iran's efforts to bring idle capacity online now that sanctions have been removed. Saudi Prince Mohammed bin Salman outright stated, "If we don't freeze then we will sell at any opportunity we get." He threatened to immediately bump up production by a million barrels per day (bpd), to 11.5 million, from 10.4 million currently. He went on to state that it would only take the Kingdom about 6 months to ramp production to 12.5 million bpd. I take Saudi Arabia seriously, and I believe you should as well.
Iran is aiming to boost its production to 4 million bpd, from significantly lower production currently. Iran is highly unlikely to bow to Saudi Arabia's demands as it seeks to serve its economy, especially in oil export. Thus, the two will engage in market share battle, and the end result is lower oil prices. Saudi Arabia has already gone to great lengths to stop Iran. For instance, it warned shipping companies that transporting of Iranian oil would lead to their blacklisting by Saudi Arabia, and presumably some of its closest allies (this Reuters article is a must read). Saudi Arabia is at war with Iran, though via proxies, and its actions with regard to crude oil reflect that as well.
Still, some voices are attempting to downplay the importance of the Doha disappointment, and are pointing to other factors for reason to buy the energy complex now. We are approaching the summer driving season; drilling rigs are coming offline in North America; and most notably this week, that there's a strike of workers in Kuwait that has cut that nation's production to 1.1 million barrels per day from 2.8 million barrels.
That's all well and good, but ignoring the impact of Saudi Arabia's actions, and its repercussions across producers, is probably a big mistake. Let's not forget that it was the prospect of an oil production cut that first lifted oil prices this year, before the Saudi oil minister ruled out the possibility. Following that, the idea of a production freeze still supported oil. If now we are instead looking at production increases, then a good portion of the basis for oil's gains this year will have been undermined. The strike in Kuwait could quickly be resolved, bringing back any temporarily idled production overnight. In the meantime, it appears every other oil producer wants to steal that market share anyway. Saudi Arabia and Iran are not alone, as Russia says it could lift production now as well.
| | |
| --- | --- |
| Energy Relative Shares | 04-19-16 12:25 PM EDT |
| SPDR S&P 500 (NYSE: SPY) | -0.1% |
| United States Oil (NYSE: USO) | +2.8% |
| iPath S&P GSCI Crude Oil (NYSE: OIL) | +3.4% |
| United States Natural Gas (NYSE: UNG) | +4.9% |
| Energy Select Sector SPDR (NYSE: XLE) | +1.5% |
| SPDR S&P Oil & Gas E&P (NYSE: XOP) | +2.1% |
| Market Vectors Oil Services (NYSE: OIH) | +3.3% |
| Exxon Mobil (NYSE: XOM) | +0.4% |
| Chevron (NYSE: CVX) | +1.2% |
| B.P. (NYSE: BP) | +1.9% |
| TOTAL S.A. (NYSE: TOT) | +2.0% |
| ConocoPhillips (NYSE: COP) | +2.5% |
| Phillips 66 (NYSE: PSX) | -0.0% |
| Occidental Petroleum (NYSE: OXY) | +1.5% |
| Schlumberger (NYSE: SLB) | +1.6% |
| Weatherford Int'l (NYSE: WFT) | -0.6% |
| Halliburton (NYSE: HAL) | +2.0% |
The energy complex is up again today, following oil prices higher. However, I believe it is in ignorance, ignoring the likelihood of a Saudi production hike. Such an action is likely to have repercussions, including the swift mitigation of the Kuwaiti workers' strike and an increase in kind from Russia. It all portends poorly for the price of oil. I cover oil closely and invite relative interests to follow my financial column here at Seeking Alpha.
Disclosure: I/we have no positions in any stocks mentioned, and no plans to initiate any positions within the next 72 hours.
I wrote this article myself, and it expresses my own opinions. I am not receiving compensation for it (other than from Seeking Alpha). I have no business relationship with any company whose stock is mentioned in this article.