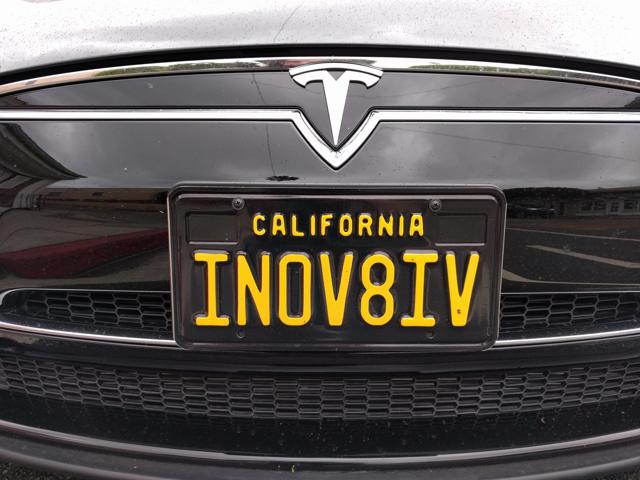 Thesis
Tesla (NASDAQ:TSLA) is being misread by many investors, in particular those who see this as an overvalued company. Tesla is a visionary company with the key pieces it needs to succeed long term - vision, planning, execution, reflection, passion and grit. That combination is a recipe for long-term success. I'm betting on Tesla for the long haul.
In the beginning, the story was so unproven the valuation reflected the enormous level of risk. Since going public on June 29, 2010 for $17 per share the price has risen dramatically, in step with the development of Tesla's story. Now with consistent sales growth and visible future demand in the form of reservations, a more confident and complete story is emerging and is reflected in the rising share price. Tesla is now in the, "They might actually pull this off" part of their story. While many see this as overvalued and consider this company ripe for shorting, I see that as a far riskier venture than a long position.
Grit and Passion
Elon Musk put it this way, "No, I don't ever give up. I'd have to be dead or completely incapacitated." This is a central part of the Tesla story. Tesla is out to change the world. The leadership and people who work for this company are not just going to a job each day. They believe deeply in this work and are doing this to alter completely the way we think about transportation. The employee buy-in is evident in the fact that 90% of employees approve of Elon Musk as CEO, as reported on Glassdoor. That kind of passion and determination has allowed them to overcome setbacks and massive obstacles.
Tesla has a binary outcome - change the world or die trying.
Tesla has shown it has what it takes to win. No, it hasn't reached scale or become cash flow positive. But it is determined, resilient and driven to win. What this company lacks in scale and experience it makes up for in vision and resolve. Bears see beatings, but if you look harder you see strength growing from those falls.
Brand
Let's define brand as: The story consumers believe about the company and its ability to open their hearts and wallets. Tesla has spent $0 on marketing and yet has established a brand that is the envy of most any company. Their brand story is, "You can have it all while saving the world - luxury, performance, opulence, futuristic and green." People love this story. Why else would tens of thousands of people have lined up to put $1,000 down on a car they had never even seen. They weren't buying the car, they were buying the story.
I believe even the Model X, which has gotten some poor publicity due to delays from Tesla's self-described hubris, will add materially to the brand. The chatter I have heard on forums and in the many comment streams is that current Model X owners love their cars. This car is the epitome of opulence and futuristic design and will create all sorts of buzz and excitement as more and more appear on the road, on YouTube (NASDAQ:GOOG) (NASDAQ:GOOGL) and in parking lots. It doesn't even need to sell in large numbers, it just needs to further the story that this automaker is the future. The much decried hubris may actually turn out to be a marketing boon as it adds to the coolness factor of the Tesla story.
Valuation Challenges
Bears want to value this company traditionally and compare it to Ford (NYSE:F), GM (NYSE:GM), BMW (BAMXY) and other legacy automakers. This doesn't make sense. They are the past, old fighters sitting in their big houses feeling comfortable, not looking to upset the apple cart. They are not seeking to disrupt the model, they are the model. I would argue that the legacy car sales model is reaching an inflection point, and if they don't shift quickly and aggressively they will find themselves on the wrong side of history - like Nokia (NYSE:NOK) and BlackBerry (NASDAQ:BBRY).
Calling Tesla's debt "cash burn" is shortsighted. Growth requires capital investment, there is no other way. If Tesla wins it won't matter anyways. This is a long fight, a fight to change the world. If it plays right, buyers now won't think this price was overvalued in 10 or 15 years.
Besides, this debt has been instrumental in building out the infrastructure to deliver growth. Here is a chart of comparing the growth of debt to the growth of assets. The assets represent the tangible results of Tesla's investment in itself. There is no good will or other significant intangible assets on the balance sheet. These are cash, inventory, land, buildings, machines and other tangible investments in the business.
| | | | | | |
| --- | --- | --- | --- | --- | --- |
| | 2011 | 2012 | 2013 | 2014 | 2015 |
| Total Assets | 713.45M | 1.11B | 2.42B | 5.85B | 8.09B |
| Total Liabilities | 489.4M | 989.49M | 1.75B | 4.88B | 6.96B |
Source: Marketwatch.com
Though debt has risen, so to has the value of assets. This is investment, not wasteful burn. For a company this disruptive at this stage of growth, that is wise capital allocation.
Vision and Planning
Tesla is visionary. And the vision is simple, change the world. This vision gives it passionate purpose but vision alone is not good enough. Many people dream big and go nowhere. To succeed a company needs to be able to plan and anticipate.
Tesla has been planning long range since the beginning. Nearly ten years ago, in an August 2, 2006 blog post, Elon Musk laid out his plan to scale the company and produce what we now know will be the Model 3:
Without giving away too much, I can say that the second model will be a sporty four door family car at roughly half the $89k price point of the Tesla Roadster and the third model will be even more affordable. In keeping with a fast growing technology company, all free cash flow is plowed back into R&D to drive down the costs and bring the follow on products to market as fast as possible. When someone buys the Tesla Roadster sports car, they are actually helping pay for development of the low cost family car.
This is exactly the plan we see unfolding now. Musk had a long range plan and has executed it the past 10 years. This builds confidence in his ability to plan and execute for the next ten years as well. He is able to see both the vision and the steps to execute the vision.
The best CEOs are excellent allocators of capital. Capital allocation tied to a well constructed plan to realize a massively disruptive vision is not cash burn. It is solid investment in growth.
Tesla is not looking backwards like most automakers. They look to the future to anticipate change and then plan how to get there.
We can see parts of the future plan today. Tesla is building capacity with the gigafactory to control their most important part of their supply chain - battery production. They are rolling out more service centers and super chargers to support drivers and end range anxiety. They are disrupting the dealer service network with direct to consumer sales which will help preserve margins. All of this sets the stage for ramping production driven by massive demand. Musk has always claimed there was a surplus of demand and that pent up demand was proven recently in the Model 3 release orders.
All evidence shows Tesla has more than just grit. Tesla can anticipate, plan and execute. While scaling to meet the Model 3 demand will be a challenge, we can bet this company won't give up and will come out swinging.
Execution
I've heard many critiques that Tesla has stumbled with delays and can't execute. I argue the opposite. Profit and free cash flow are not effective measures of execution at this time because they are plowing all their income and more into investing in growth.
It is difficult to evaluate forward looking companies on the past. I believe the best metric we can look to for establishing a trend is total sales in dollars. This values not just the number of cars but also the upgrades and options buyers chose. Let's take a look at how Tesla has done these past five years:
| | | | | | |
| --- | --- | --- | --- | --- | --- |
| Tesla | 2011 | 2012 | 2013 | 2014 | 2015 |
| Annual Sales ($) Millions | 204 | 413 | 2,010 | 3,200 | 4,050 |
| Multiple of 2011 Sales | 1.00 | 2.02 | 9.84 | 15.67 | 19.83 |
| % of 2011 Sales | 100% | 202.34% | 984.14% | 1566.78% | 1983% |
| Annual Sales Growth YOY | | 102.34% | 386.38% | 59.20% | 26.56% |
| Annualized Sales Growth since 2011 | | | | | 211% |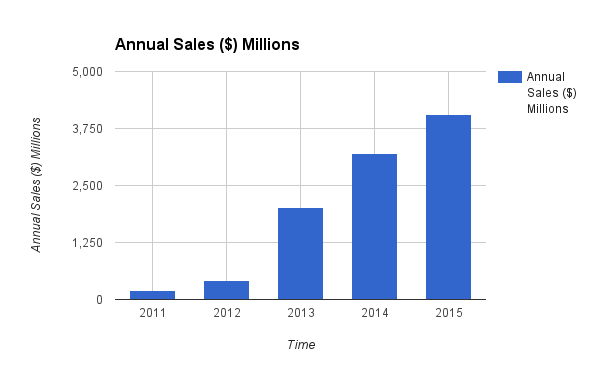 Sales grew from $204 million in 2011 to $4.05 billion in 2015. That is an astounding 1983% increase, or an annualized growth rate of 211% per year. Tesla started selling the Model S in June of 2012 in very small numbers. The first full year of selling the S was 2013. This is also a the year with the biggest spike in sales. In 2014 and 2015, Tesla continued to increase sales but not as rapidly. Now, in 2015 the Model X had a small, albeit late start, contributing to a small part of that years sales. As they scale and sell both vehicles this year, sales growth should remain.
Let's look at performance as well in regards to vehicles unit sales. Here is Tesla's own performance compared to their guidance and a conservative estimate for this coming year's sales.
| | | | | |
| --- | --- | --- | --- | --- |
| Year | 2013 | 2014 | 2015 | 2016 |
| Guidance | 20,000 | 35,000 | 55,000 | 80,000 - 90,000 |
| Vehicles Sold | 22,442 | 31,655 | 50,557 | 72,000 |
| Guidance Miss | 12% | -9.56% | -8.07% | Estimated -10% |
| YOY Growth in Unit Sales | NA | 41.05% | 59.71% | 42.41% |
Source: fool.com
This chart begins with the first full year of Model S sales. Sales growth was over 40% for the two years following but Tesla missed it's own sales guidance by almost 10% both years. Let's be conservative and assume that this year they also miss the low end of their guidance by 10%. That would lead to 72,000 vehicles sold this year or YOY unit sales growth again of over 40%.
I read a well considered bear article recently illustrating Model X reservation holders are converting to purchases at about a 25% rate. Let's assume this poor rate of conversion holds for the Model 3 and they don't deliver until 2018. Let's also assume they obtain no more reservations between now and then (an assumption I strongly doubt). If they can scale the production, that would be 100,000 additional unit sales. If Model S and X sales stay flat at my conservative estimate of 72,000 (also unlikely given past growth) we arrive at 172,000 unit sales for FY 2018. I am trying hard to be conservative here - using a very low conversion rate and flat sales for a company with a sales growth rate above 40% YOY for the past three years.
That's 138% sales growth in two years or an annualized growth rate of 55%.
But remember, these numbers are most likely far too conservative. Perhaps Model X conversion rate is only 25% because vehicles for test drives are just beginning to arrive and people didn't want to spend that kind of money sight unseen. It also assumes no further growth in 2017 which is not consistent with past performance. If they can scale faster, deliver more and convert higher it could be even bigger, much, much bigger...
Valuation Attempt
As this story plays out and becomes more credible, the share price should rise. However, viewed as a ratio of share price/sales per share (price/sales) we can see that investors today are paying almost 50% less than they were in 2010 for every dollar of sales.
| | | | | | |
| --- | --- | --- | --- | --- | --- |
| Time | 2011 | 2012 | 2013 | 2014 | 2015 |
| Annual Sales ($) (Millions) | 204 | 413 | 2010 | 3,200 | 4,050 |
| Shares Outstanding (Millions) | 100.39 | 107.35 | 119.42 | 124.54 | 128.00 |
| Dec. 31 Price per Share | 28.56 | 33.87 | 150.43 | 222.41 | 240.01 |
| Sales/Share ($) | 2.03 | 3.85 | 16.83 | 25.69 | 31.64 |
| Price/Sales per Share | 14.04 | 8.80 | 8.94 | 8.66 | 7.59 |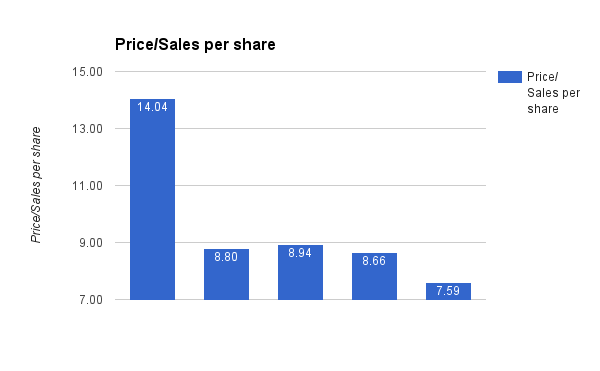 This metric, along with the strong possibility of continued double digit YOY sales growth for the foreseeable future, helps to illustrate why Tesla's shares may not be overvalued at all. In fact, this may be an excellent entry point.
This stock has been incredibly volatile in the past so I would caution against opening an outsized position at this historically high price as a more attractive valuation could present itself if volatility remains.
Conclusion
This is a compelling story of a company that won't give up until it changes the world. They have multiple years of consecutive double digit sales growth (both unit sales and dollars), a stellar brand, and have executed in planning and building an incredibly disruptive company. The bears who try and define it by its wasteful cash burn and hone in on lack of profits are missing the real story. Tesla is going to take the world by storm. I'm in Tesla's corner and plan to stay there for the long haul.
That said, a few things could alter my thesis:
First and foremost among them is Elon Musk. He is central to this story and his departure would cause my thesis to be in jeopardy.

If Tesla were not able to access capital via equity markets and/or debt that could impair growth as well and would cause me to reevaluate my thesis.

If something were to occur that jeopardized their relationship with Panasonic and the viability of the gigafactory I would reevaluate my thesis.

Finally, a massive and catastrophic global economic downturn could alter demand for Tesla vehicles and damage the thesis as well.
Barring these or other significant deviations from Tesla's story, Tesla remains a buy and hold stock for the long haul to add high potential return to a diversified portfolio. And given it's past volatility, may offer many opportunities to buy on dips.
Disclosure: I am/we are long TSLA, F.
I wrote this article myself, and it expresses my own opinions. I am not receiving compensation for it (other than from Seeking Alpha). I have no business relationship with any company whose stock is mentioned in this article.