Introduction
Visa Inc. (NYSE:V) operates in the payment industry that's in the midst of the biggest and most exciting era so far. Visa's business includes processing network, authorization, clearing and settlements of payment transactions around the world. The company provides its services to consumers, businesses, financial institutions and governments. In an ever changing and competitive industry, it now also offer digital payments for e-commerce, person-to-person payments, and mobile products and services. Three main sources of revenue are: services, data processing and international transactions. Since the IPO in 2008, Visa has been on a outstanding path increasing revenue and net income consistently. During this profitable growth period, revenue more than doubled while income and earnings per share tripled from 2009 levels.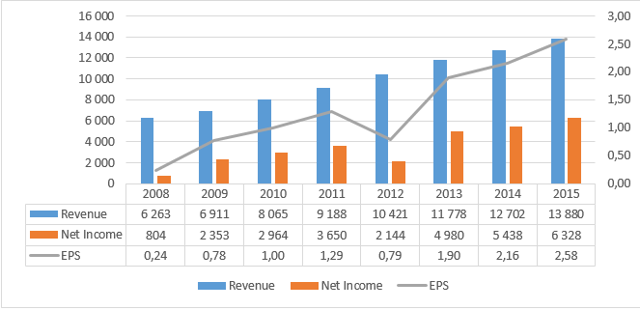 Source: Visa IR, all numbers in millions $ except per share items.
Payment industry
There's still strong long-term growth potential, especially since electronic payments are still the second choice for payments in the developing world. CEO Charles Scharf wrote in the annual report that there are still over 2.5 billion people without access to any formal financial services. Even today 41% consumer spending in developed world and 62% in developing world are done by cash and checks. Visa estimates that there are still about $16 trillion transactions being done by cash and checks every year. The biggest opportunity for growth lies in displacing these cash transactions with electronic payments while increasing the availability of products to consumers and businesses. The clear revolution of Visa's products is that it gives consumers access to funds greater than they typically used to carry in their pockets with immediate access to credit. Electronic payments are also an extremely cost effective way to do commerce for business owners compared to traditional cash or checks.

Source: Visa 10-K
Potential
Most of the growth will come from the developing world, since it grows 1.5 times faster than the U.S payment volumes. One of the major growth opportunities lies in China. Visa is currently waiting for the government to write the final rules that allows foreign companies to apply for a more broader operating license. With this license, it is able to compete in the domestic Chinese electronic payments market. Today, Visa has presence in the cities that are tourist oriented, but with the application being approved it will have the potential to increase its presence from existing 370 thousand to more than 10 million locations.
Visa is currently the market leader in the electronic payment industry with over 2.4 billion cards in force today, and after the Visa Europe acquisition, it will increase to 2.9 billion. Visa processed over 70 billion transactions last year from these cards and customers. In less than a decade, it has almost doubled its transaction volume from 37 billion in 2008 to 70.8 billion in 2015. The acquisition will add significant volume since it's expected to amount to 28% of overall transactions handled by Visa. In Europe, there are still 37% transactions made by cash and checks, amounting to $3.3 trillion in value. After the integration, it's expected to be accretive to the EPS from 2017 forward. After the acquisition, Visa Inc. will have twice as many cards in force than the next competitor MasterCard (NYSE:MA).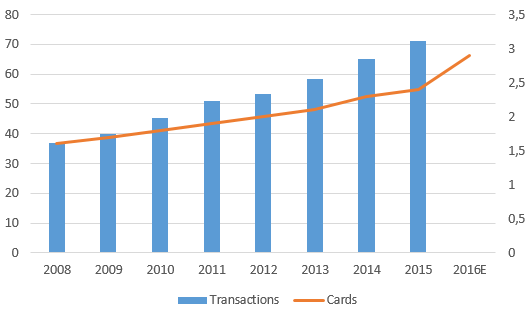 Source: Visa IR
Conclusions and valuation
There are some risks, of course, by competitors and the new trend of mobile payments. However, I believe that Visa can manage competition, since the addressable market size expands everyday and it has introduced own applications for mobile pay users. Recently, there have been great valuation articles published here in Seeking Alpha by Eli Inkrot and by Valuentum. Since they are up to date, I will keep this short. Currently, Visa seems to be priced to the max with a forward P/E of 28 and a dividend yield of 0.7%, since it has a conservative 20% payout ratio. I need some margin of safety from the 52-week highs, but if there's a dip in Visa's stock price, I will be buying.
Disclosure: I/we have no positions in any stocks mentioned, and no plans to initiate any positions within the next 72 hours.
I wrote this article myself, and it expresses my own opinions. I am not receiving compensation for it (other than from Seeking Alpha). I have no business relationship with any company whose stock is mentioned in this article.