On December 15, 2015 I presented my top precious metals picks for 2016. In this article I want to summarize the results delivered by my portfolio to date.
Firstly, to remind my readers - my picks were based on the following main assumptions:
Silver - during bull markets in precious metals, silver is outperforming gold. Therefore two of my picks are producers with a big silver share (Fresnillo plc and Fortuna Silver).
Only producers - my picks do not include any exploring company. Simply put, explorers are riskier than producers and I want to limit risks as much as possible. What is more, these producers must hold at least two operating mines.
Debt free - debt is also risky so my top companies hold either very small debt or even no debt at all (with one small exception - B2 Gold).
Low costs of production - my picks are low-cost producers.
Catalysts - looking for the best stocks I was trying to find companies with some near-term catalysts, defined as a big chance for a relevant increase in production.
Keeping these assumptions in mind, I have chosen the following companies:
Now, let me present the returns delivered by the portfolio and its components.
Results
The chart below compares the results delivered by my portfolio to those delivered by the big precious metals miners ETF (NYSEARCA:GDX) and the broad stock market (represented by the S&P 500), starting from December 16, 2015: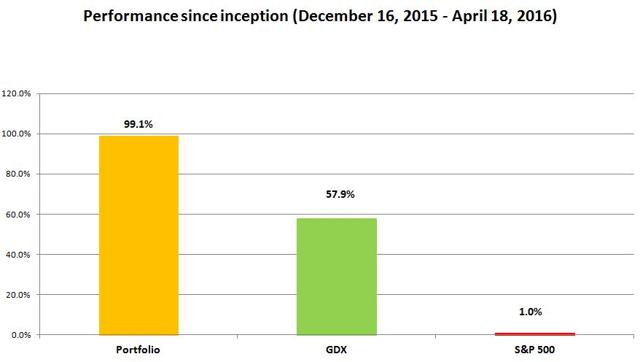 Click to enlarge
Source: Simple Digressions
Well, first of all, it is clear that precious metals stocks were much stronger than the broad stock market, which returned only 1%. Secondly, my portfolio returned 99.1%, since December 16, 2015. It is 40 percentage points above the return delivered by GDX.
Now, let me present the results delivered by each component of my portfolio: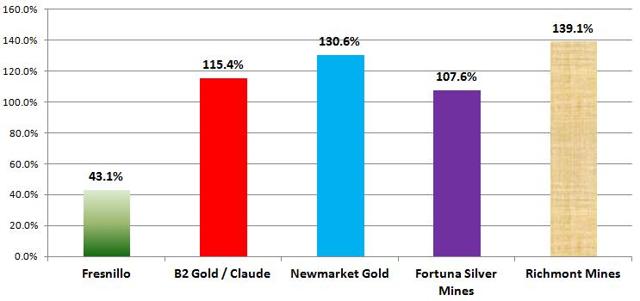 Click to enlarge
Source: Simple Digressions
Note: On March 7, 2016 Claude Resources, due to an acquisition agreement with Silver Standard Resources, was replaced by B2 Gold (BTG); a return of 115.4% delivered by B2 Gold / Claude should be split between Claude (96.5%) and B2 Gold (a return of 18.9% since March 8, 2016)
As the chart shows, the highest return was delivered by Richmont Mines (139.1%); the second was Newmarket Gold (130.6%). The lowest return was delivered by Fresnillo plc (43.1%).
Comment
Richmont Mines
The fundamental driver supporting Richmont's excellent performance is its flagship property, Island Gold. Simply put, Richmont is tangible evidence of the fact that it is the mineral property that is the most important factor for every mining company. And Island Gold is an excellent property. The chart below shows the amount of gold, produced at Island Gold, starting from commencing its commercial operations in 2007; the green bars show the future production at the lower zones of the Island Gold:

Click to enlarge
Source: Richmont Mines reports and Simple Digressions
As the chart shows, the best times are still ahead of Island Gold. Today this mine is in its transition period - production is being shifted from the upper zones to the lower ones (below 400 meters). Since 2017 all production is going to be delivered from the lower zones. And here is the best story - not only the lower zones will be delivering higher amounts of gold but this gold will be extracted at much lower costs than in the previous years. For example, the gold from the lower zones should be extracted at cash cost of C$559 per ounce, which is a 40% lower cost than the average cash cost reported between 2011 and 2015.
Therefore I keep up my optimistic view on the company in the coming years.
Newmarket Gold
This company is another example of a miner with an excellent property. It is called Fosterville and is located in the Victoria State, Australia. Most recently, on March 21, 2016, the company updated Fosterville's mineral reserve estimates. Despite depletion, Newmarket exploration team was able to increase mineral reserves from 308 thousand ounces in 2014 to 388 thousand ounces of gold at the end of 2015 (an increase of 26.0%). What is more, mineral resources went also up from 2,150 thousand ounces in 2014 to 2,266 thousand ounces of gold at the end of 2015 (an increase of 5.4%). Last but not least, the grades went also significantly up. In the case of mineral reserves they increased from 6.55 grams per ton to 7.28 grams per ton.
Apart from these fundamental issues, there was an event of a little bit different quality. On April 4, 2016 the company reported that Mr. Eric Sprott, a notable Canadian resource investor, purchased 10 million shares of Newmarket. Together with the earlier purchased stocks, now Mr. Sprott controls 15.15 million shares in the company and is the third biggest shareholder, holding an 8.7% stake. Shortly after this announcement the company's stock prices exploded (an increase of 35.8% to date).
Fresnillo plc
Fresnillo is a heavy weight stock in my portfolio. Well, simply put, I wanted this company in my portfolio because:
It is heavily leveraged to silver; Fresnillo is the world's biggest primary silver producer with the annual production of 43 million ounces in 2015 The company is well-managed; despite the last bear market in silver and gold (2011 - 2016), Fresnillo was able to show nice profits in that hard time In the coming years Fresnillo plans to increase its production significantly; silver production should go up from 43 million ounces in 2015 to around 75 million ounces in 2018 and gold production is going to increase from 0.74 million ounces in 2015 to nearly 1.00 million ounces in 2018
Currently the company's stocks are overvalued against its peers (for example, they are trading at a multiple of enterprise value to EBITDA of 21.1, which is quite an elevated figure) but, in my opinion, this overvaluation is justified due to higher gold and silver prices and the incoming huge increase in the planned production.
Did you know? Fresnillo shares went up 581% since the end of 2008 (a bottom of the previous gold / silver cycle). Of all big miners, only Randgold and Agnico Eagle shares went also up during that period (however, Randgold shares went up "only" 166% and Agnico Eagle increased 14%).
B2 Gold
This company replaced Claude Resources after the latter company announced an acquisition deal with Silver Standard. In my opinion, this deal is unfavorable for Claude shareholders. There will be no synergy effects - Claude runs an isolated mine in Saskatchewan, Canada and Silver Standard has two mines operating far away from Saskatchewan, namely in the United States (Nevada) and Argentina. Secondly, I think that Claude shares alone had much higher potential to increase in value than the shares of Silver Standard (with Claude operations included into Silver Standard's portfolio).
Why have I chosen B2 Gold? Well, in my opinion, it is a very decent company, run by an excellent management team. In the coming years B2 Gold is going to increase its production significantly - please, look at the chart below: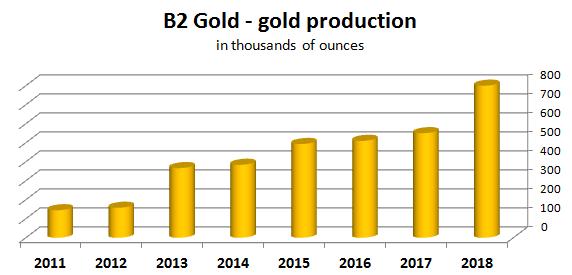 Source: B2 Gold reports and Simple Digressions
What is more, B2 Gold management has been successful to keep production costs (defined as direct production costs + depreciation and depletion + royalties and production taxes + administration expenses + share-based payments) at the relatively stable and low level of around $1,097 per ounce of gold, since 2011. Last but not least - the company is active in a very prospective, although of higher risk, regions of Africa (Namibia and Mali).
Fortuna Silver
Just a very short comment. Fortuna has been increasing its silver and gold production each year. In 2015 it produced 6.6 million ounces of silver and 39.7 thousand ounces of gold. Of the two mines, Fortuna bets mainly on its San Jose Mine. This mine should be a leading property in the coming years, with an increased share of gold in total production.
Summary
To date, I was quite lucky to base the construction of my portfolio on the above discussed companies. Since December 16, 2015 the portfolio returned nearly 100%, beating up the broad precious metals stocks, represented by GDX, by around 40 percentage points. What is more, after replacing Claude Resources for B2 Gold, I do not see any need to change the other components. I believe that all companies are excellent, long-term investment targets with high potential to increase in value.
Note: I strongly encourage my readers to visit my blog. It is a continuation of my Seeking Alpha activity where you will find the articles posted on a daily basis.
Disclosure: I am/we are long RIC, GDX, FNLPF, FSM, BTG, KGHPF.
I wrote this article myself, and it expresses my own opinions. I am not receiving compensation for it (other than from Seeking Alpha). I have no business relationship with any company whose stock is mentioned in this article.
Editor's Note: This article discusses one or more securities that do not trade on a major U.S. exchange. Please be aware of the risks associated with these stocks.