Earlier this year when Apple (NASDAQ:AAPL) had released its first quarter results, the company saw the sales of the iPhone hitting a roadblock for the first time since 2007 as sales stagnated on a year-over-year basis. As such, it seems like Apple has hit a saturation point in its existing markets, which is bad news for investors since the iPhone accounts for two-thirds of Apple's revenue.
As such, Apple needs to explore its prospects in more populous areas where it can aim to capture more market share in the long run rather than focusing on markets where it has already hit a saturation point. In a previous article, we had seen that India is one such market due to the growing usage of premium phones and high population levels. Now, we had seen in that article that Apple is facing challenges in India due to the high-priced nature of the iPhone and the fact that Indians are more focused on saving money, making it difficult for the company to crack this market.
In this article, we will take a closer look at the continent of Africa since it is the second-most populated continent on the Earth. But, is Apple doing well in Africa so as to move the needle in the long run? Let's find out.
Apple's performance in Africa
Apple's popularity does not translate into sales in Africa. This is because as compared to the U.S., Europe or China, Apple faces stiff competition from cheaply-priced phones over here that's preferred by the African public. To understand this better, we will first take a look at iOS market share in South Africa as it is the second-richest country in Africa in terms of purchasing power parity. This is shown in the chart below:

Source: My Broadband
The data in the above chart shows the share of the top five operating systems powering Vodacom-connected smartphones in South Africa. It is a good sample size to get the idea of the market as 13.4 million smart devices are now active on the Vodacom network, which is the biggest cellular operator in South Africa.
Thus, it is quite evident that Android is running away with market share in South Africa. Android's market share has increased from 57.4% in November 2015 to 61.4% in February 2016. On the other hand, Apple's iOS comes third on the chart with a Vodacom network share of 7.9% right now, down from 8% in November 2015. That shows Apple's iOS isn't very popular in South Africa, which is bad news for Apple since the country accounts for the second-largest smartphone shipments in Africa after Nigeria. Now let's explore the reasons why Apple's iPhone is not selling in Africa.
Why Apple doesn't fit here?
As far as the buying decision is concerned, African consumers focus more on practicality than on brand value. This is because the African economy is not very strong due to low GDP per capita. In fact, as shown in the table below, the GDP per capita has been declining by a wide margin in certain countries: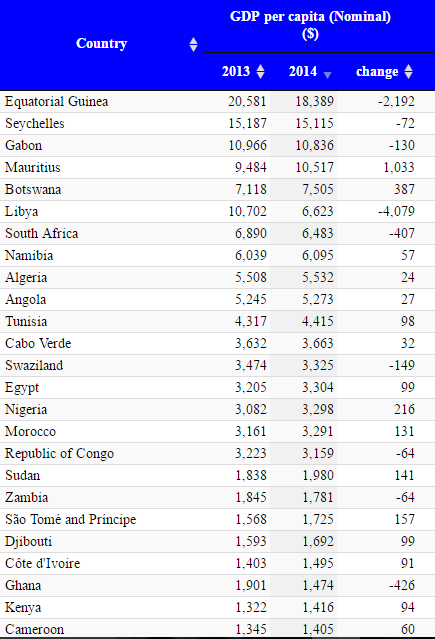 Thus, given the deteriorating economic conditions in Africa, consumers are price sensitive when making purchase decisions. This is a key reason why African consumers are brand agnostic as they are going for affordable phones instead of the more expensive iPhone. For instance, the iPhone 6S 16GB costs R10,199 in South Africa. In comparison, a premium smartphone such as the Samsung (OTC:SSNLF) Galaxy S6, with 32GB, costs a lower R7,899.
Thus, Samsung's offering costs 22% lower than the iPhone, which is a key reason why Apple has been losing market share in the continent. In fact, even Blackberry (NASDAQ:BBRY) has bigger market share than Apple in South Africa. If this is happening in one of the more influential nations in Africa, then the situation in the other markets in the continent won't be any better. In fact, Africa is so small for Apple that the company combines this region's operating performance in Europe.
So, it is quite evident that Apple is missing a huge opportunity in this emerging smartphone market. Let's see why.
Smartphone penetration in Africa
The mobile phone market in Africa is growing fast and is closing in on the 1 billion units mark. By June 2015, there were 910 million mobile phone subscribers in Africa, including the 21 million new subscriptions in the first quarter of the same year.
Now, smartphones account for a substantially high component of the increase in mobile sales in Africa. In fact, it is estimated that in the next three years, feature phones will make up for just 27% of the phone market in Africa as smartphones will continue to grow. Last year, Africa's smartphone shipments are anticipated to have grown to 155 million units, with feature phones witnessing a drop of 20% in the first quarter of the said year.
In fact, as shown in the chart below, the market share of smartphones in Africa is expected to continue growing in the long run: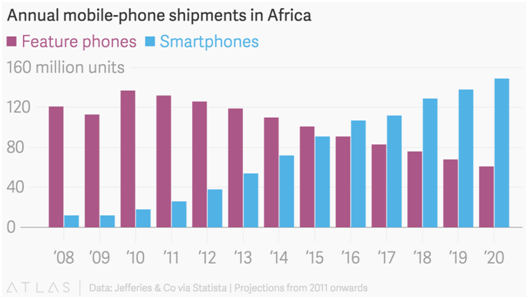 Thus, it is clear that the projected growth of smartphones in Africa is strong, but Apple is not in a position to capitalize on the same due to its premium branding. Moreover, Apple does not have any budget smartphone for the African market that sells for less than $200. As such, it is very difficult for Apple to capture share in this continent going forward, so the company might miss on the terrific smartphone growth projected here.
Conclusion
In all, the Apple brand is neither too affordable nor too popular in Africa, which is why its market share is not in good health and Africa hasn't proven to be a good market opportunity for the company despite a growing smartphone market.
The Chinese smartphones powered by Android sell below an average price of around $200. Since Apple is currently focused on tapping the premium market segment, which seems to be saturating, it will be unable to capitalize on Africa.
Disclosure: I/we have no positions in any stocks mentioned, and no plans to initiate any positions within the next 72 hours.
I wrote this article myself, and it expresses my own opinions. I am not receiving compensation for it (other than from Seeking Alpha). I have no business relationship with any company whose stock is mentioned in this article.