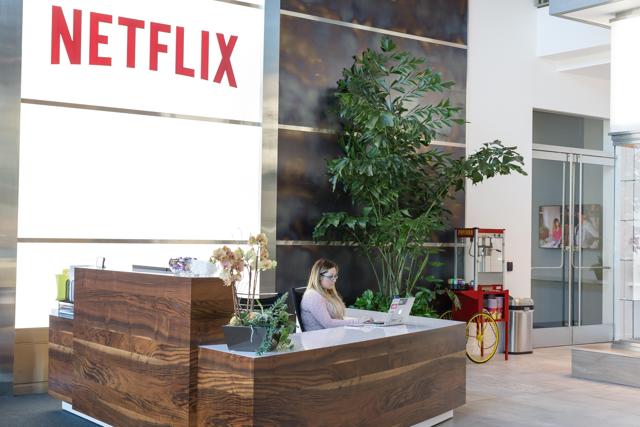 Is Netflix (NASDAQ:NFLX) destined to take over the world? If you happened to have read this entertaining and insightful post by fellow Seeking Alpha contributor Greg Wajda, you may have been led to believe that, yes, Netflix will be the next global giant on par with Alphabet (NASDAQ:GOOG) (NASDAQ:GOOGL) or Apple (NASDAQ:AAPL).
Let's take a moment, however, to consider the opposing view, that Netflix is already overvalued, its future is not only uncertain, but also perhaps even dim. This certainly isn't a shot at Greg, and if you haven't read his post yet, you absolutely should. But before you sink your cash into Netflix, you should consider the following points.
The importance of this view and possibility is underscored by the recent slide suffered by the company, after it reported weak subscriber growth. Netflix added 2.23M net subscribers in the U.S. and 4.51M in global markets, solid numbers that topped the company's guidance but failed to meet investor outlooks. Share prices declined as a result. Of course, that decline could be temporary, and the stock could be a great buy. Or, slowing growth could hint at the new reality.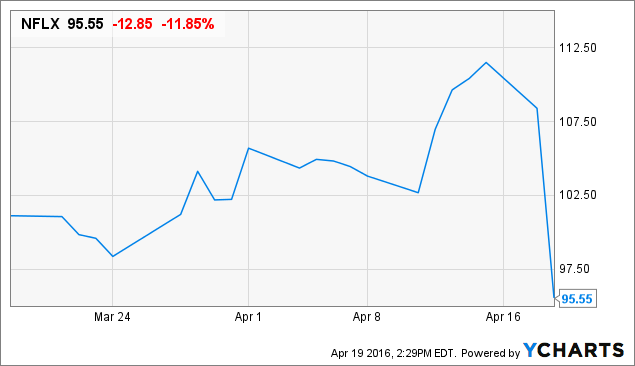 Is Netflix currently overvalued? At the very least, it's highly speculative
The argument that Netflix is overvalued has already been outlined by numerous analysts and investors. I won't focus too much on the company's current position and the allegations it is currently overvalued, but I would like to touch on a few key points.
First off, Netflix has a trailing P/E ratio (TTM, intraday) of approximately 340, and a forward P/E ratio of about 86.2 (FYE Dec. 31, 2017). These numbers are extremely high, suggesting that at the very least, Netflix is a highly speculative stock. A lot of people are expecting great things out of the company, and they're betting quite heavily on it. Meanwhile, the current profit margin is low at 1.81%, and revenues are also rather low for a company valued at about $40 billion, coming in at only $6.78 billion.
Quarterly revenue growth, however, is exceptionally strong at 22.8%, which helps explain why the P/E ratio is so high. Many investors likely believe that NFLX will continue to post excellent quarterly revenue growth and are probably betting that the company can expand profit margins in the future. At the same time, Netflix isn't carrying too much debt, with $2.37 billion on its books vs. $2.31 billion in cash.
Still, the company is closing in on its saturation point in the United States, with survey results showing that over 80% of the population are using their streaming service.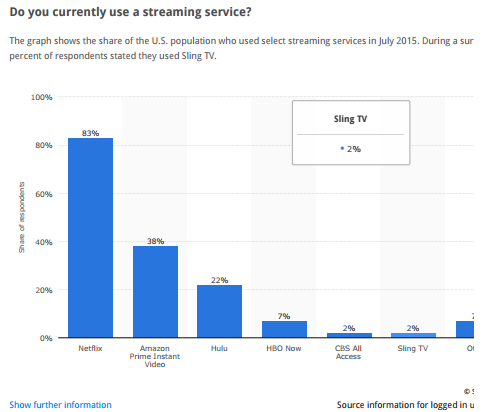 Source: Statista.com
International markets offer the potential for growth, but outside of the U.S., the global economy is tepid at best. Further, new regions mean new content. While Hollywood blockbusters enjoy international success, outside of these major movies, most countries and regions have their own content to enjoy. There's a reason Bollywood is considered the largest movie market in the world, producing well north of 1,500 movies per year, and in 2012, sold 2.6 billion tickets, roughly twice as many tickets as Hollywood. Each region has its own tastes and as well as local content producers, and for Netflix to reach high penetration rates, it will likely have to meet local demands, which will raise content acquisition and/or product costs.
Meanwhile, Netflix has been in the process of raising subscription rates, which could turn off subscribers at home and abroad.
Netflix is going to get squeezed by content producers
What really has me worried, however, are not the current numbers, but instead the environment that Netflix is operating in. Licensing fees have been steadily rising due to increased competition and the fact that the company itself could be a threat to many content producers, such as Comcast (NASDAQ:CMCSA). Netflix has already been forced to drop agreements with several major content producers, such as Epix. Over the past few years, the company has seen its selection of content drop from over 8,000 movies and TV shows to just over 5,500.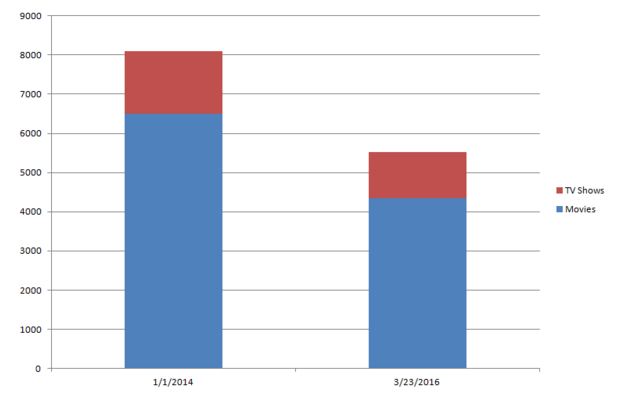 Interestingly, this decline comes even as Netflix outspends other streaming services, as the chart below illustrates: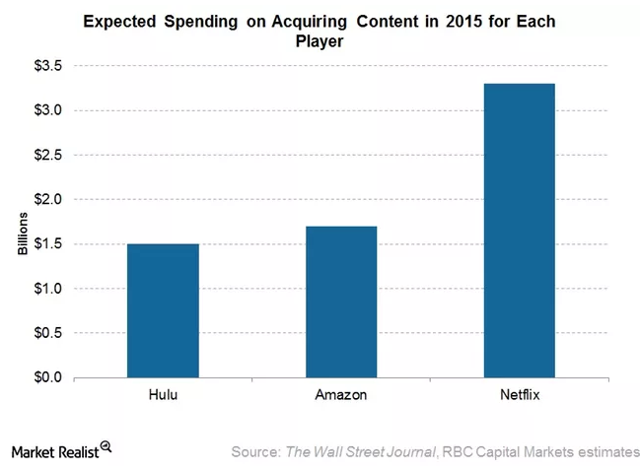 Click to enlarge
As selection declines, there's good reason to believe that some subscribers may simply decide that Netflix isn't worth the subscription price anymore. It's possible that Netflix will be able to head off discontent by ramping up its own content, which so far appears to be the chosen course for the company. Still, this may raise prices as high-quality programming is expensive to produce.
Producing content isn't cheap, and it's notoriously hit-or-miss. There's a reason why we're seeing more rehashed content from Hollywood, for example. More super hero flicks, more reboots, more movies that rely on star power rather than innovative stories and scripts. These are safer bets as producers know that they can rely on already established fan bases. Point being, producing content is a high-risk/high-reward environment.
So far, Netflix has a pretty good track record in regards to producing its own content. Orange is the New Black, BoJack Horseman, House of Cards, and Narcos are just some of the very popular and critically acclaimed shows Netflix has produced, or at least acquired exclusive rights to.
It's questionable, however, that the company can continue to hit home run after home run in regards to the content it actually produces. Original series Hemlock Grove lasted for only three seasons and got tepid reviews. Marco Polo got lambasted by critics, though appears to have secured a decent following of fans.
Competition in streaming space heating up
At the same time, other streaming services are stepping up their own efforts to produce high-quality content and large portfolios of programs to watch. For the sake of brevity, I'm only going to glance at the competition, but there's a lot to be concerned about.
For streaming services, the barrier to entry will be relatively low, especially if big companies decide to enter the space. Netflix owns no proprietary technologies that can keep competitors out, and doesn't even own its own data centers, relying instead on Amazon (NASDAQ:AMZN). Going to the cloud was probably a smart move, allowing the company to cut costs, but suggests that Netflix is more about brand rather than any key technology. The power of brands, however, can be fickle.
Speaking of Amazon, the global behemoth is rapidly expanding its own offerings, aggressively buying licensing rights and producing its own hit content, such as "The Man in the High Castle." Amazon has already proven to be a tough competitor, having taken Barnes & Noble (NYSE:BKS) to the brink and having pushed other book companies into bankruptcy. Amazon has also emerged as a threat to Wal-Mart (NYSE:WMT) and other brick-and-mortar retailers.
On top of that, there's HBO (NYSE:TWX), which has been lauded for its own premium self-produced content, and has so far leveraged parent company Time Warner to gain access to a huge repertoire of quality movies that can be streamed. Of course, we can't forget Hulu, which has been aggressively buying up licensing rights and producing its own content. HBO has about 50 million subscribers in the U.S. and 81 million subscribers abroad.
Meanwhile, Comcast is increasingly getting involved directly in the streaming business while also placing datacaps on customers in some areas, which could put a crimp on streaming all together. Disney (NYSE:DIS) also has its own streaming services, and any content producer not in the streaming business may soon jump in. Technology wise, there's not much stopping them. Of course, we can't forget about Hulu (partially owned by Comcast).
Point is, the streaming market is already a competitive place, and it appears to be growing more competitive by the day. And that's not even considering piracy and other threats.
Conclusion: Netflix is a speculative bet, at best
Investing in Netflix isn't necessarily a bad idea despite what was written above. More or less, the company's success will likely be tied to its ability to produce original content that is compelling enough to get people to pay subscription fees. The licensed content market is drying up, and the company will face further headwinds in this area in the future.
If you're going to invest in Netflix, however, don't bet the house, and don't sink your retirement portfolio into it, even if you're young. Netflix is highly speculative. The company has upside, but also a lot of downside. If I were going to invest (I'm not), I'd limit my exposure strictly to risk capital. Personally, I'll be looking for stocks that offer a better value with similar upside and risks.
Disclosure: I/we have no positions in any stocks mentioned, and no plans to initiate any positions within the next 72 hours.
I wrote this article myself, and it expresses my own opinions. I am not receiving compensation for it (other than from Seeking Alpha). I have no business relationship with any company whose stock is mentioned in this article.