Background
Nvidia (NASDAQ:NVDA) was founded in 1993 as a standard PC graphics chip company. By the mid-2000s, the company was exposed to one major long-term threat: dedicated graphics cards were slowly becoming obsolete. With their mobile cards in question, many were expecting Intel (NASDAQ:INTC) to buy Nvidia, while others saw the declining video card industry as a sign that they would be in danger of losing their main source of revenue.
Those who bought Nvidia in the mid-2000s banked on the fact that the high-end graphics cards that were marketed as dedicated but engineered under the assumption that the ever-changing tech environment would continue to evolve. They believed that the Fermi architecture used in the GF100 - GF119 chips could be adapted for a vast array of uses in future devices, and they were right.
The World Leader in Visual Computing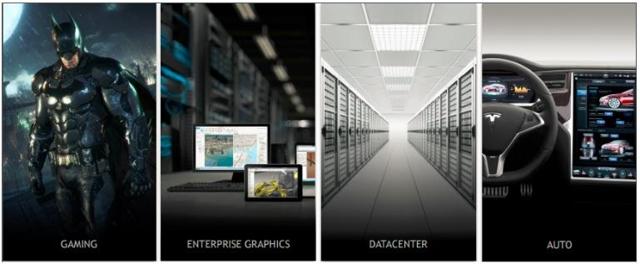 Click to enlarge
In 2014, Nvidia expanded into four large markets in visual computing: gaming, enterprise graphics, datacenter and auto. The company has experienced considerable growth in gaming and auto: 36% and 85% YOY respectively, while enjoying an 84% market share in datacenter while growing 53% YOY.
The GPU, or graphics processing unit, is key to Nvidia's success moving forward. A GPU is a circuit that accelerates applications run with a CPU to enhance the performance and buffer speed for a display. It performs thousands of simple calculations simultaneously and is well-suited for artificial intelligence because of its pattern-recognition capabilities. Currently, about 3,500 businesses use Nvidia's GPU for AI and data analysis, among other uses. Specifically, the GPUs are used for "speech recognition systems, software to develop gene therapies, programs that transform satellite photos into detailed maps," video games and autonomous vehicles.
Opportunity: Technologically Advanced Vehicles
Nvidia is already a key supplier of processor chips that power infotainment and navigation systems: 8 million cars as of 2014. Automakers include Audi, BMW, Bentley, Honda, Porsche, Mercedes Benz, Ferrari, Tesla and Volkswagen. Danny Shapiro, Nvidia's senior director of automotive, expects to be powering the systems of 25 million more cars in the next four years. The biggest obstacle the company faces is pricing pressure from competitors. Each company in the industry produces GPUs that are relatively similar to each other's. This will force Nvidia to differentiate in some way if they are to continue their recent success in gaining market share.
The market for autonomous vehicles is projected to be about $42B by 2025 and may account for a quarter of global auto sales by 2035 accourding to the Boston Consulting Group. Uber (Private:UBER) CEO, Travis Kalanick, expects the company's fleet of cars to be driverless by 2030, while Lyft (Private:LYFT) and GM (NYSE:GM) are teaming up to create a Fleet of Driverless Cars. As the brake, engine, lighting and wiper, steering and suspension, transmission, and battery systems in vehicles become increasingly technologically integrated, Nvidia is positioned nicely to supply the bulk of GPUs for the industry.
Financials and Valuation
Last year, Nvidia continued a six-year trend of gross margin expansion despite a ~50% decrease in operating income. Entering the new markets in visual computing allowed Nvidia to surpass $1B in free cash flow for the first time in the company's 23-year history. Nvidia's debt/equity is below the industry average at 0.32. A key competitor, Advanced Micro Devices (NYSE:AMD), is highly leveraged, and may experience solvency issues if the PC market continues to decline. Net income CAGR for Nvidia has been at 7.7%, exceeding the industry average, and net operative cash flow has increased 15.42% since last year, exceeding a poor industry average cash flow growth rate of -3.96%. However, despite the promising financials recently, an overall negative economic outlook could seriously affect Nvidia sales in the future. Their GPUs power a wide range of technologies from consumer products to military applications, so while they do have a well-diversified customer base, consumer sales in particular could take a hit if the economy begins to struggle.
Recently, Nvidia shares have been trading in the $35-38 range. A discounted cash flow valuation with a 5.62% growth rate, a 9.14% WACC, and a 2.69% terminal growth rate (fairly conservative) produces an estimated intrinsic value of $59.58 (revenue assumptions: 19.4% operating income/sales, 15.7% tax rate, 23.9% PPE/sales, 5.5% depreciation/sales, 94.7% working capital/sales).
Why Nvidia is a Long-Term Play
The last four years have been abysmal for the desktop PC industry, leading many to believe that the companies who supply graphics chips will fall victim to the slump. Investors are currently undervaluing Nvidia's stock for this reason. A strong US dollar also has hurt international sales for Advanced Micro Devices and Intel (NASDAQ:INTC), while Nvidia continues to supply almost exclusively domestically. The proof is in the gross margin expansion over the last six years.
Major opportunities for Nvidia in the near future include virtual reality, visual computing for autonomous vehicles, a growing need for datacenter infrastructure, and HUD for automotive, educational and several other purposes. VR shipments could create a $2.8B hardware market by 2020 by some estimates, up from a $37M market this year. This explosive growth may be a catalyst for Nvidia GPU sales in the coming years. In addition to VR, augmented reality applications are becoming increasingly popular with American consumers. Heather Bellini of Goldman Sachs Research expects virtual and augmented reality to become an $80B market by 2025. Nvidia is in a great position to capitalize.
Disclosure: I/we have no positions in any stocks mentioned, and no plans to initiate any positions within the next 72 hours.
I wrote this article myself, and it expresses my own opinions. I am not receiving compensation for it (other than from Seeking Alpha). I have no business relationship with any company whose stock is mentioned in this article.