Oil prices have plunged 61% since reaching peak levels in July 2014. In November 2014, OPEC expressed concern about losing global market share due to rising U.S. oil production. OPEC members highlighted growing global inventories resulting from an oversupplied global market. This triggered a steep decline in oil prices that continued into 2016.
With oil prices below $40 per barrel for most of 2016 year to date, the question is, has OPEC achieved its goal? In some ways, OPEC has accomplished what it set out to do. OPEC oil production has steadily increased since the fourth quarter of 2014. U.S. oil production has been on the decline after peaking at 9.7 million barrels per day in April 2015. However, most OPEC members are struggling financially due to the significant decline in oil prices as well as the duration of this commodity cycle. OPEC added to its members' misery in December 2015 with its message of wait and watch. This message ended up being a complete disaster adding uncertainty to already volatile commodity prices. OPEC members watched oil prices spiral downward from the mid-$40s at the time of the December 2015 meeting into the $30s then to the $20s finally hitting a bottom price of $26.21 on February 11.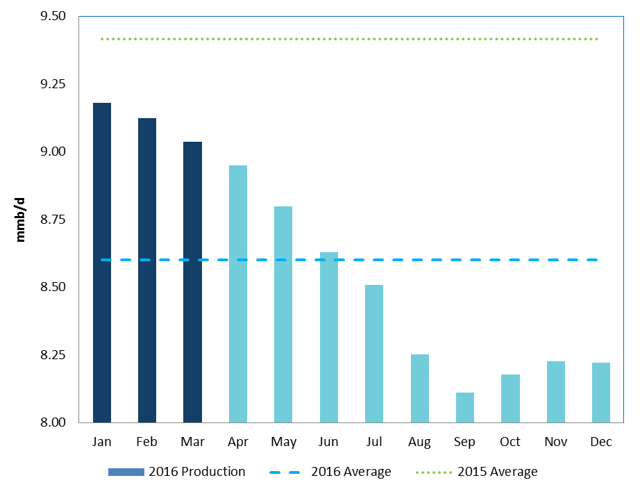 Source: EIA. 4/2016-12/2016 production numbers are estimates as of April.
Short-Term Energy Outlook
In mid-February with oil prices down 30% in the first month and a half of 2016, a flurry of media reports indicated that Saudi Arabia and Russia were calling for a coordinated effort to freeze production. Ultimately, the April meeting in Doha was set. The meeting would include OPEC members as well as non-OPEC members. Subsequent to February 11, oil prices increased by 58% through April 14th.
So, what happened in Doha?
The meeting lasted several hours but ultimately no formal agreement was reached to freeze oil production at current levels. OPEC is returning to its wait and watch approach which is likely to increase oil price volatility in the short term. This is not a complete surprise as several industry surveys were evenly split as to whether or not a deal would be agreed to. While the inability to reach an agreement is likely to be viewed negatively by the market in the short term, it is important to understand that OPEC is becoming less relevant as the cartel is already producing near maximum capacity. This is, in effect, a freeze.
U.S. represents potential long-term solution to balance global supply and demand
OPEC is currently producing 32.5 million barrels per day as of March 2016. Many believe that OPEC can produce up to another 2 million barrels per day, a majority of which comes from Saudi Arabia increasing production. Over the past two decades, global demand for crude oil has increased by 1 million barrels per day.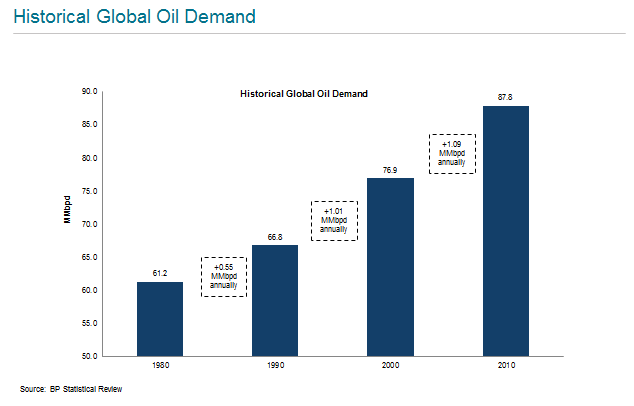 With OPEC producing near its maximum capacity, the question becomes "Where will the supply come from to fill global demand in the long term?" We believe the answer is the United States. U.S. oil produced in the Permian Basin, the Eagle Ford shale, and the Bakken can be the long term solution that balances global supply and demand.
Simply put, in our view, U.S. shale is here to stay. The current commodity cycle has been painful for shale producers but many have responded using technology and innovation to become more competitive with global producers. In the U.S., $50 is the new $90 per barrel of oil, as many U.S. producers can earn the same rates of return at $50 per barrel oil that they used to earn at $90 oil. Why? Technology has allowed U.S. shale producers to lower drilling costs and increase the volumes recovered from each well. For example, some producers in the Permian have cut drilling costs in half while doubling the volume of oil and gas recovered from each well. This combination allows U.S. oil producers to make $50 the new $90.
U.S. energy sector hits milestones in 2016
Investors across the globe under-appreciate the impact that technology and innovations have had on energy costs. In effect, the U.S. has lowered energy costs for consumers around the world. Even better news for energy investors - the U.S. is just getting started as a supplier of low cost energy to the rest of the world. 2016 is a milestone year for the U.S. energy sector due to a series of firsts including:
First year that U.S. produced crude oil is exported
First international shipment of liquefied natural gas
First shipment of ethane transported to Norway
Cure for Low Energy Prices: Low Energy Prices
When commodity prices are low, investors tend to flee from the energy sector. We think now is the time for investors to come back. We believe oil prices have bottomed. The energy sector is critical for the advancement of all economies. Demand for energy has been on the rise.
Our experience at Tortoise tells us that the cure for low energy prices is low energy prices as demand for energy typically increases when commodity prices are low. This played out last year in 2015 when global oil demand increased by 1.8 million barrels per day which is 80% higher than normal.
The announcement out of Doha is likely to result in short-term volatility in the oil markets. However, over the long term the U.S. has positioned itself as a low cost supplier of energy to the rest of the world making the U.S. energy sector, in our view, an attractive place for investors to increase their allocations.
Disclosure: I am/we are long SPECIFIC ENERGY STOCKS.
I wrote this article myself, and it expresses my own opinions. I am not receiving compensation for it. I have no business relationship with any company whose stock is mentioned in this article.