By Tim Atwill, Ph.D., CFA
Valuations
Looking at Cyclically Adjusted P/E ("CAPE") ratios, it is clear that emerging market stocks are much cheaper than developed market stocks, as demonstrated by the much higher CAPE ratios observed in developed markets.1 In addition, when compared to their historical averages, we also see that U.S. equities are at extended valuations while both developed and emerging markets are currently standing below their average measurement.

Click to enlarge
Given the data in Figure 1, most valuation-sensitive investors would find the emerging markets attractive on both an asset-class relative basis, as well as on an historical basis. The fact that many investors are considering selling emerging market assets to purchase U.S. equities is at odds with this data.
Dollar Strength
A large part of the recent decline in emerging market returns is due to the sharp rally in the U.S. dollar. That is, equity markets in a foreign country's base currency may have increased, but when translated into dollar terms, the depreciation of the foreign currency versus the dollar results in a loss when the returns are stated in dollar terms. One way of measuring the impact of currency movements on the index is to examine local returns, which correspond to those experienced by investors who have hedged all currency movements in their portfolio. As Figure 2 shows, one can see how recent returns in the emerging market asset class have been negatively impacted by this rally in the U.S. dollar.

Click to enlargeThe future direction of currency markets is unknown, but it would be heroic to assume such a rally will repeat itself over the next three years. Given this, we would emphasize that recent experience is not a good representative of forward expectations of currency impacts on emerging market returns.
Diversification
Emerging and frontier countries are not as integrated into the global economy as developed countries, due to the former possessing more internally-focused economies and industries. Aside from some of the largest developing nations, the stock markets of these countries are driven more by their individual dynamics than events in the global markets. This naturally leads to equity markets which exhibit low correlation to the equity markets of the developed world. This is confirmed by Figure 3, which shows a persistently lower correlation between U.S. equities and emerging market stocks than that which exists between U.S. equities and international developed stocks.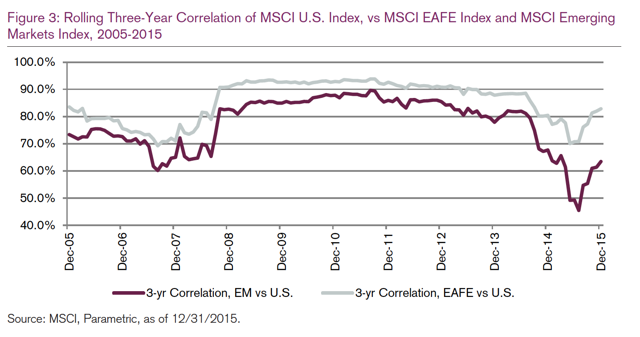 Click to enlargeThis persistently lower level of correlation leads to an expected diversification benefit at the portfolio level for most investors, as portfolios which include an allocation to emerging markets are able to produce higher expected returns with lower expected volatility than portfolios which do not contain such an allocation.
Recent experience in the emerging markets may raise the question of why any allocation exists, given that emerging markets have dropped, while developed markets have risen. However, we would view this as evidence that the asset class remains an effective diversifier, as the very nature of diversification is for an asset class to be down when other asset classes are up despite our human tendency to want assets which both diversify and only go up.
Unconscious (& Unconscionable) Underweight
If one uses market capitalization as a frame of reference, then the exclusion of the emerging markets represents a tremendous underweight from a neutral position. To be exact, the MSCI ACWI Index's allocation to EM is currently 9.6%, so by not holding emerging market equities, an investor is essentially saying he hates the asset class so much, he would like to hold a nearly 10% underweight to a neutral position. In conversations with clients, we rarely find a level of conviction which matches the magnitude of this bet.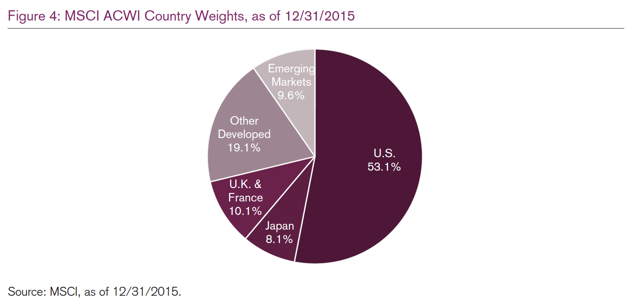 Click to enlargeIn addition, as can be seen in Figure 4, this is an extraordinary underweight, larger than excluding, for example, all of Japan, and similar in size to removing both the U.K. and France. While these latter examples would typically be seen as bordering on foolhardy by most investors, we would argue the exclusion of emerging market equities from one's equity portfolio is equally aggressive.
Conclusion
Recent performance in the emerging markets asset class has caused such a degree of fear, that for many investors the strategic reasons for owning the asset class no longer seem quite so compelling. In this brief we have laid out supporting arguments that should assist in further motivating an investment in emerging markets equities. Based on generally used valuation metrics, the asset class is cheap versus its historical average, and versus other asset classes; its recent returns have been savaged by currency impacts which are unlikely to be repeated; it remains a powerful diversifier to an investor's portfolio; and an elimination of the asset class would represent a bet which is larger than the conviction of many making the bet. Perhaps the most germane advice is to repeat Warren Buffett's homily that investors should, "Be fearful when others are greedy. Be greedy when others are fearful." The above arguments have hopefully shown that there are a number of logical arguments for investors to be greedy, instead of fearful, when it comes to emerging market equities.
Note
1. The cyclically adjusted price-to-earnings ratio is a valuation measure which divides the current level of an index by an inflation-adjusted average of earnings over a historical time period. All of the ratios in Figure 1 are based on a 10-year observation window for earnings.
Disclosure: I/we have no positions in any stocks mentioned, and no plans to initiate any positions within the next 72 hours.
Business relationship disclosure: This was written by my client, Parametric. I am with their PR agency.
Additional disclosure: Parametric, headquartered in Seattle, WA, is a leading global asset management firm, providing investment strategies and customized exposure management to institutions and individual investors around the world. Parametric offers a variety of rules- based, risk-controlled investment strategies, including alpha-seeking equity, alternative and options strate- gies, as well as implementation services, including customized equity, traditional overlay and centralized portfolio management. Parametric is a majority-owned subsidiary of Eaton Vance Corp. and offers these capabilities through investment centers in Seattle, WA, Minneapolis, MN and Westport, CT (home to Parametric subsidiary Parametric Risk Advisors LLC., an SEC-registered investment adviser). Disclosure Parametric Portfolio Associates® LLC. ("Parametric"), headquartered in Seattle, Washington, is registered as an investment adviser under the United States Securities and Exchange Commission Investment Advisers Act of 1940. This information is intended for use with investment professionals. It is solely to report on investment strategies and opportunities identified by Parametric. Opinions and estimates offered constitute our judgment and are subject to change without notice, as are statements of financial market trends, which are based on current market conditions. We believe the information provided here is reliable, but do not war- rant its accuracy or completeness. This material is not intended as an offer or solicitation for the purchase or sale of any financial instrument. The views and strate- gies described may not be suitable for all investors. Investing entails risks and there can be no assurance that Parametric will achieve profits or avoid incurring losses. Parametric does not provide legal, tax and/or accounting advice or services. Clients should consult with their own tax or legal advisor prior to entering into any transaction or strategy described herein. Charts, graphs and other visual presentations and text information were derived from internal, proprietary, and/or service vendor technology sources and/or may have been extracted from other firm data bases. As a result, the tabulation of certain reports may not precisely match other published data. Data may have originated from various sources including, but not limited to, Bloomberg, S&P, MSCI/Barra, FactSet, and/or other systems and programs. Parametric makes no representation or endorsement concerning the accuracy or propriety of information received from any other third party. Global market investing, (including developed, emerg- ing and frontier markets) carries additional risks and/ or costs including but not limited to: political, eco- nomic, financial market, currency exchange, liquidity, accounting, and trading capability risks. Future investments may be made under different economic conditions, in different securities and using different investment strategies. "MSCI" and MSCI Index names are service marks of MSCI Inc. ("MSCI") or its affiliates. The strategy is not sponsored, guaranteed or endorsed by MSCI or its affiliates. MSCI makes not warranty or bears any liability as to the results to be obtained by any person or any entity from the use of any such MSCI Index or any data included therein. Please refer to the specific service provider's website for complete details on all indices. Parametric is located at 1918 8th Avenue, Suite 3100, Seattle, WA 98101. For more information regarding Parametric and its investment strategies, or to request a copy of Parametric's Form ADV, please contact us at 206.694.5575 or visit our website, www.parametricportfolio.com.