Chevron Corporation (NYSE:CVX) reports its Q1 2016 earnings on April 29, which will be followed up by its annual shareholders meeting the following month. Management will issue out plenty of updates as Chevron enters what could be the beginning of the beginning of the recovery in energy prices. Here are a few items to look out for.
Gulf of Mexico updates
Since turning the Jack and St. Malo fields online in the Gulf of Mexico back in December 2014, Chevron has ramped up production from the development to ~75,000 BOE/d (heavily weighted towards crude). Both fields are estimated to house a combined ~500 million BOE of recoverable resources, supporting a solid long term production stream. By the end of 2016, Chevron, as the operator with a 50%-51% stake in both fields, plans to boost output to ~100,000 BOE/d.
While not an enormous amount of additional production will be added relative to Chevron's massive production base, a successful and timely ramp up is a bullish indicator for Chevron's future endeavors in the region. The slip up at the Big Foot project, which now won't come online until the second half of 2018, put a damper on Chevron's Gulf of Mexico ambitions which is why even marginal bullish updates are a plus.
Hess Corporation's (NYSE:HES) Tubular Bells GoM project, which Chevron owns 42.86% of, reached first-oil in November 2014. So far Hess has done a great job of increasing production to its estimated peak rate of ~50,000 BOE/d (weighted towards crude oil). The Tubular Bells development is targeting recoverable reserves north of 120 million BOE. Hess' success at the Tubular Bells is good news in more ways than one for Chevron, as it paints a bullish outlook for the Stampede endeavor.
The Stampede venture is also operated by Hess (25% interest), which Chevron is invested in with a 25% stake in the project alongside Statoil (NYSE:STO) and CNOOC (NYSE:CEO), through its purchase of Nexen. Hess is aiming to hit first-oil in 2018 as the development targets the Knotty Head and Pony fields which hold a combined 350 million BOE of recoverable resources (also weighted toward crude). At its peak, the project is expected to pump out 80,000 bo/d and 120 MMcf/d of natural gas.
On the exploration front, shareholders should see how Chevron and Hess' Sicily discovery is panning out. In April 2015, Chevron (50%) and Hess (25%) reached total depth at the Sicily-1 well. Hess' CEO stated that the partnership was "encouraged" by the discovery and that appraisal work would begin. The Sicily-2 well was spud in December 2015 and results are expected by Q2 2016. Investors should see if Chevron will stop being so tight-lipped during its conference call and release any updates regarding the find.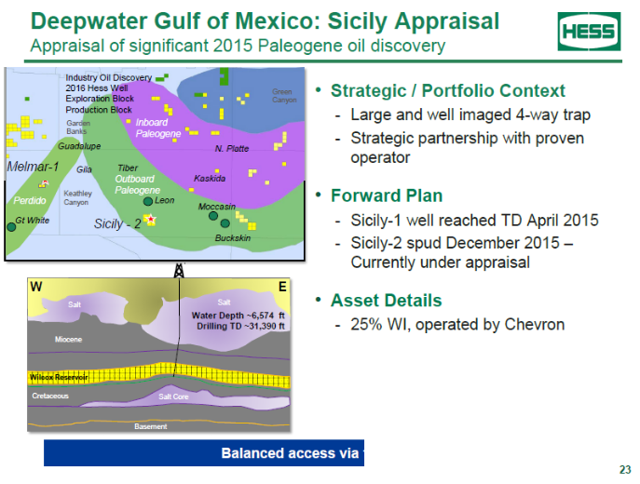 Click to enlarge
Source: Hess Corporation Presentation
LNG projects
Liquefied natural gas, or LNG, is natural gas that has been cooled down to negative 260 degrees Fahrenheit so it can be transported efficiently, as LNG takes up just 1/600 of the space of its gas form.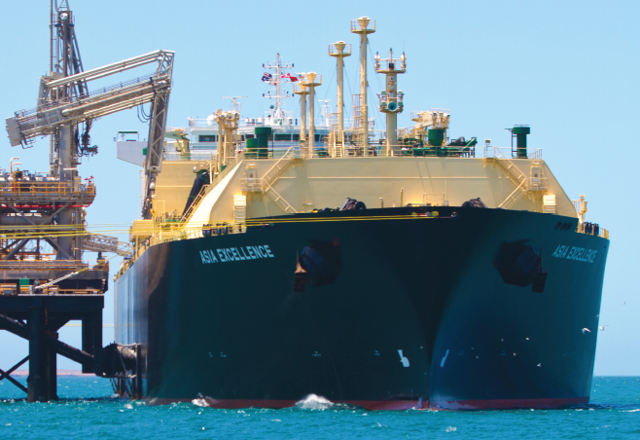 Click to enlarge
Source: Chevron Gorgon LNG Website
The Gorgon LNG project took an extra 18 months - 24 months and $20+ Billion USD to come online relative to its initial plans, and the ramp up didn't go off without a hitch. Shortly after its first LNG cargo, Chevron and its partners ExxonMobil (NYSE:XOM) and Royal Dutch Shell (NYSE:RDS.A) (NYSE:RDS.B) were forced to announce that the facility would be offline for 30 days - 60 days before coming back online. On top of that, the consortium will have to shell out ~$80 million USD in order to do to fix a mechanical failure. This isn't good news considering this is the first train of three that are slated to become operational within the next year. Chevron owns 47.3% of the venture, while Shell and Exxon each own 25%.
While the ramp up of Train 1 is still guided to be completed within six to eight months, it would be more realistic to assume that the consortium will come in at the high end of that guidance. Chevron noted that every six months or so another train at the Gorgon facility would start up, with Train 3 marking the end of the current development phase. All three trains combined will have the capacity to produce 15.6 million metric tons of liquefied natural gas, along with a domestic plant that will route 300 terajoules per day to customers in Western Australia. It's possible this delay will force Chevron to shake up its timetable a bit, which investors should look out for.
The restart of the Angola LNG facility is also on the table, as Chevron's last update indicated that the development would be operational sometime in the second quarter of 2016. Shortly after coming online in 2013, the plant was shut down in 2014 due to a rupture in a flare line and the lackluster utilization rate of the facility. The Angola LNG's inability to process a wider range of specific gravities, which is the ratio of the density of gas under standard conditions versus the density of air under standard conditions, and various levels of gas "wetness", from dry biogenic gas that is made up entirely of methane to thermogenic gas that has wet gas components, kept its utilization rate around 50% of total LNG production capacity of 5.2 million metric tons a year.
When Chevron and its partners closed down the development, the consortium decided to upgrade the plant at Soyo, Angola, so it could process a wider array of specific gravities and levels of gas "wetness". All of those upgrades have been completed, implying a decent chance production could start up within that timeframe. Investors should see if Chevron will be able to get two LNG growth catalysts up and running this year, and how that will help the company push down its future capex.
Recently, the Angola facility entered into a deal with EDF Trading to sell a portion of its LNG output. Chevron also announced that starting in 2020, it will begin selling a quarter of the Wheatstone development's domestic gas production to an Australian utility company. Reducing Chevron Corporation's direct exposure to the spot market is crucial in guaranteeing future cash flow streams.
Next year, the Wheatstone LNG development in Australia is expected to start up. While the Wheatstone project has run into far fewer problems than the Gorgon LNG facility, Chevron did delay its timetable by a year. Shareholders should see how construction on that LNG plant is going as well.
Final thoughts
Chevron Corporation is banking heavily on being able to support its dividend payments by cutting down sharply on its capital expenditures. That will only be possible if it gets its act together and improves its operational execution game, with the LNG trifecta taking center stage.
In the Gulf of Mexico, other than the Big Foot debacle, things are looking bright as Chevron Corporation continues to boost output from the region while uncovering new prospects to keep the momentum going. The Sicily prospect was "encouraging" enough to merit spending the money to drill another well right away, which is a promising sign that there are a considerable amount of recoverable resources in the area.
Disclosure: I am/we are long HES.
I wrote this article myself, and it expresses my own opinions. I am not receiving compensation for it (other than from Seeking Alpha). I have no business relationship with any company whose stock is mentioned in this article.