Estimates from TrendForce confirm the suspicions of many Apple (NASDAQ:AAPL) watchers that iPhone sales are falling out of bed since the first of the year. TrendForce estimates Apple's market share plunged to 14.4% in the March quarter from 20.9% in the Christmas period. In the same interval, Samsung (OTC:SSNLF) seems to have added almost as much market share as Apple lost with gains also being made by Lenovo (OTCPK:LNVGY), LG (OTC:LGEAF) and Xiaomi (Private:XI). Total shipments for the quarter show seasonal softness.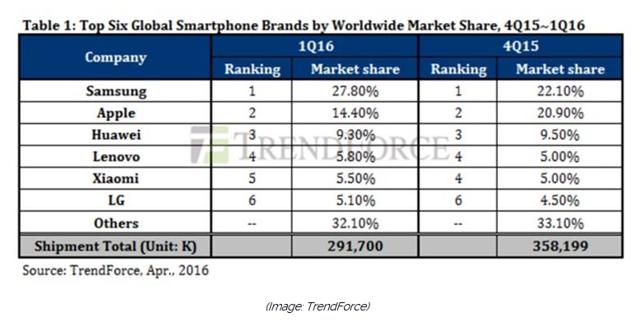 Click to enlarge
Source: Zdnet.com
The TrendForce estimates suggest Apple's Q2 volumes fell to the 40 million range, a substantial decline from last year's 61 million.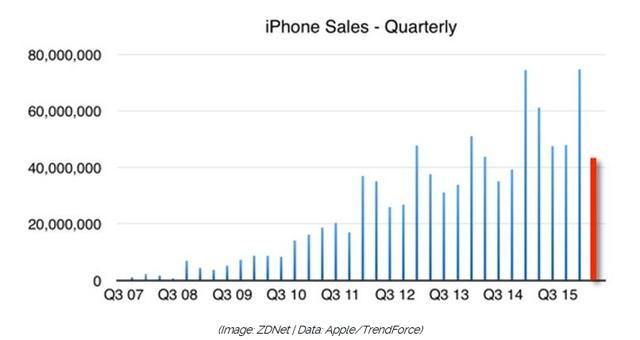 Click to enlarge
Source: Zdnet.com
The TrendForce estimates are bolstered by recent reports that Apple is cutting production of the iPhone 6S owing to swelling inventories and that the lower production rates may continue through next June.
The recently released iPhone SE does not seem to be helping much. The lower-priced phone was apparently targeted at emerging markets like India. To date, however, Apple has shipped less than 25,000 iPhone SE models into India, according to data from zauba.com.

Click to enlarge
Source: Zauba.com
India is not the only soft spot. Fiksu.com data show uptake of the iPhone SE flatlining at 0.3% of the iPhone installed base or about one-third as popular as the dismal reception of the iPhone 5C, Apple's last attempt to introduce a lower-priced phone.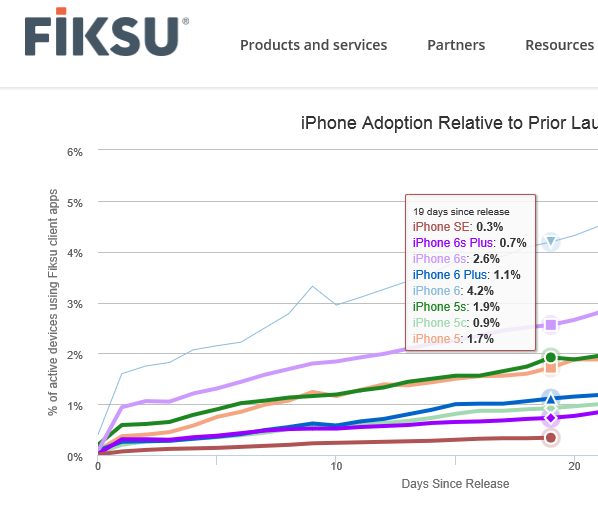 Source: Fiksu.com
Apple fans will have to wait for the iPhone 7 to see if the slumping sales will be reversed. I would not expect too much. At least one analyst thinks Apple stock is headed into the $70s.
The implied strategy of selling middling devices for premium prices seems to be catching up to Apple. Competitors such as Samsung, Huawei and Xiaomi have taken the gloves off by introducing truly superior devices at highly competitive prices, and consumers are getting the point. Why pay a huge premium for the Apple logo on an increasingly dated design with what is rapidly becoming a sub-par ecosystem?
If AAPL's March-quarter release next week confirms the ugly picture, its stock will no doubt accelerate its southern vacation and the Apple fan club can plan on holding a wake rather than its typical quarterly earnings celebration.
I just closed out my Apple puts for a tidy 30% gain in just a few weeks. I will look for opportunities to put the trade on again if enough Apple fans drive the stock price higher in the evangelical fervor they often display on the eve of an AAPL earnings release.
Disclosure: I/we have no positions in any stocks mentioned, but may initiate a short position in AAPL over the next 72 hours.
I wrote this article myself, and it expresses my own opinions. I am not receiving compensation for it (other than from Seeking Alpha). I have no business relationship with any company whose stock is mentioned in this article.
Editor's Note: This article discusses one or more securities that do not trade on a major U.S. exchange. Please be aware of the risks associated with these stocks.