Between 4-11 and 4-15, there is only one instance of insider buying that deserves attention. Vikram Verma, CEO; Darren Hakeman, SVP Product & Strategy; Mary Ellen Genovese, CFO; and Bryan R. Martin, CTO all bought shares of 8X8 Inc. (NASDAQ:EGHT). The CEO bought even a $1 million worth of shares. To be fair, their respective annual salaries are a multiple of these buy orders, but you don't spend $1 million to "prop up" your stock price, and it is still a sizeable increase of Verma's holdings.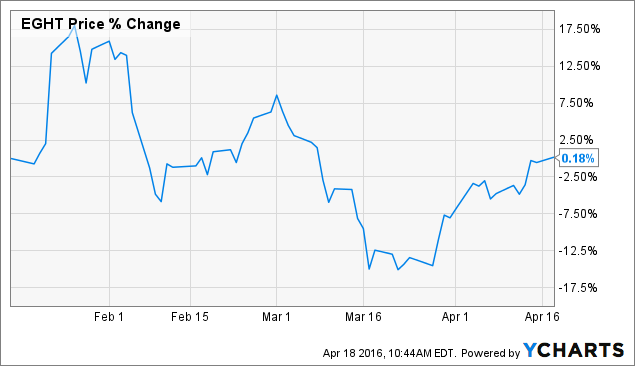 EGHT data by YCharts
The recent run-up in the share price is a very slight positive. Other positives are the fact a number of officers are buying, the CFO is buying and one of the execs is female (also the CFO in this case). Women have proven to be not only better investors (Odean and Barber), but also more skillful insider buyers. The issue is a little bit complicated, with studies reaching different conclusions, and it isn't exactly clear why this is the case. I've decided to treat it as a slight positive, to be considered along with other factors. For discussion of various studies on the subject, I like The Vital Few vs. the Trivial Many and the Research Handbook on Insider Trading.
Examining data collected by TipRanks, I learned that none of the execs appears to have a knack for timing. Their performance track records trading the stock of their own company aren't impressive compared to a universe of execs.
You shouldn't rely too much on that data, though, because most of them have only bought shares on a few occasions. They didn't engage in insider buying at other companies, and with the exception of Bryan R. Martin (the insider with the worst track record), they never sold shares. The buying data from an insider who spreads his bets across companies and does both buying and selling is generally more meaningful.
The company is pretty much off the radar, with very few articles on Seeking Alpha covering it, although Alpha Gen Capital has a few PRO articles on the name.
Knowledge of patent value appears useful to make sense of what this struggling company is worth. Its fundamentals don't speak for themselves, with an EV/EBITDA of 188x, P/B of 3.5x and $16 million of cash flow on a $900 million market cap. Its cash position of $150 million with no debt is attractive, and super investors Jim Simons (Portfolio) and Ken Fisher (Portfolio) like the company and have positions in it.
Make sure to check out previous Insider Buying Reports for more valuable signals:
Disclosure: I/we have no positions in any stocks mentioned, and no plans to initiate any positions within the next 72 hours.
I wrote this article myself, and it expresses my own opinions. I am not receiving compensation for it (other than from Seeking Alpha). I have no business relationship with any company whose stock is mentioned in this article.