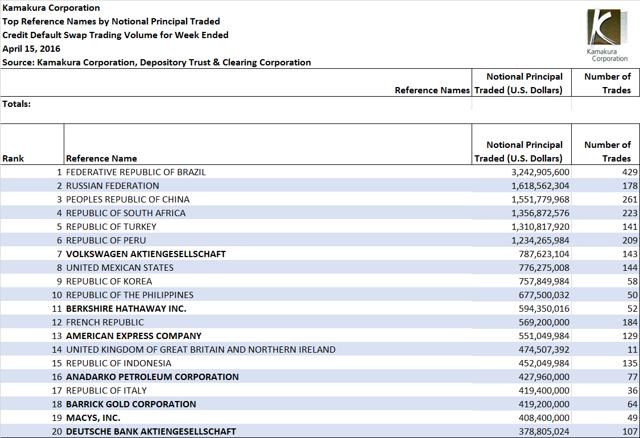 Click to enlarge
Data released by the Depository Trust & Clearing Corporation today showed Berkshire Hathaway (BRK.A, BRK.B) trailing only Volkswagen AG (OTCPK:VLKAY) as the most heavily traded corporate reference name in the credit default swap market for the week ending April 15, 2016. American Express (NYSE:AXP), Anadarko Petroleum (NYSE:APC), Barrick Gold Corporation (NYSE:ABX), Macy's Inc. (NYSE:M), and Deutsche Bank AG (NYSE:DB) rounded out the other corporate reference names in the top 20 most heavily traded rankings.
Kamakura Risk Information Services annualized 5-year default probabilities for Volkswagen AG (in blue) and Berkshire Hathaway Inc. (in yellow) are shown in the graph below: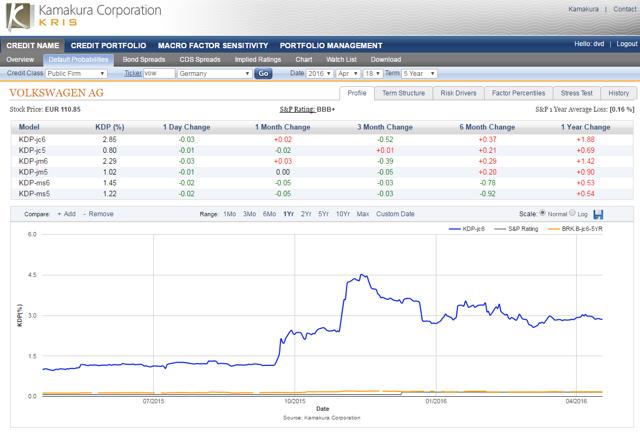 Click to enlarge
As we have noted repeatedly in commentary on the credit default swap market, a high level of volume doesn't necessarily indicate a high level of default risk. Indeed, the Berkshire Hathaway 5-year default probabilities are a small fraction of the 5-year default probabilities for Volkswagen AG. High volume, but does indicate an increase in the diversity of traders' opinions on the credit quality of the firm.
In the U.S. corporate bond market, trading volume in Berkshire Hathaway-affiliated legal entities on Monday, April 18 is tabulated in this chart for the 10 issues which had at least $5 million in trading volume on the day:

Click to enlarge
The issue with the longest credit spread history is the 2043 issue by Berkshire Hathaway Energy. If anything, credit spreads have been on a narrowing trend in recent weeks: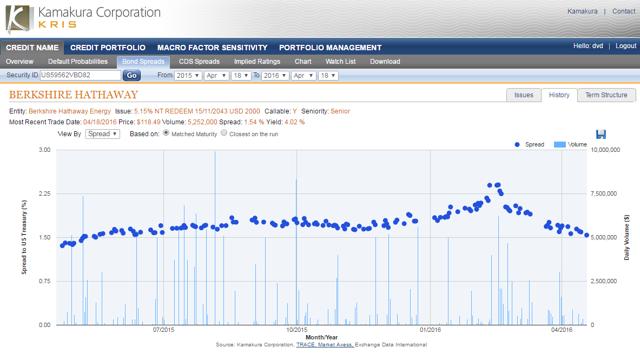 Click to enlarge
Only one bond issue of Volkswagen AG has traded in the U.S. corporate bond market over the last year. The credit spreads reflect the crushing impact that the emissions scandal has had on the perceived credit risk of the firm: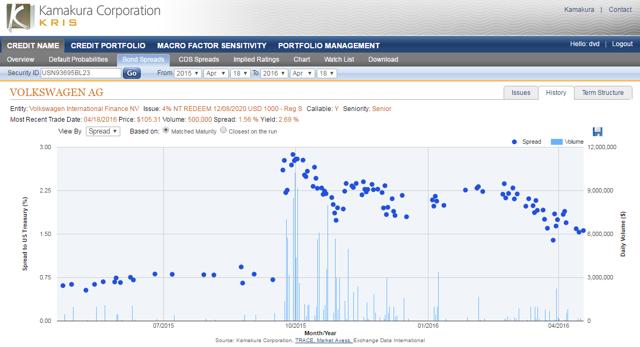 Click to enlarge
Default probabilities for both firms are updated daily, and updates are available from info@kamakuraco.com.
Disclosure: I/we have no positions in any stocks mentioned, and no plans to initiate any positions within the next 72 hours.
I wrote this article myself, and it expresses my own opinions. I am not receiving compensation for it (other than from Seeking Alpha). I have no business relationship with any company whose stock is mentioned in this article.
Editor's Note: This article discusses one or more securities that do not trade on a major U.S. exchange. Please be aware of the risks associated with these stocks.