Over the last few days, General Electric (NYSE:GE) and the Sanders campaign have been making headline news in their discussions about who is responsible for the destruction of the moral fiber of America. Jeff Immelt, GE's CEO, responded to Senator Sanders' accusations with a return shot stating, "We've never been a hit with socialists." This begs the question, where is General Electric a big hit?
EBITDA Margin (Trailing Twelve Months)
Comparing General Electric to its stated peer group companies*, at nearly 14.01% EBITDA margin, the company is significantly underperforming its peers (26.67%). Sure, the business models of this peer group vary widely, but General Electric's does as well.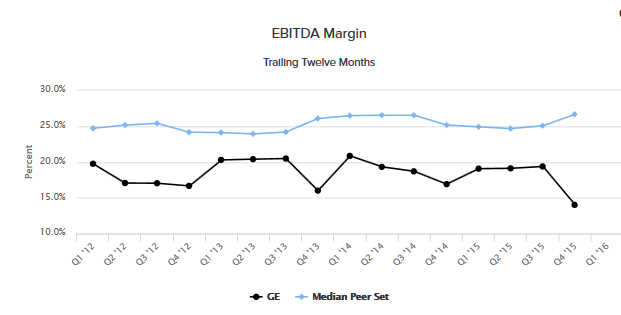 Exhibit 1
Source: Enlight Research, April 17, 2016
Return on Invested Capital
During the same time horizon, in another key performance assessment area, Return on Invested Capital (ROIC), General Electric falls short once again. In Q4 2015, GE significantly underperformed its peer group at 2.09% return, compared to the median composite value for its peers during the same quarter at 4.76%. This metric, designed to calculate a company's efficiency at allocating capital to generate returns - combined with the less-than-stellar EBITDA margin performance - indicates a few noteworthy areas for Immelt to address. Which means, perhaps GE isn't such a hit with the capitalists either?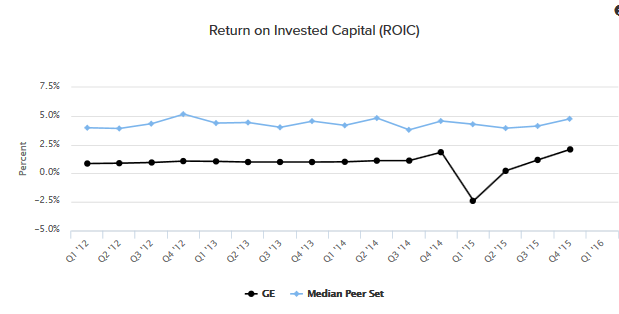 Exhibit 2
Source: Enlight Research, April 17, 2016
Total Shareholder Return
Despite underperforming peers in EBITDA margin, Return on Invested Capital and performance indicators like Debt to Equity ratio (GE 192% vs. peers 71%), General Electric remains an investor favorite. General Electric's total shareholder return since January 2012 has had GE outperform this same peer group with returns at nearly 95% compared to 70%. Since Immelt was one of the highest paid chief executives of his peer group in 2015, that's a positive.
What Does This Tell Us?
It's interesting that the market doesn't seem to be holding General Electric accountable for underperformance in key operational metrics when compared to its self-identified peer group. How can total shareholder growth continue when margins have been eroding over the last three years? And, while General Electric is probably not "destroying the moral fabric" of America as Sanders described, the company may no longer be a hit for shareholders if overvalued returns do not align with corporate performance.
*General Electric's stated peer group companies from its latest proxy statement: MMM, T, AXP, BA, CAT, CVX, CSCO, KO, DD, XOM, GS, HD, INTC, IBM, JPM, JNJ, MCD, MRK, MSFT, NKE, PFE, PG, TRV, UTX, UNH, VZ, V, WMT, DIS.
Disclosure: I/we have no positions in any stocks mentioned, and no plans to initiate any positions within the next 72 hours.
I wrote this article myself, and it expresses my own opinions. I am not receiving compensation for it (other than from Seeking Alpha). I have no business relationship with any company whose stock is mentioned in this article.