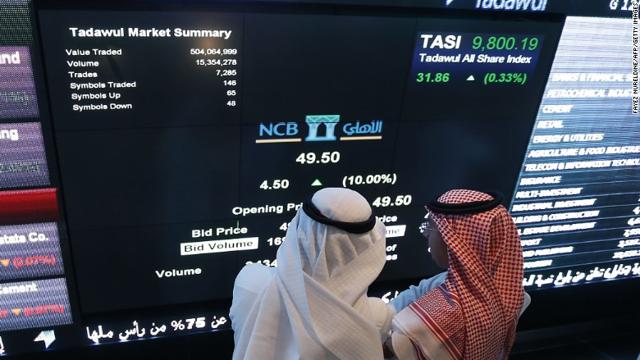 Click to enlarge
The Saudi Arabian stock market.
In the Bloomberg interview of Saudi Deputy Crown Prince Mohammed bin Salman, referred to as MbS by westerners, he said that up to 5 percent of Aramco would be sold on the domestic stock exchange (Tadawul). In early March, the Saudi bourse asked banks to pitch for roles advising on its initial share sale. Today it was announced that JPMorgan Chase & Co. and Michael Klein, the former Citigroup Inc. investment banker who runs his own boutique, have been selected to advise on state-owned Saudi Arabian Oil Co.'s initial public offering.
Saudi Arabia's sovereign wealth fund could receive $106 billion in cash from a sale of that size, according to the Sovereign Wealth Fund Institute. This would imply a valuation of $2.1 trillion. MbS had said Saudi would sell enough shares to diversify KSA's income towards non-oil revenue by investing the proceeds of sales of shares into the Public Investment Fund (PIF). "Undoubtedly, it will be larger than the largest fund on earth. We will surpass $2 trillion," he said.
In my assessment, I calculated that a fund even of that size would not be able to generate enough new income to replace the lost oil income to fund the annual expenditures of Saudi Arabia. And for that reason, his plan appears to be flawed.
Looking further into this proposal, given that the stock exchange has selected advisors to move ahead, I found more problems.
Last year, the Saudi Capital Market Authority (NYSE:CMA) opened up its $575 billion bourse to direct foreign investment. However, it ruled that foreign investors can own no more than 10 percent of the stock market by value. It said that a single foreign investor will be able to own no more than 5 percent of any listed firm, while all foreign institutions combined can own no more than 20 percent.
Foreign institutions, including central banks, are required to apply for permission to invest. They must have at least $5 billion of assets under management, although the CMA can reduce this to $3 billion.
An IPO worth $100 billion would amount to 15% of the new value if the stock exchange. It would be impossible to restrict foreign investors to these ownership limitations if the CMA were to sell $2 trillion worth of Aramco shares. If foreign investors cannot provide the capital, who will? Or will Saudi Arabia allow foreigners to own the vast majority of its stocks, and would investors be willing?
Conclusions
The diversification plan makes sense conceptually. However, I found that the numbers do not work. Now, I find that the mechanics won't work either.
Disclosure: I/we have no positions in any stocks mentioned, and no plans to initiate any positions within the next 72 hours.
I wrote this article myself, and it expresses my own opinions. I am not receiving compensation for it (other than from Seeking Alpha). I have no business relationship with any company whose stock is mentioned in this article.