Right off the bat, I'll admit that I have been dead wrong on Allegheny Technologies Incorporated (NYSE: ATI) so far. I thought the stock was a buy in the low-$20s, then it fell to <$10. I changed views following 4Q15 earnings and thought the stock would fall further due to deteriorating margins in the High Performance segment. Instead, a relief rally in commodity-related stocks and long overdue management actions have driven the stock higher. As a result, the stock is up almost 60% YTD.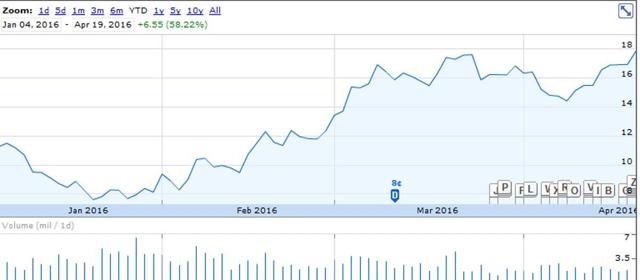 Click to enlarge
Source: Google Finance
But the recent rally, in my view, is unwarranted. There are four reasons that I think the stock is overvalued at this point:
1) Nickel prices have not recovered sufficiently to boost profit margins.
Allegheny Technologies Incorporated's profit margins are tied to nickel pricing. ATI delivers many of its nickel-based alloys and specialty metals to customers under long-term agreements, particularly aerospace engine OEMs. Within these long-term agreements, there are surcharges and raw materials index charges that ATI charges customers based on the price of nickel. If nickel prices move higher, these surcharges are higher, and ATI's profit margins increase. When nickel prices decline, surcharge/index revenue declines, and so do profit margin percentages. A deflationary nickel pricing environment leads to compressed profit margins, as nickel raw material purchased at higher historical prices fails to be offset by surcharge revenues based on current prices.
As seen below, nickel pricing, while possibly bottoming, has not recovered sufficiently to expect any meaningful rebound in ATI's margins.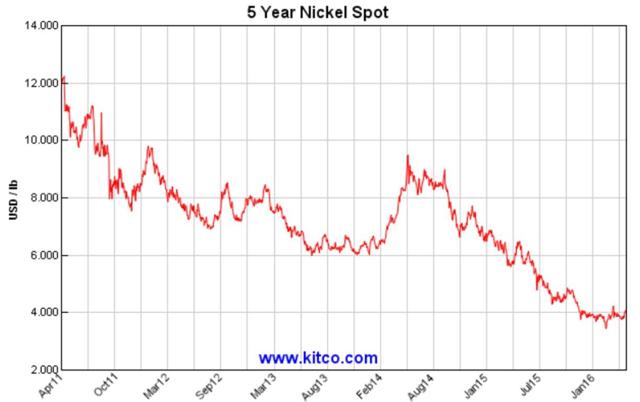 Click to enlarge
Source: kitco.com
2) Management's idling of Flat-Rolled Products ("FRP") facilities and staff reductions are long overdue responses to excess supply in a commoditized market.
Yesterday, company management reported that one-third of the FRP salaried workforce would be eliminated, saving $30M annually. The stock has responded by trading 3%-4% higher today (Tuesday). But this knee-jerk reaction is missing the context of this decision; FRP has generated negative operating profits in each of the last three years (FY13-FY15). Operating losses have ranged from $47M to $242M during those three years. In my view, the elimination of one-third of the salaried workforce is an acknowledgement that supply/demand for commoditized stainless steel and grain-oriented electrical steel has changed for the foreseeable future, perhaps permanently. While a $30M reduction in costs annually may slow the bleeding, it certainly will not stop it. I view this move as long overdue and applying a band-aid to a gusher.
3) The stock's market capitalization has increased to the point where a >12x EBITDA multiple on FY15 EBITDA is implied; and that's undeserved.
Valuing Allegheny Technologies Incorporated is a tricky business, especially with the FRP segment losing money and the commodity steel market is in disarray. I believe the vast majority of the company's value lies in the High Performance ("HPM") segment, so I base by ATI valuation on a valuation of this segment alone. Essentially, I'm contemplating that Asian commodity steel manufacturers have a permanent cost competitive advantage over American steel manufacturers like ATI, and so any value in ATI's commodity steel business, should it be sold or exited, would be negated by exit liabilities.
In valuing the HPM segment, I believe an 8-10x EBITDA multiple is warranted. This is based on acquisitions of Precision Castparts and RTI International Metals at roughly 12x EBITDA. Both of these specialty metal manufacturers have high aerospace exposure and sport higher profit margins/cash flow profiles compared to ATI's HPM segment, so I believe a discount to a 12x EBITDA multiple is warranted. In the analysis below, I look at HPM's EBITDA in FY14 and FY15 against three different EBITDA multiples and then compare the resulting implied equity valuation to current market capitalization.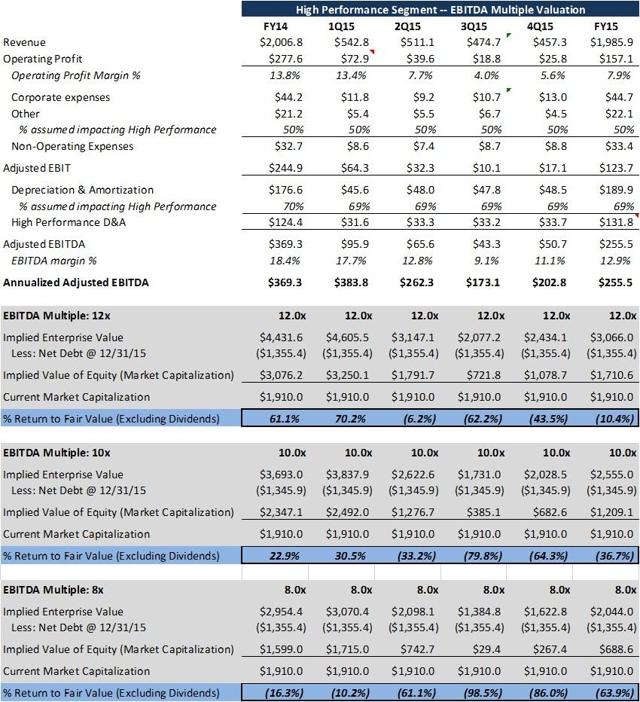 Source: ATI's SEC filings and author calculations
Assuming a 10x EBITDA multiple is appropriate to valuing ATI's HPM segment, then one has to believe that ATI's HPM segment is going to rapidly return to FY14 profitability levels in order to justify today's valuation. This is because applying a 10x EBITDA multiple to FY14 adjusted EBITDA implies that ATI is currently 23% undervalued. However, applying a 10x EBITDA multiple to FY15 adjusted EBITDA implies that ATI is currently 37% overvalued.
And this is where nickel pricing comes back into the story. Nickel prices were far higher in FY14 than FY15, and have yet to recover anywhere near to FY14 levels. Therefore, I believe the stock is more appropriately valued on HPM's FY15 EBITDA, which also happens to be the most recent year of performance that we have available.
4) There is some concern that the aerospace cycle is peaking.
In FY15, the aerospace and defense end-market comprised 41% if ATI's sales. There is some legitimate investor concern that the aerospace cycle may be peaking. Boeing (NYSE: BA) has announced or is expected to announce production rate declines on the legacy 777 and 747, a primary reason the major aerospace OEM guided to lower 2016 deliveries than 2015 deliveries. Now, ATI has touted for years that the majority of its aerospace content is on New Engine Option airplanes, like the 787, A350, 737MAX, and A320NEO. While this may be true, some of ATI's specialty metal content also ends up being used on legacy aircraft, and on these production lines, volume is expected to decline.
The stock is overvalued at current levels and pricing in an unlikely profit/cash flow rebound
Absent a significant rebound in nickel prices, ATI's current stock price now reflects FY14 profit margin levels that are unlikely to be achieved any time soon, in my view. Management actions in response to a flooded commodity stainless steel market have been slow and inadequate. The FRP segment remains an enormous distraction for this business, and strategic alternatives should be explored. I expect ATI to be dead money from here, and recommend that investors take their gains or trim their holdings accordingly.
Disclosure: I/we have no positions in any stocks mentioned, and no plans to initiate any positions within the next 72 hours.
I wrote this article myself, and it expresses my own opinions. I am not receiving compensation for it (other than from Seeking Alpha). I have no business relationship with any company whose stock is mentioned in this article.