I have read a lot about the debt situation in the US. Debt can be used in many good ways, as most of my readers will be aware of, but if we get closer to the end of a business cycle, we get a situation where debt is pushing growth lower and starting to behave like an economic headwind.
In 2015, nominal GDP soared about 550 billion USD. Nonfinancial debt, however, surged about 1.910 trillion USD - 3.5 times as fast as the "economy". Nonfinancial debt is all debt excluding debt from financial companies like banks or funds.
The higher leverage ratio means future growth is about to see more pressure.
... since debt is always a shift from future spending to the present.
Source: Hoisington
Nonfinancial debt rose to 248.6% of GDP, which is about 3 points above the 2009 peak. Moreover, it takes 3.30 USD to generate 1.00 USD of GDP growth. The average from 1952 to 2000 is 1.70 USD. In other words, the amount of debt and production needed to grow GDP is growing significantly.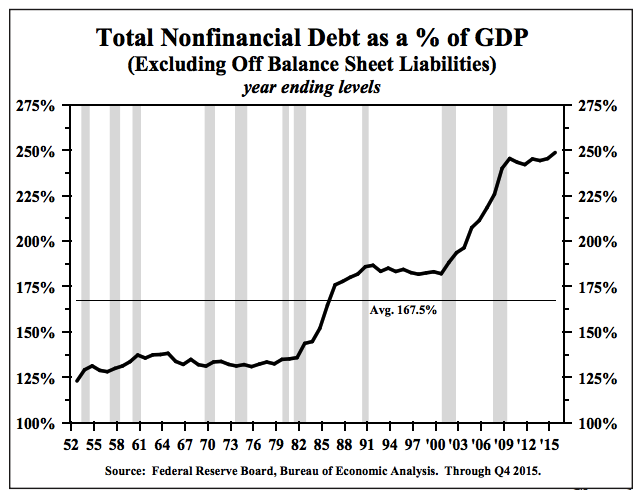 Source: Hoisington
Business debt increased almost 800 billion USD in 2015. Private domestic investments, however, soared only 93 billion USD. Companies used their debt to buy back shares, increase dividend spending or use other financial instruments.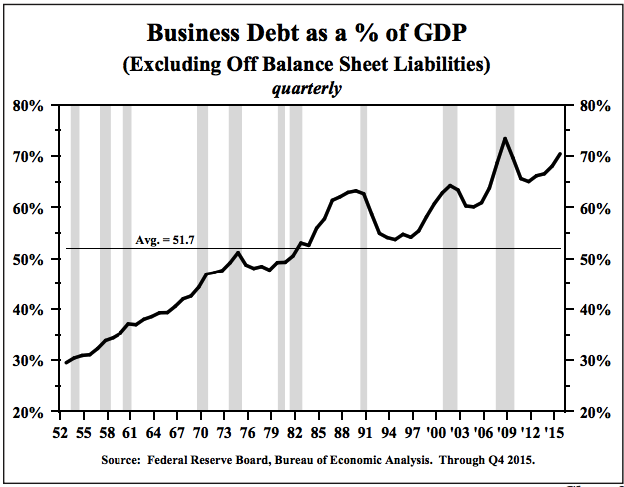 Source: Hoisington
The debt surge is even worse if you look at earnings. Corporate earnings have been declining since 2014, after going sideways since 2011.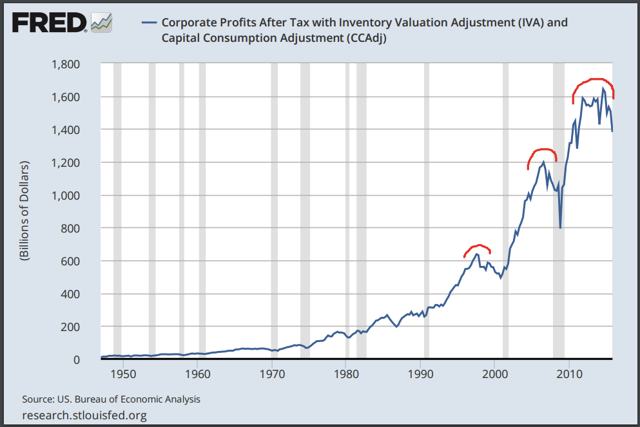 Click to enlarge
I am not trying to scare anyone with this article, nor do I want to be a super bear who thinks the market is going to collapse tomorrow. It is just important to keep an eye on the long term. This debt is a growing liability and could make a recovery after a recession even more difficult.
Disclosure: I/we have no positions in any stocks mentioned, and no plans to initiate any positions within the next 72 hours.
I wrote this article myself, and it expresses my own opinions. I am not receiving compensation for it (other than from Seeking Alpha). I have no business relationship with any company whose stock is mentioned in this article.