Yesterday, on April 19, 2016, Newmont Mining Corp (NYSE:NEM) closed at $30.91 per share from $29.46 per share of the day before, +1.45 (4.92%), with 8,513,909 shares traded.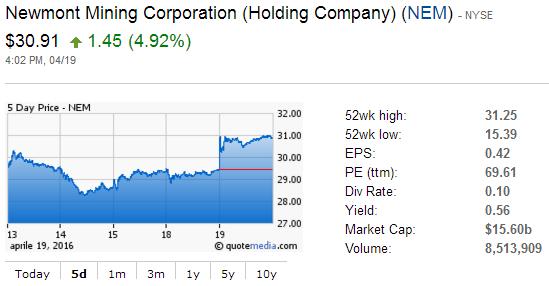 The gain anticipates NEM's earnings report after close today.
Analysts expect EPS being between $0.29 (High) and $0.07 (Low) or between -37% (-$0.17 ) and -85% (-$0.39), from last year's $0.46 per share.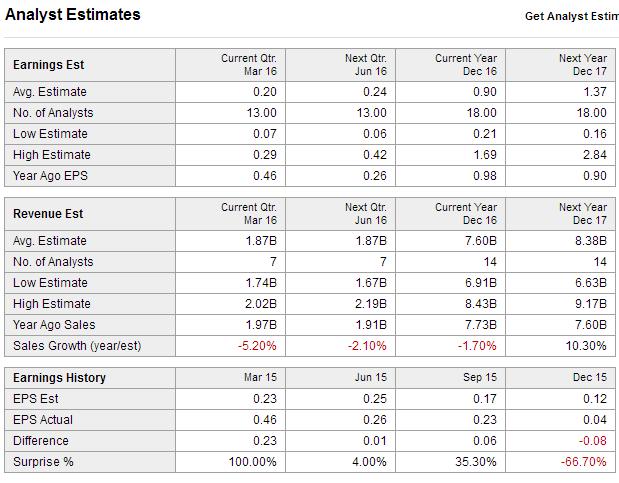 The company has 529.16M shares outstanding.
NEM's profit will range between $153.5M and $37.04 if the EPS becomes reality.
After $0.04 actual earnings per share reported by Newmont Mining Corp for the previous quarter, analysts now forecast -56.50% growth for the current quarter and -7.70% for the next quarter.

My point of view:
I expect a surprise from Newmont's earnings announcements to exceed analysts' expectations on EPS and it has more chance than the one from Q1 2015 to be statistically significant and therefore of interest for short positions.
In my previous article on Newmont I have explained the reasons why I think that: the last stock's downgrade by some analysts may have slowed down the pace at which the share price is up-trending, especially on the tail wind of the last news: the sale of Duketon Gold Project will further strengthen Newmont's balance sheet and enhances its focus on its core business. Analysts' expectations on Q1 2016 EPS are lower than 1 year ago when the price of gold tumbled, therefore wider margin between actual and estimated EPS could be beyond the door.
Disclosure: I/we have no positions in any stocks mentioned, and no plans to initiate any positions within the next 72 hours.
I wrote this article myself, and it expresses my own opinions. I am not receiving compensation for it (other than from Seeking Alpha). I have no business relationship with any company whose stock is mentioned in this article.