Mining giant Rio Tinto (NYSE:RIO) has recently released its quarterly production numbers. The world's second biggest iron ore producer continues to increase output at double-digits rates, but what's got everyone's attention is that it has trimmed 2017 outlook by almost 15 million tonnes.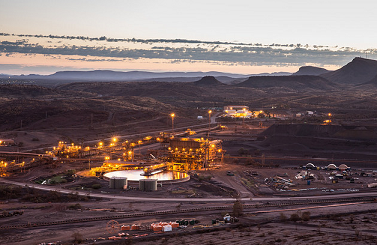 Stockyard Paraburdoo, The Pilbara. Image: Rio Tinto
The company's global iron ore production, on a 100% basis, clocked in at 84 million tonnes while shipments came in at 80.8 million tonnes, up 13% and 11% from the same quarter last year respectively. More than 95% of the output came from Western Australia's Pilbara region. Rio Tinto's share of production and shipments was around 80% each. The increase in production came as Rio Tinto completed brownfield development and ramped up its infrastructure capacity at Pilbara. Though production slipped 4% on a sequential basis, it was largely due to seasonal factors.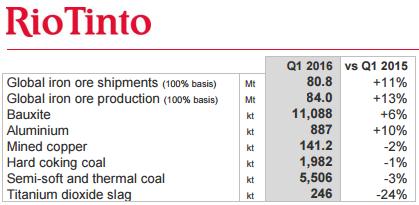 Rio Tinto confirmed that it remains on track to achieve its record iron ore shipments target of 350 million tonnes for the current year. What's interesting here is that Rio Tinto ran out of iron ore inventories last year, which meant that the company had to rely almost entirely on its mining operations to meet the annual shipment target. But it appears that Rio Tinto is restocking. The difference between the production and shipment numbers - 3.2 million tonnes - is high considering the adverse weather conditions. In fact, this is the biggest difference we've seen over the last two years.
However, Rio Tinto has been finding it difficult to bring its driver-less trains online. The company has been shifting towards autonomous driving technology by introducing driver-less trucks and spending $518 million on driver-less trains which were initially slated to begin operations from 2014. The introduction of autonomous trains could substantially reduce Rio Tinto's need to invest in building additional infrastructure capacity to support the Pilbara expansion. However, the company has said that it is experiencing some delays in rolling out the new technology. Therefore, Rio Tinto has reduced its 2017 production expectation from the Pilbara region from 350 million tonnes to between 330 and 340 million tonnes.
Analysts will likely reduce Rio Tinto's earnings estimates for 2017, though slightly considering the small size of the reduction (4.3% at the midpoint), over the next few days.
On the other hand, the guidance cut will be taken positively by the broader market which has been struggling with a glut of iron ore and weak demand from China over the last three years. The market sentiment has already improved considerably this year, with iron ore price climbing 44% to $62 per tonne, thanks to a recovery in China's steel demand and supply disruptions in Australia. Rio Tinto's smaller rival BHP Billiton (NYSE:BHP)'s supply also got hampered due to adverse weather conditions and the suspension of operations at the Samraco joint venture in Brazil following the fatal dam burst. BHP Billiton has recently cut its production forecast for the current fiscal year ending June 30 by 10 million tonnes. If the major producers continue to report delays and other operational problems while demand from China remains robust, then iron ore will keep moving up. That's going to have a positive impact on Rio Tinto stock. But this scenario seems unlikely.
The fact remains that major iron ore producers are committed to growing production in the coming years in an already oversupplied market in order to drive down prices and force the exit of high-cost producers.
In its latest update, Rio Tinto also said that it could make a final investment decision regarding the 20 million tonnes per year Silvergrass project located in Pilbara, which comes with a price tag of $700 million to $1 billion, in the second half of this year. The infrastructure delays seems to pushed out Silvergrass' timing by just a few months, given the company previously expected to make an investment decision by mid-year. The company's outgoing CEO Sam Walsh has been confident about getting a green signal from the board. The project underpins Rio Tinto's ambitious plan to increase its annual production capacity to an all-time high of 360 million tonnes.
This means that although Rio Tinto's output could drop in 2017, it could climb back up to record levels in the subsequent years, thanks to Silvergrass. Meanwhile, there's other major projects -- Vale (NYSE:VALE)'s expansion in Brazil with the completion of S11D and Gina Rinehart's massive Roy Hill project in Australia which recently came online -- which could boost iron ore flows in the short term. The recent rally in iron ore prices, therefore, could prove to be short lived.
Disclosure: I/we have no positions in any stocks mentioned, and no plans to initiate any positions within the next 72 hours.
I wrote this article myself, and it expresses my own opinions. I am not receiving compensation for it (other than from Seeking Alpha). I have no business relationship with any company whose stock is mentioned in this article.