Brazilian banks were one of the best performing banking stocks in the world year-to-date and significantly outperformed their EM peers. Although market welcomed a possible change in political leadership in Brazil, a large part of this rally cannot be dissociated from a global story. The bounce in the commodity prices, a dovish FED and hence the moderation of USD rally, better China macroeconomic data led to the strong inflows into emerging markets and especially in high-beta ones (Brazil, Russia).
Chart 1 - Itau (NYSE:ITUB) and Sberbank (OTCPK:SBRCY) were one of the best performing bank stocks YTD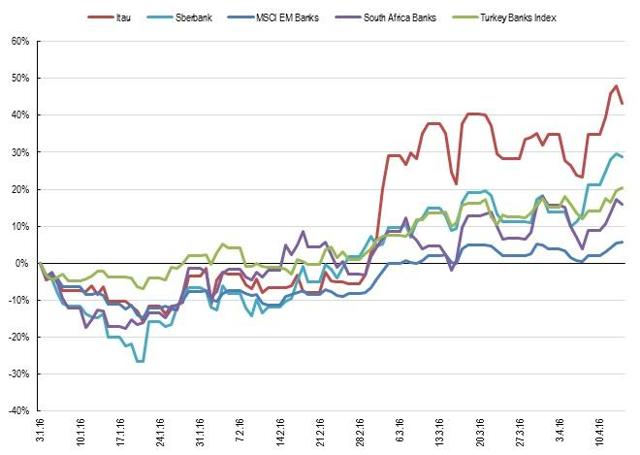 Click to enlarge
Risks are clearly skewed to the downside - SELL on valuation grounds
I have several reasons why I would strongly recommend to SELL Itau, Banco Bradesco (NYSE:BBD) and Banco Santander Brazil (NYSE:BSBR):
Brazilian banks face multiple macro headwinds: stagflation, deterioration of fiscal balances, weak currency, political uncertainty.
Itau CEO Roberto Setubal has recently mentioned that Brazil has never experienced such a similar economic turmoil, so the impact of the current macro backdrop on banking system is still unknown. Although earnings for banks have been significantly revised downwards by investors and sell-side analysts, I think that the market is still underestimating the impact of asset quality deterioration on earnings. Brazilian banks are actively using renegotiation tools and according to Brazilian Central Bank's financial stability report, the recent rise in restructured loans would add c.70 bps to NPL ratios - this would imply in ~20% worsening in NPL ratios.
The Brazilian real has rallied from the deep value and reached its long-term average REER.
The Brazilian Real was one of the best performing currencies YTD and a large chunk of the Brazilian banks gains were due to the FX. Look at the diagram below - the BRL has reached its long-term average REER (real effective exchange rate). Going forward, I would expect further depreciation of the BRL given the heightened political uncertainty and challenging outlook for commodity prices. Moreover, I doubt that the bounce in emerging markets will be sustainable and believe that the U.S. dollar is likely to resume its uptrend
Chart 2 - Long-term (10yr) average real effective exchange rates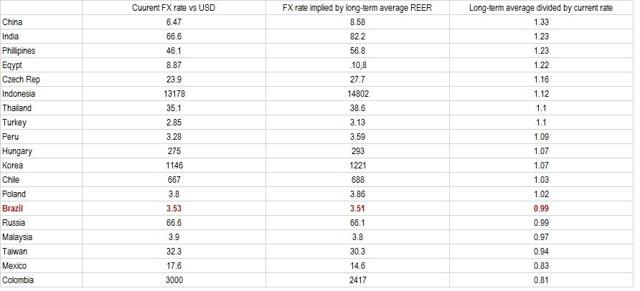 Click to enlarge
Multiples look very stretched. Brazilian Banks are currently trading above 1.0x forward P/B, despite expected RoEs are below their CoEs.
According to Bloomberg consensus forecast, the market now expects Itau 2016E RoE of 18.9%. Like I said before, I believe that the market is still too optimistic and is underestimating the impact of asset quality deterioration on earnings. However, even this optimistic RoE (return on equity) forecast is below the bank's CoE (cost of equity)- according to my calculations, Itau's cost of equity is more than 20% at the moment - look at the table below:
Table 1 - Itau's CoE

Click to enlarge
While I believe that Itau's cost of equity will go down to 16-17% in the next two years due to macroeconomic stabilization, a change in the political environment and a decline in policy rates, I still think that the current multiples look stretched and Itau should trade at 1.0x -1.2x forward P/B. Also one should bear in mind that Bradesco and Banco Santander have higher CoEs (higher risks), while generate lower RoEs - so their multiples should be even lower than Itau's ones.
Furthermore, Brazilian Banks looks expensive compared to its EM peers - look at the regression chart below.
Chart 3 - Regression chart: 2017E RoE vs 2017E P/B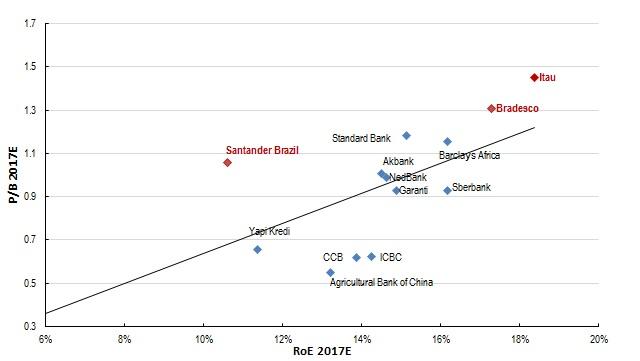 Risks to this trade idea
Higher oil prices;
Improved policy, and/or economic backdrops;
Lesser-than expected asset quality worsening.
Disclosure: I/we have no positions in any stocks mentioned, but may initiate a short position in ITUB over the next 72 hours.
I wrote this article myself, and it expresses my own opinions. I am not receiving compensation for it (other than from Seeking Alpha). I have no business relationship with any company whose stock is mentioned in this article.