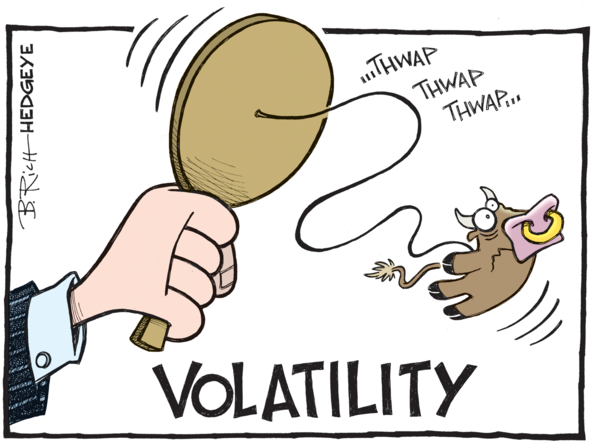 The world's stock markets have largely whipsawed investors over the past year or so and certainly includes our markets here at home. A very sharp sell-off to start this year has been met with torrid buying the likes of which are difficult to replicate in recent market history. The S&P 500 (NYSEARCA:SPY) has been ripping higher for weeks now and while the rally has lost steam, the index remains stubbornly high. I've thought for a couple of weeks now that a topping process was about to take place and recent evidence has bolstered that belief.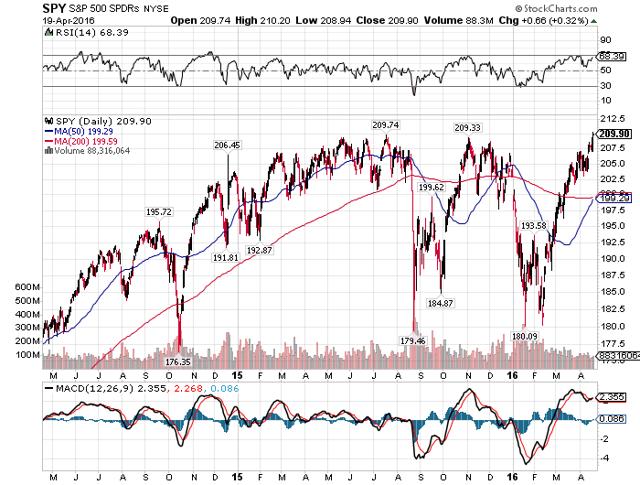 The rally from the double bottom made at $180 on the SPY was as spectacular as the sell-off that got us there. The sharpness of the rally would suggest a meaningful improvement of the market's situation relative to value and fundamentals, but is that the case? The SPY is on the verge of new highs as it teeters on the $209 level but to my mind, this rapid improvement seems overdone.
A major cause of weakness early in the year was confusion supplied via our nation's central bank, an entity which seems entirely perplexed as to what to do with interest rates this year. Don't get me wrong; the Fed's job is unbelievably difficult so I'm not poking fun. I'm just stating that when the most powerful single economic force in the world is publicly debating not only the magnitude but indeed the very direction of monetary policy, confusion will ensue. Recent commentary from various Fed officials has only thrown proverbial gasoline on that fire as some FOMC members want two or more hikes while others want one or none. Who will prevail? I don't think the FOMC knows, let alone the rest of us. This kind of uncertainty is not the basis for a sustainable rally.
Earnings season is in full swing as well and so far, the overall picture looks encouraging. That is, of course, if you completely ignore that expectations for this quarter were absolutely dreadful. It seems things aren't as bad as they could have been but is stepping over a lowered bar enough for a base for a new leg of the rally? The answer is certainly 'no' as medium or longer term rallies are built upon sustainable earnings growth, not simply beating horrendous expectations. The relief rally we've seen in the last week or two based upon beating terrible earnings forecasts is just that and nothing more.
In addition, sentiment and technical indicators suggest a topping process is at least beginning and potentially already formed. The SPY itself has seen its momentum indicators suggest that buying interest is waning significantly at current levels. The 14-day RSI and MACD both suggest the rally is losing steam as the SPY has failed to reach overbought conditions despite three tries at it in the past few weeks. That's not bullish and neither is the fact that each rally sees the 14-day RSI top out at the same or lower level than the previous attempt including the current one; this divergence suggests buying momentum is waning.
In addition, volume has been awful during the most recent leg of the rally. Volume spiked in February as the SPY was bottoming for the second time and has drifted lower ever since. Days of 100 million shares or less of volume on the SPY have become commonplace during the recent rally and once again, that is certainly not bullish. It suggests buyers are drying up and very low volume rallies tend not to have staying power because a relatively low number of participants are driving it. The same thing happened during the two topping processes that took place in 2015. It doesn't take much to stop a rally where a relatively low number of buyers are driving it.
If we look at the number of stocks over their 50DMA, we get a similar picture.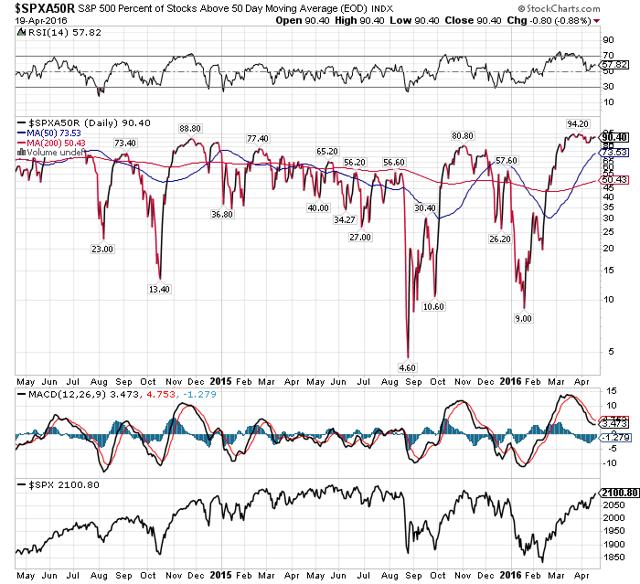 This number has been stubbornly high for weeks now as the SPY continues to rally but if we look at the absolute level and the momentum of this metric, both are flashing warning signs. With 90% of S&P stocks still over their 50DMA, there aren't many stocks left that aren't overextended. Indeed, this is the highest level in this metric for years and while it proves the rally has been broad-based, it is as extreme as the 4 reading from last August. That condition was remedied with a sharp rally; will it see the opposite fate here?
The momentum of the number of stocks over their 50DMA has moved towards the downside significantly as well in the past few weeks. The value itself has remained elevated but as there is really nowhere for it to go to the upside, momentum is falling. This is also consistent with other topping processes that have occurred recently and suggests that, once again, the rally is losing steam.
Finally, the put-to-call ratio is a sentiment indicator I like to follow because it has a pretty strong track record of calling tops and bottoms.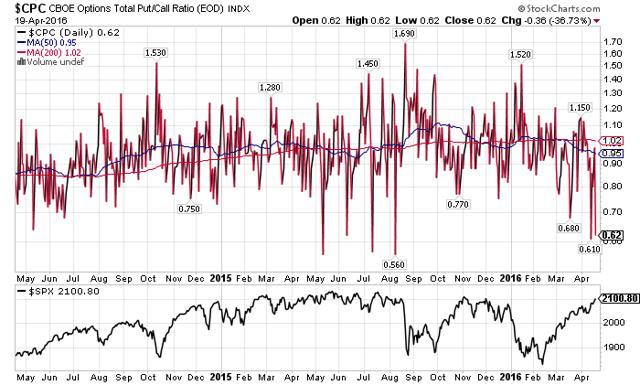 We can see that not only is the ratio near lows set just before the epic crash last August, but the level has been drifting down since the start of the year. This suggests elevated levels of complacency and we all know what that means. While this indicator by itself is certainly not a reason to go long or short, in concert with the other pieces of evidence, it seems to fit the narrative that the market likely has very little upside against potentially significant downside.
Let's say I'm right; what do we do about it? There are many courses of action one can take if you believe the market is topping. In my longer term, tax-deferred portfolio, I'm at 60% cash and will look to lighten that up in the coming days if we continue to drift higher. In my trading portfolio, I'm betting on lower stock prices by also maintaining high levels of cash but by also tactically getting long volatility (NYSEARCA:VXX). There are myriad instruments to short the market as a whole so that would also be a potential course of action if you believe we are going to sell off from here. Any of them will work but keep in mind they all carry various levels of risk so be nimble when trying to short the market.
At the very least, considering all the headwinds the market is facing right now and the fact that a very low conviction rally is taking us to old highs, it seems prudent to lighten up on equity risk positions. I don't see a plausible scenario where we get materially higher prices but what I do see is a very quick path to a 5% or 10% sell-off. I'd be a buyer at those levels unless something material changes but for now, there is virtually no upside from here but significant downside risk. For that reason, I think the SPY is very close to topping and that we'll get a chance to buy at lower prices in the near future. I'm not saying the SPY will top today but I do think over the next few weeks, we'll get a sell-off; we're long overdue.
Disclosure: I/we have no positions in any stocks mentioned, and no plans to initiate any positions within the next 72 hours.
I wrote this article myself, and it expresses my own opinions. I am not receiving compensation for it (other than from Seeking Alpha). I have no business relationship with any company whose stock is mentioned in this article.
Additional disclosure: I am long index funds in my tax-deferred portfolio