In the days when Chesapeake (NYSE: CHK) was supposed to be facing "imminent bankruptcy," I urged investors to assess the complex relationship between equity holders and bond holders (What You Missed: Chesapeake's Stroke Of Genius). It would appear that the market has finally figured it out. Shares have risen by almost 300% from its February low of $1.59. There were many factors that could have fueled the rally, such as the recent credit facility amendments and surging energy prices. To illustrate the latter point, take a look at the following graph.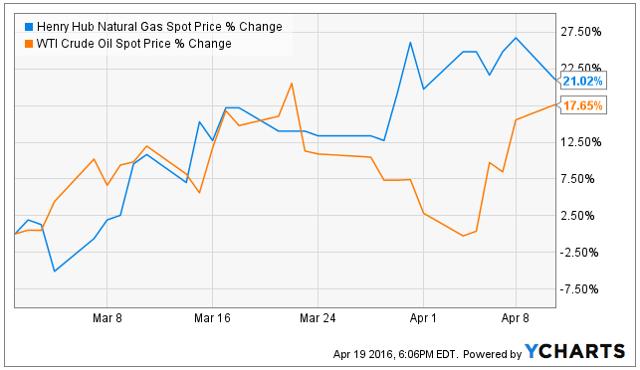 Click to enlarge
While the macro environment definitely made the amendments easier to obtain, I have never thought that getting approval for such changes would be a problem to begin with (Chesapeake - When Analysts Get It Wrong). It is also clear that the debt market has relaxed over the fear of "imminent bankruptcy," as demonstrated by the bond rallies that we've witnessed over the past two months.
However, it is at this time that equity holders should be the most vigilant.
Discount Is Gone, More Uncertainty Ahead
The rationale is quite simple. When shares were trading below $2, the market was irrationally pricing in the risk of bankruptcy that was far beyond anything that was possible. Now that the situation has eased a little, I believe that the existing share price no longer includes the discount associated with financial distress, or at the very least, the discount has been drastically reduced. So the question to ask now is whether the macro environment justifies the sudden surge in the common stock?
Unlike some of its competitors, Chesapeake has substantial production volume that is unhedged. As of February 23rd, 2016, over 40% of 2016 production was unhedged. This means that any future recovery in commodity prices will directly benefit Chesapeake in the short run. However, despite the recent commodity rebound, Chesapeake's profitability (which measures value over the long term) will still be poor at current prices. Current spot prices ($40.11/bbl and $2.09/mmBtu) are still quite far away from Chesapeake's average sales prices (ex-hedges) in 2015, and we all know how investors felt about the company's performance last year.
One could point to the futures curve and say that a recovery is in sight, as the future prices have now risen above (or close to) 2015's average sales prices of $45.77/bbl for oil and $2.31/mcf for natural gas.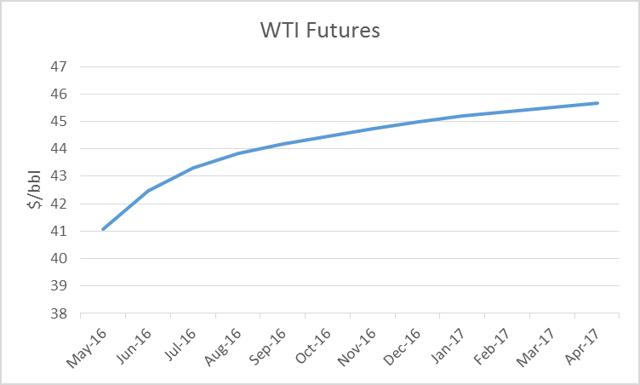 Click to enlarge
Source: data from cmegroup.com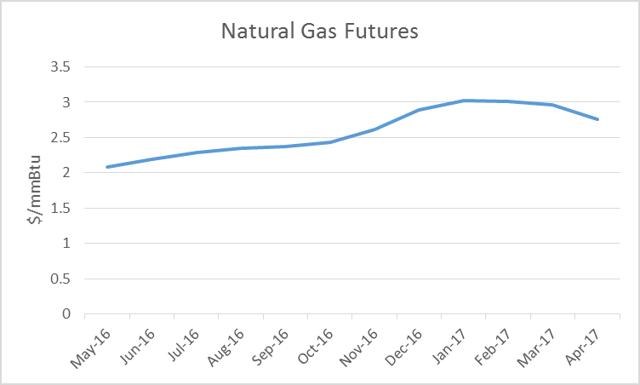 Click to enlarge
Source: data from cmegroup.com
However, this benefit can only be achieved if the management decides to lock in the prices today. Of course, as outsiders, we have no way of knowing whether this is what the management intends to do. This creates a significant amount of uncertainty for shareholders. What we do know for certain now is that the company would be worse off compared to 2015 if production is being sold at spot prices.
What Now?
I still maintain my original position on Chesapeake's fate in the immediate future (i.e. bankruptcy is out of the question); however, I believe that it is also important for investors to identify when the odds have shifted. Previously, the market was incorrectly pricing in a discount that never should have existed. Now that the market is experiencing another phase of euphoria, I believe that prudent investors should re-examine their positions on Chesapeake.
If you desire exposure to oil and gas directly, then Chesapeake is still a great vehicle for speculation, but if you are looking for investments with a greater degree of certainty and better risk/reward, then Chesapeake may no longer be suitable for you.
Note: I spend a great deal of time researching every company in the V20 Portfolio (+40% in 2015). If you are looking for some ideas that could complement your own portfolio, you can click the "Follow" button and be updated with my latest insights. Premium subscribers will get full access to the V20 Portfolio. Follow my latest weekly update here.
Disclosure: I/we have no positions in any stocks mentioned, and no plans to initiate any positions within the next 72 hours.
I wrote this article myself, and it expresses my own opinions. I am not receiving compensation for it (other than from Seeking Alpha). I have no business relationship with any company whose stock is mentioned in this article.