Although the failed Doha meeting led to some people suggesting an effective break of the OPEC cartel, the USD declined while oil recovered from earlier losses. A strike by oil workers in Kuwait nearly halved crude production from the OPEC member had a lot to do with the price action, overshadowing bearish sentiment following Sunday's failure by producers to agree to freeze output levels.
But at the end of the day, the Russell 2000 has closed above its 200DMA and the Dow Jones has reached its highest level since July, suggesting that the 'Fed put' works on the US side too, supported by further gains of US high yield markets, suggesting that the risk premium is in decline. In the current environment of more stable global risk appetite, high-beta currencies are likely to remain bid, particularly given how far valuations overshot to the downside in many currencies.

Click to enlarge
Fed now considering the evolution of financial conditions next to US inflation and employment when conducting its monetary policy has created a more international mandate for the US central bank. It seems the Fed stands ready to run a safety net not only for the economy and US capital markets, but also for the global economy and global capital markets, and here it is especially watching potentially disruptive capital flows.
The IMF's global stability report highlighting the increasing interdependence of DM and EM economies and financial markets has warned about weakening EM conditions spilling over into DM including the US. It seems that the IMF has endorsed the Fed taking a more global responsibility. Yesterday, it was the Fed's Kashkari (non-voter) admitting the Fed of course has a "de facto, huge global influence," being aware of its impact on world economic developments, mentioning China explicitly.
The Fed's Rosengren (a voting dove) has warned that markets are under-pricing the Fed's likely rate path, calling investors "too pessimistic." However, past months have taught us to listen to Brainhard, Dudley and Yellen, ignoring other Fed speak.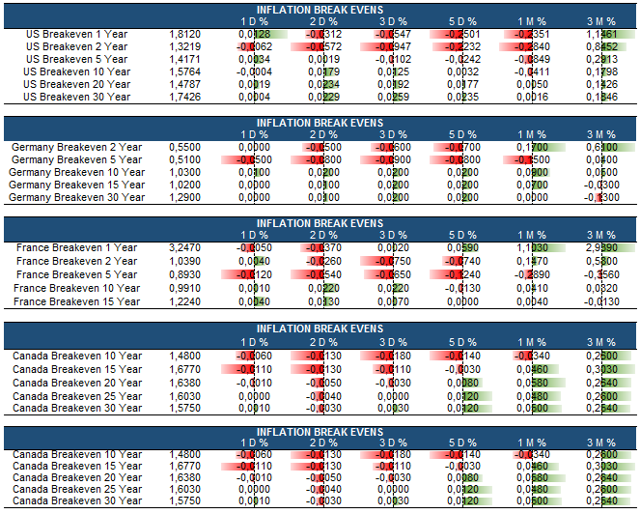 Click to enlarge
Risk versus inflation: The US will be able to run a more global mandate as long as its domestic inflation outlook remains benign. Its capacity utilization rate falling 4% from its November 2014 high of 78.9 indicates that the global deflationary pressure within tradable good sectors such as manufacturing goods will help to keep US inflation benign for now. Domestically generated service sector inflation seems more a threat to the Fed's enlarged responsibilities, but even here there seems no immediate danger. No wonder that market pricing for the 25bp hike is not until July 2017.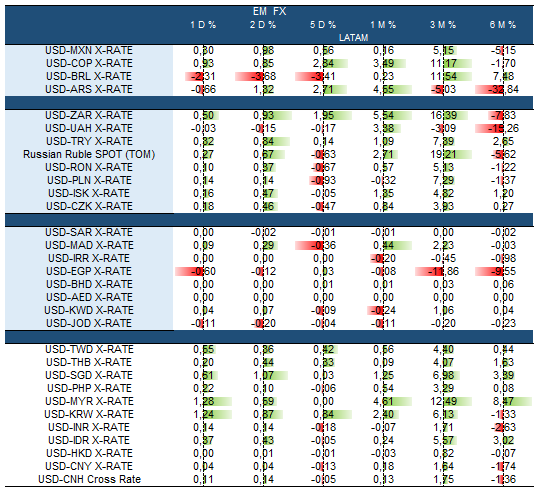 EM and commodity FX in demand: EM local market is up 12% YTD in USD terms, the best performance since 2012. Low growth in EM and extremely low yields in wide parts of DM have provided key support to EM rates. In the last few weeks, EM assets have continued to find tailwinds from stabilization in China and dovish G3 central banks. I think that tactically the rally can continue for now, as there are no clear near-term catalysts for a reversal of risk conditions.
China going through a cyclical rebound combined with the Fed's broadened reaction function suggests lower risk premium are for now benefiting those currencies most where risk premium and bearish positioning were most emphasized. China's steel output increased by 16%, but at the same time, steel inventories declined by 19%, underlining strong steel demand.
This morning, the CRB Rind index has reached its highest level since July 2015. This commodity and EMFX-bullish surrounding should stay intact as long as US inflation remains muted. Once US inflation picks up, the market might return back to the USD-bullish framework driven by EM overcapacity and the need to reduce debt, emphasizing EM balance sheets. Up to then the USD may stay offered.
GBPUSD: With risk premium coming down globally, investors will be looking around for laggards. GBP's risk premium has remained high for very good reasons, mostly associated with the upcoming June 23 EU referendum. However, with risk premium melting away elsewhere, we think GBP will look increasingly supported. From now, it may take persistently bad news to keep the GBP near current levels, while a marginal improvement in the news flow may be already sufficient to push GBP higher.
USDJPY: With the start of a new Japanese reserve period, the JPY OIS rate has declined by 4.5bp to -7.5bp, suggesting that lower rates are now passed through to asset managers. Buoyant global risk appetite driven by the Fed's broadened mandate reducing the global USD shortage has put Japan's JPY-supportive repatriation flow to hold for now. The recent JPY rally could get interrupted as global dynamics change. USDJPY has the potential for a short-term rebound to 112.50.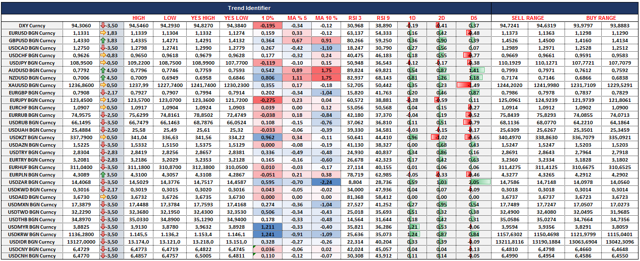 Click to enlarge
Disclosure: I/we have no positions in any stocks mentioned, and no plans to initiate any positions within the next 72 hours.
I wrote this article myself, and it expresses my own opinions. I am not receiving compensation for it (other than from Seeking Alpha). I have no business relationship with any company whose stock is mentioned in this article.