The long shadow cast by central bank policies over the last eight years is about to fall on the stock markets in a big way. Markets have trended ever higher in an epic dead-cat bounce driven by everything except fundamentals. Initially there was a great deal of impetus provided by a short squeeze, but lately it's more likely that the Fed happy talk and the ridiculous farce of so-called earnings season are the primary factors. Valuations remain relatively high, reported earnings and profit margins have rolled over and are falling, NYSE margin debt has rolled over and is falling, and the new global tax war will likely cut margins even more. Stock buybacks appear to be tapering out, retail sales and industrial production are weak, and global trade is virtually collapsing. NIRP has wreaked havoc in Japanese markets and is negatively impacting European markets as well.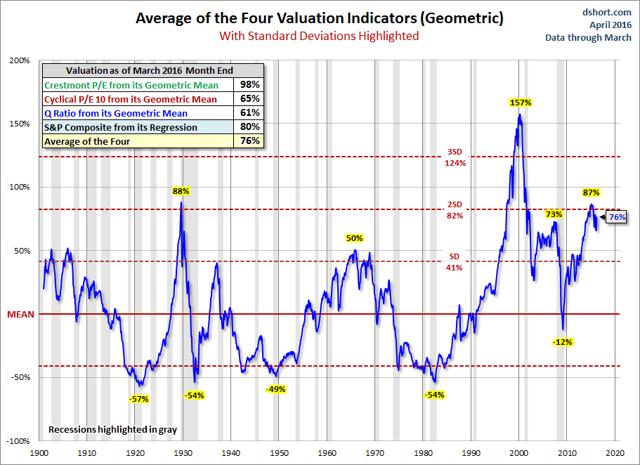 Click to enlarge
Source: advisorperspectives.com/dshort
Dow Industrials vs. Forward EPS Expectations: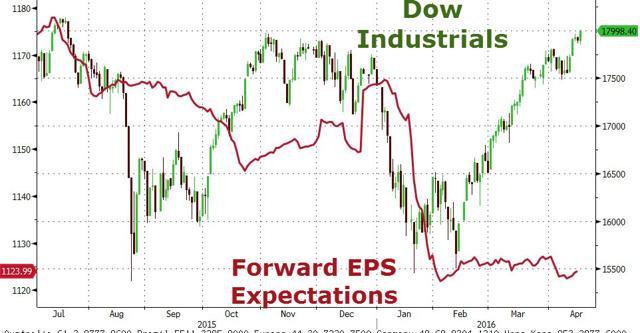 Click to enlarge
Source: thenewsdoctors.com
Note that the falling forward EPS expectations have not prevented a stock rally, but the gap between speculation and "reality" (as if forward earnings are realistic!) appears fairly dangerous right now. What happens when profit margins continue their fall?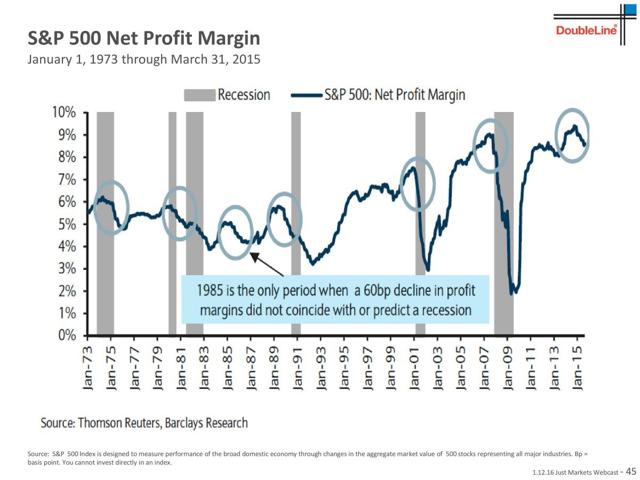 Click to enlarge
Source: DoubleLine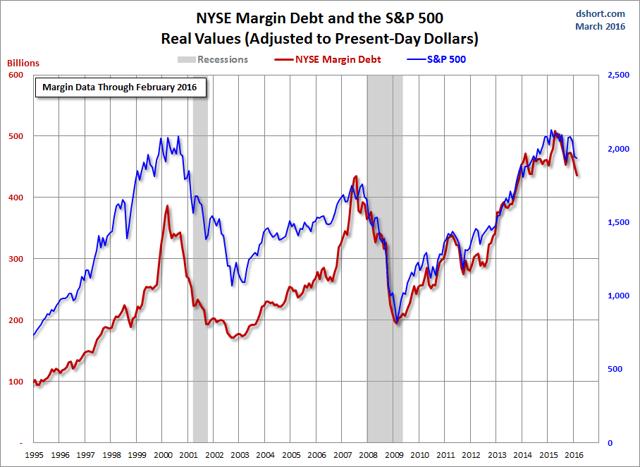 Click to enlarge
Source: advisorperspectives.com/dshort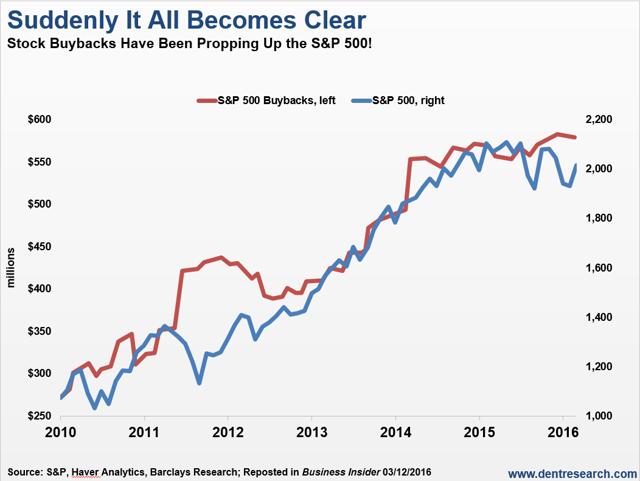 Click to enlarge
Source: davidstockmanscontracorner.com
Likewise, stock buybacks helped drive the market higher with a near-constant bid under the market for years now. This appears to have recently faded or tapered. What happens when traders finally notice that the Fed isn't "printing" anymore, and corporations are cooling in their ardor to throw money away on their own shares?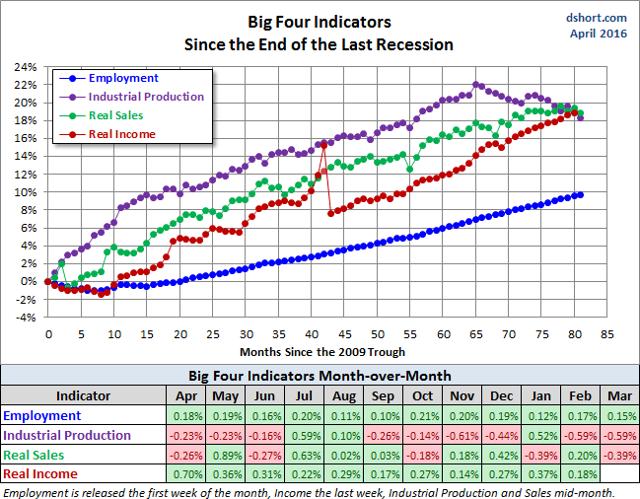 Click to enlarge
Source: advisorperspectives.com/dshort
The recent drops in industrial production and real sales are suggestive of recession, but both employment and real income would have to reverse trends for a recession to be called. Still, declining global PMIs and falling global trade are sending strong signals of a potential global recession.
Falling Trend in Recent Global Trade Volumes: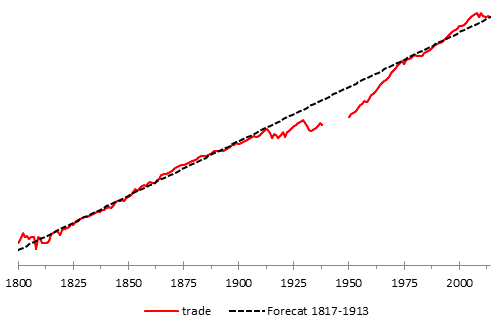 Source: Federico & Tena-Junguito, voxeu.org
EWJ (NASDAQ:BLUE) vs. SPX (red), one-year daily chart: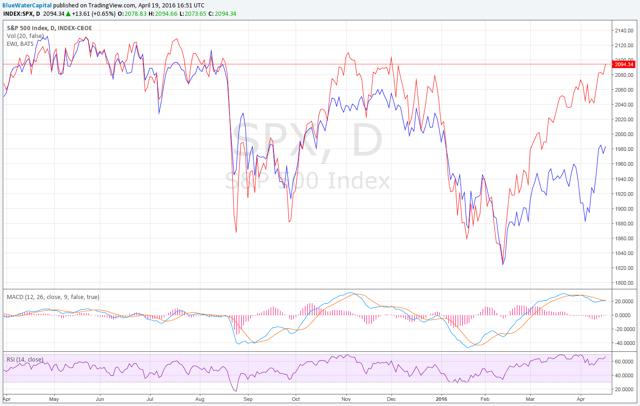 Click to enlarge
Source: Blue Water Capital; TradingView.com
VGK vs. SPX (red), one-year daily chart: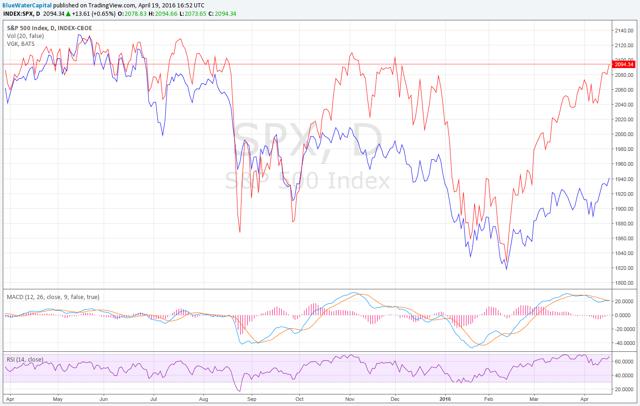 Click to enlarge
Source: Blue Water Capital; TradingView.com
So the question asked in the title pops into my mind: where should we allocate in this environment? I'm already on record in favor of certain US-oriented liquid alternative equity or commodity strategies (Otter Creek Long/Short Fund (MUTF:OTCRX), Diamond Hill Long/Short Fund (MUTF:DHLSX), AllianceBernstein Long/Short Fund (MUTF:LSYMX), AQR Equity Market Neutral Fund (MUTF:QMNIX), Vanguard Market Neutral Fund (MUTF:VMNFX), AQR Managed Futures Strategy (MUTF:AQMIX), Goldman Sachs Absolute Return Tracker Fund (MUTF:GJRTX)), some sophisticated hedge-like growth and income strategies (Nuveen S&P 500 Buy-Write Income Fund (NYSE:BXMX), Eaton Vance Risk-Managed Dividend Fund (NYSE:ETJ), Wells Fargo Absolute Return Fund (MUTF:WARAX), Deutsche CROCI Sector Opportunity Fund (MUTF:DSOIX), DoubleLine Shiller Enhanced CAPE Sector Fund (MUTF:DSEEX)), and dividend growth strategies (Vanguard Dividend Appreciation ETF (NYSEARCA:VIG), T. Rowe Price Dividend Growth Fund (MUTF:TADGX), and Goldman Sachs Rising Dividend Growth Fund (MUTF:GSRLX)). These are expected to do well on a relative basis, but they are hardly likely to go up very much in aggregate if the market really sells off. But I'm also on record from late last year saying that government bonds (Wasatch-Hoisington US Treasury Fund (MUTF:WHOSX), Vanguard Extended Duration Treasury ETF (NYSEARCA:EDV), I-Shares 20+Yr. Treasury ETF (NYSEARCA:TLT), Vanguard Long Term Government Bond ETF (NASDAQ:VGLT), I-Shares 7-10 Yr. Treasury Bond ETF (NYSEARCA:IEF)) should do well if present conditions continue or the situation deteriorates further. Notice in the chart below that both the S&P 500 and TLT have ended the last rolling 12-month period with no gains, essentially ending in the same place despite long periods of reciprocal price action. This really demonstrates the indecisive nature of the US markets.
I-Shares 20+Yr. Treasury Bond ETF TLT vs. SPX (red):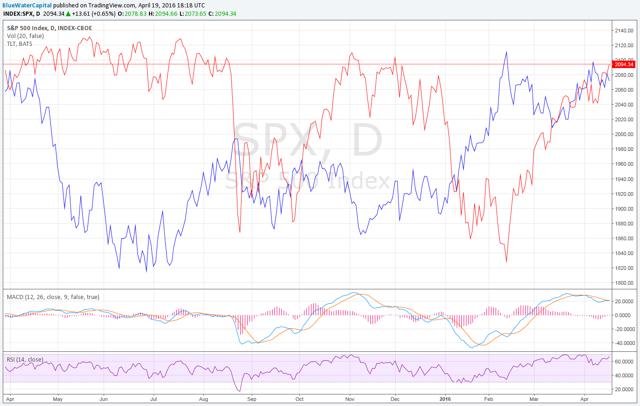 Click to enlarge
Source: Blue Water Capital; TradingView.com
The well-known institutional investment management firm GMO has stated for some time now that expected returns for almost all asset classes are dismal, based on their proprietary mean reversion econometric models. This was recently emphasized in an article by Randall Forsyth in Barron's. As Forsyth says, it's difficult to imagine how a standard 60/40 stock/bond portfolio is going to make anything in the next few years. More and more retail investors are taking their cash home and refusing to play, either out of fear of what's coming in the equity markets, or out of actual suspicion that the game is going to get rained out no matter what you own.
I would like to counter that everything will be all right eventually, and of course that's true, once price discovery returns (if it ever does), and once the market clears. But according to many, many analysts, that could be 35-50% lower on the S&P 500 index. So I am willing to look at unusual allocations and far-off places to try to get some traction. One thing that might work may be certain emerging markets associated with growing economies, low export footprints, and relative insensitivity to the dollar (e.g., I-Shares India 50 ETF (NASDAQ:INDY), Matthews India Fund (MUTF:MINDX)). Emerging markets in general (I-Shares MSCI Emerging Markets ETF (NYSEARCA:EEM)) look relatively cheap after all they've been through, but I am still skeptical that they are out of the woods yet. If the dollar trends down rather than up, which it may well do, then more emerging market country ETFs could come into play.
I-Shares MSCI Emerging Mkts. ETF EEM vs. SPX (red):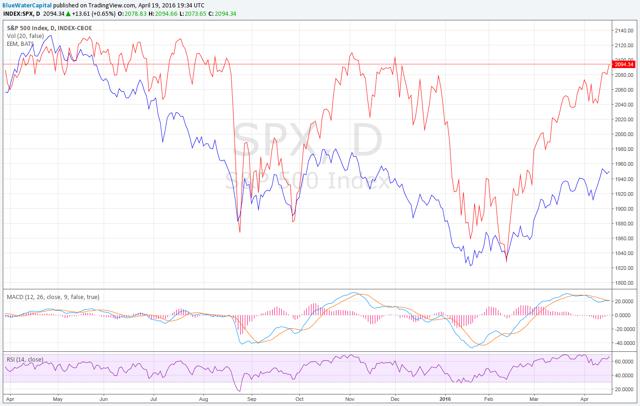 Click to enlarge
Source: Blue Water Capital; TradingView.com
India ETFs and funds may very well outperform due to unique factors associated with the subcontinent's steadily growing economy, but you can't see much of that in the chart below, at least in the last year. But in the last few years India equities have outperformed all other major markets, and my thesis here is that this longer-term trend may well continue in the long run.
I-Shares India 50 ETF INDY vs. SPX (red):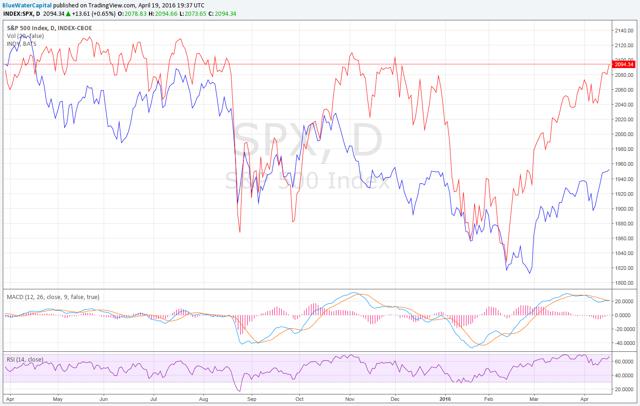 Click to enlarge
Source: Blue Water Capital; TradingView.com
Another idea to try in our search for better returns might be to consider fairly radical "tactical" allocations. By this I mean allocations that are heavily weighted towards income and/or defensive holdings. In the model below, I have evaluated using four defensive holdings weighted at the start as follows: DHLSX 20%, XLP 30%, TLT 40% and Cash 10%. Ten-year back-testing using Morningstar's database indicates a maximum hypothetical drawdown of about 11% in 2008-2009, a yield of 1.88%, and annual returns over the period that beat the S&P 500 by around 1.85% per year, for what it's worth.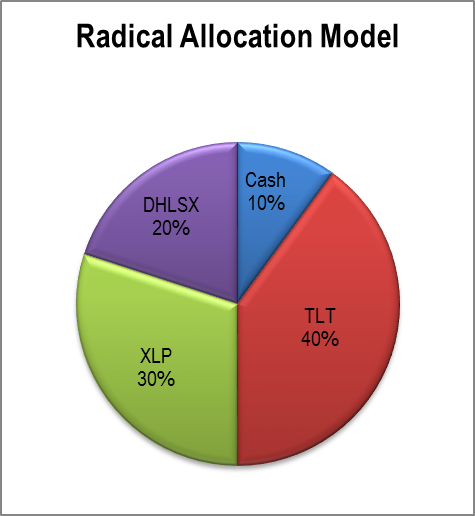 Source: Blue Water Capital Advisors
There are many caveats in using back-testing, such as the fact that all dividends are assumed to be reinvested, and index survivorship biases are ignored, and advisory costs are excluded, and past performance is not predictive of future results; but it does give at least an indication of the potential risk exposure and relative performance under different conditions in the past. How it will do in the future is of course unknown, but I am using a version of this model, with somewhat different holdings and more complexity, as the basis for my conservative portfolio allocations now.
Disclosure: I am/we are long OTCRX, LSYMX, QMNIX, BXMX, ETJ, TLT, VGLT, IEF.
I wrote this article myself, and it expresses my own opinions. I am not receiving compensation for it (other than from Seeking Alpha). I have no business relationship with any company whose stock is mentioned in this article.
Additional disclosure: This article is intended to provide information to interested parties. As I have no knowledge of individual investor circumstances, goals, and/or portfolio concentration or diversification, readers are expected to complete their own due diligence before purchasing any stocks or other securities mentioned or recommended.