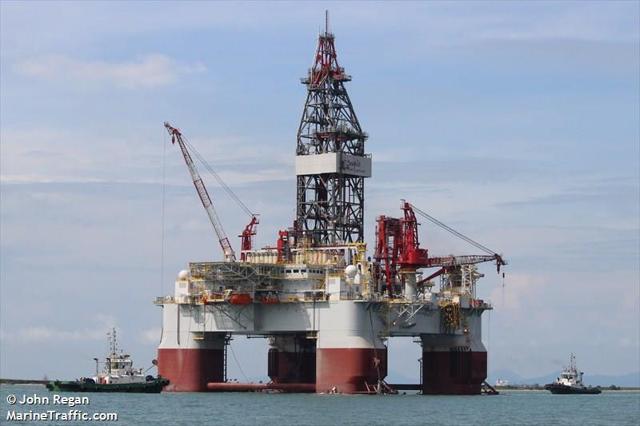 Click to enlarge Image: The submersible West Capricorn.
Seadrill Partners, LLC (NYSE:SDLP)
Seadrill Partners is a limited liability company. The company was formed primarily to own, operate and acquire offshore drilling units from Seadrill Ltd. (NYSE:SDRL).
The company's subsidiaries, including Seadrill Operating LP, Seadrill Capricorn Holdings LLC and Seadrill Partners Operating LLC, own 100% interest in the drilling units.
Seadrill Ltd. owns 42,819,100 total common (26,275,750 shares) and subordinated shares (16,543,350 shares) of SDLP, or 46.6% (Minority holder).
This article updates my preceding article on SDLP on February 29, 2016, regarding the Q415 results and fleet status.
April 18, 2016, Seadrill Americas Inc., the Houston-based arm of London-based Seadrill Management Ltd., said it plans to cut 112 offshore oil rig jobs.
The jobs are supporting the operation of the West Capricorn Rig in the Gulf of Mexico. The cuts are due to BP Exploration & Production Inc. extending its standby period services for the rig.

"The extended standby of this major contract with a principal client is sudden, unexpected and outside of Seadrill's control," the company said in a letter to the Texas Workforce Commission.

The job cuts will begin on May 1 and are expected to be complete by May 13. All affected employees have been notified, and they do not have bumping rights, meaning workers with more seniority cannot take the jobs of those with less seniority.
Many shareholders are now of course wondering what means an "extended standby" for the West Capricorn.
Let's go back in time for an instant.
On March 30, 2015, we learned from Offshoreenergytoday.com the following:
British oil giant BP has terminated a contract for the West Sirius semi-submersible drilling rig, owned by Seadrill Partners.

Prior to the cancellation notice, the dayrate and term for the West Sirius and West Capricorn contracts were swapped.

The West Sirius dayrate was decreased by $40,000 per day and the term was decreased by two years to expire in July 2017 while the dayrate for the West Capricorn was increased by $40,000 per day and the term was extended by two years to expire in July 2019.

Amortized payments for the West Capricorn such as mobilization and upgrades will continue on the original schedule ending in July 2017. In accordance with the cancellation provisions in the West Sirius contract, Seadrill Partners will receive payments over the remaining contract term, now expiring in July 2017.

As a result of the termination, Seadrill Partners' backlog will decrease by approximately $160 million.
In short, the West Sirius has been terminated by BP (NYSE:BP) and will receive $297k/d until 7/17 and the West Capricorn has its contract extended to 7/19 at a day rate of $526k/d. The contract swap had a negative impact on the backlog of $160 million.
SDLP: Fleet Status as of February 2016
Semi-submersibles
#

Name

Class

Year built

Client

Location

Day rate in $K
End of contract
1

6th HE

2008

[BP]

USA

297 paid by BP over the contract terminated.

7/17

Cold-stacked ($10k/d cost)

2

6th HE

2009

[Hibernia]

Canada

615

4/17

3

6th HE

2011

[BP]

USA

526

Includes the mob. fee of $30 million.

Contract swapped with the West Sirius.

7/19
4

6th HE

2012

[Tullow oil]

Ghana

605

Mob. $18 million taken over a period. Includes 95% utilization bonus.

7/18
Drillships UDW
#

Name

Class

Year built

Location
Day rate in $K
End of contract
1

2008

[ExxonMobil]

Nigeria

627.5
4/17
2

2013

[BP]

USA

565

Mob. $37.5 million taken over a period.

10/20
3

2013

[BP]

USA

565

Mob. $37.5 million taken over a period.

11/20
4

2008

[Exxon Mobil] Angola
653
3/18
Others
#

Name

Year built

Location
Day rate in $K
End of contract
1

2010

[Petronas]

Myanmar

100

4/16 or 8/16

(3 wells contract)

2

2013

[Chevron]

Thailand

110
7/19
3

2013

[Chevron]

Thailand

110
8/19
Order backlog of $4.3 billion and average contract duration of 2.5 years as of February 24th, 2016.
Commentary:
BP is now placing the West Capricorn on an "extended standby," which means in short, that the rig will be cold stacked under contract for a period of one year or more.
The West Capricorn will be idle in Texas, probably, and will have a minimum maintenance until July 2019 or until the time BP decides to resume drilling and use the rig again.
The standby day rate will be lower and could be from 98% of the day rate when the rig is placed on special standby, equivalent of warm stacked to a much lower day rate if the rig is cold stacked with a minimum staff on board, as it seems to be the case with the West Capricorn starting June 2016.
I estimate the day rate to be approximately $250K/d-$350k/d - depending on several elements such as crew and level of maintenance - with a 90/120-day reactivation time, which is standard for a rig cold stacked.
BP may eventually terminate the West Capricorn for convenience, and pay a termination fee similar to what is actually paid for the West Sirius or approximately $300k/d.
This is not the first rig in the Gulf of Mexico that is actually placed on standby.
Freeport-McMoRan (NYSE:FCX) placed recently three UDW rigs on special standby owned by Noble Corporation (NYSE:NE) - The UDW Noble Sam Croft and the UDW Noble Tom Madden - and Rowan Companies (NYSE:RDC) The UDW Rowan Relentless, while the company is selling its oil and gas assets at a steep discount.
Shell (RDS.A, RDS.B) may move similarly with Ensco (NYSE:ESV) and already asked the company to reduce the crew on about 4 rigs. The UDW Ensco DS-3 working for BP in the Gulf of Mexico has not been impacted yet, and ESV has at least two semi-submersibles in the Gulf of Mexico too (With Apache (NYSE:APA) and Marubeni (OTC:MARUF, OTCPK:MARUY)).
Conclusion:
Placing the West Capricorn on prolonged standby is not a good omen, unfortunately. One thing certain is that the West Capricorn will have a revised day rate soon, the question is what will be the standby day rate?
The earning results for Q316 will be impacted; however, it will depend on what will be decided between BP and Seadrill Partners, in the next several weeks.
Disclosure: I/we have no positions in any stocks mentioned, and no plans to initiate any positions within the next 72 hours.
I wrote this article myself, and it expresses my own opinions. I am not receiving compensation for it (other than from Seeking Alpha). I have no business relationship with any company whose stock is mentioned in this article.
Additional disclosure: I trade SDLP