Learning the "REIT" Stuff
Before becoming a regular Seeking Alpha reader, I didn't know very much about REITs. All I knew was that they paid above-average dividends, but I knew of no proper way to value them or choose ones with sustainable dividends. However, there are many excellent Seeking Alpha authors who offer coverage of REITs, and it is largely from them that I learned some REIT complexities. The author I most often borrow ideas from is Brad Thomas since he offers copious perspective on such a wide variety of REITs. I also learned a lot from Ralph Block's " Investing in REITs: Real Estate Investment Trusts." I'm in no way an expert, but now I feel that I know more about what I want in a REIT for my portfolio. In general, a dividend above 5% covered by funds from operation with a low price/FFO or price/AFFO ratio is enough to make me take a longer look.
A New REIT for My Portfolio
After finding perspective and knowledge from the above authors, my goal is to bring REITs to roughly 10% of my portfolio's value this year. But to do that, I need some good REITs to buy. Reading through work by the above authors, I narrowed my search to two REITs in particular: EPR Properties (NYSE:EPR) and Chatham Lodging Trust (NYSE:CLDT). Brad offers great perspective on both, which I used to supplement my research into each company's own financial statements. The bottom line, I picked CLDT for now and prefer to hold off on starting an EPR position until it drops in price.
Why Hotels Over Entertainment?
While EPR invests in entertainment and education facilities, CLDT invests in high-end hotel properties. Both REITs invest in rather disparate industries, although during my search I was more focused on fundamentals of each company. The respective yields of each company are, in my opinion, the most visible aspects. EPR yields a respectable 5.8% while CLDT yields a slightly larger 6.1%. Both yields are similar from my perspective, so doesn't tip the scale in either direction. The sustainability of these two roughly equal yields is more interesting to me.
The Safer Yield?
EPR's yield has been growing at a good pace, averaging 7% growth since 2010.
EPR Properties Dividend Growth Rate and Predicted 2016 Dividend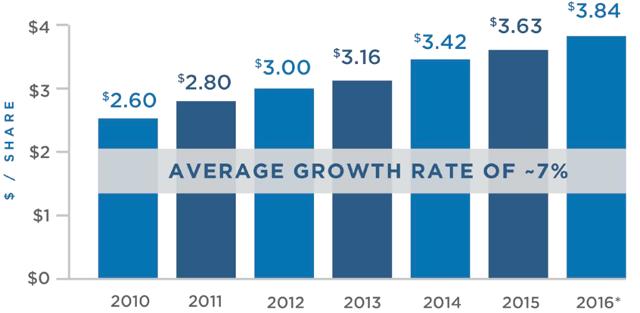 Click to enlarge
Source: EPR Properties
At the same time, since 2011 adjusted FFO has been growing at an average annual rate of 5.4%. The company's AFFO has comfortably covered the dividends over the past five years at roughly an 80% ratio.
EPR Adjusted FFO and Dividends Since 2011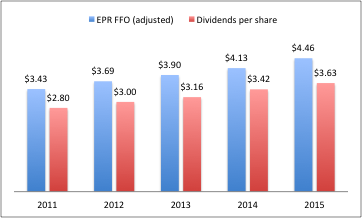 Source: EPR Properties
CLDT likewise has been growing AFFO, with adjusted FFO/share growing from $0.89 to $2.29 at an annual rate of 27% (link to presentation). Dividends too have been growing at a rate of 11% (excluding a special dividend from 2015). The dividend was also just increased in March to $0.11/share monthly for an annualized $1.32/share, up from an annualized $1.20/share regular dividend.
CLDT Adjusted FFO and Dividends Since 2011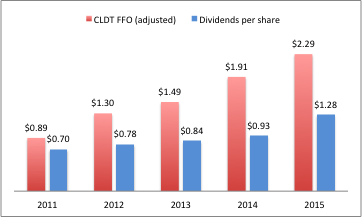 Source: Chatham Lodging Trust
CLDT has had impressive dividend growth over the past 5 years, which is overshadowed by Titanic growth in AFFO. This brings the dividend from 79% of AFFO in 2011 down to 52% of AFFO during 2015. Comparing EPR and CLDT, CLDT shows better AFFO growth, which safely covers the dividend at both current and increased levels.
Debt Levels
Both EPR and CLDT have great dividend growth, but a high and growing dividend is meaningless if a debt load forces a dividend cut. EPR's debt load totals $1.98 billion, compared to total assets of $4.2 billion. Maturities are well-spread out over the next five years, with no serious obligations until 2020.
EPR Debt Maturity Profile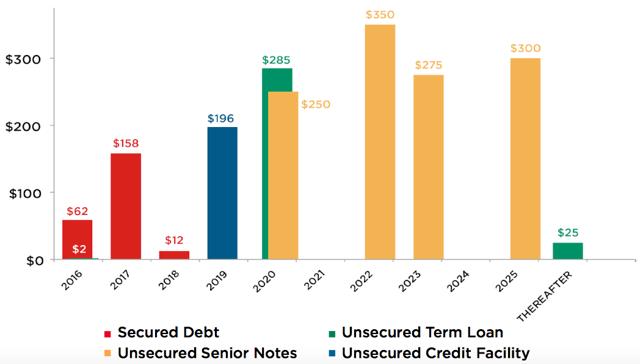 Click to enlarge
Source: EPR Properties
CLDT's debt load is also well-managed. The company holds $603 million in consolidated debt compared to total assets of $1.4 billion. There are no significant maturities until 2020, with the bulk of present debt maturing in 2023 and 2024.

Click to enlarge
Source: Chatham Lodging Trust
Although both debt loads are managed well and don't appear threatening to future operations or dividend payments, CLDT's debt load seems preferable to me since it has few maturities until 2020. This will allow the company more leeway from AFFO to both pay growing dividends and expand property holdings.
The Better Value
While EPR currently trades at 15 times AFFO, CLDT trades at a multiple of 9.5 times AFFO. After all is said and done I like both companies, but I consider CLDT to trade at a more favorable multiple. EPR's premium valuation is more apparent when considered with its nearly 15% price appreciation this year.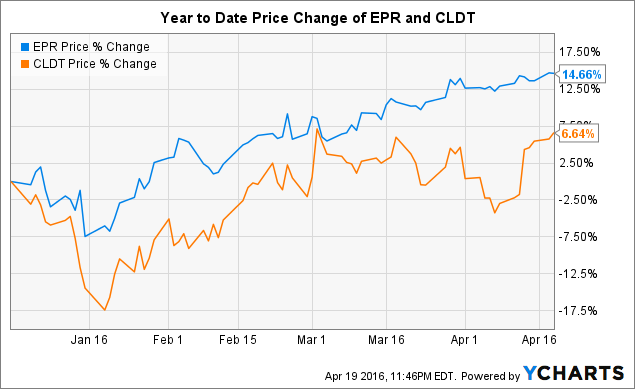 EPR data by YCharts
With regards to the dividend and sustainability of the dividend, backed up by an attractive debt maturity profile, CLDT is my preferred company. I will first let EPR drop in price before I buy in.
Disclosure: I am/we are long CLDT.
I wrote this article myself, and it expresses my own opinions. I am not receiving compensation for it (other than from Seeking Alpha). I have no business relationship with any company whose stock is mentioned in this article.
Additional disclosure: I am neither a certified investment advisor nor a certified tax professional, and do not claim to be either. The data presented here is for informational purposes only and is not meant to serve as a buy or sell recommendation. Investors and potential investors should do their own research and make their own decisions. In the event that an investor or potential investor does not feel qualified to make such a buy or sell decision on their own, they should consult a certified advisor that they trust or feel comfortable with. Investing may involve losses, including potential loss of principal. The author relies on external links for some information that may have appeared on this perspective. These external links, although believed to be accurate, have not been verified independently. Therefore the author is unable to guarantee their accuracy.