Labor trends are strong, healthy and leading to economic expansion and new highs for the broad market. It is inevitable, economic momentum has reached a velocity at which it feeds itself. Job availability is strong, more jobs means more people working, more people working means more money in the economy, more money in the economy leads to economic health, economic health lead to profit, profits lead to investment, investment leads to expansion, expansion leads to new jobs and it all leads to a rising market.
Labor, A Sleeping Beast Ready To Wake?
The Kansas City Federal Reserve Index of Labor Market Conditions is perhaps the best measure of the labor market. It is a composite of 24 major labor gauges all watched by the FOMC. The index declined in March but is trending near 6 year highs, the activity index fell 0.03 to -0.02, just slipping below the long running average by a hair. The index only recently reached 0, equal to the average, and is now indicating a healthy labor market if not full employment. Momentum also declined but remains well above average.
On an historical basis whenever the KC Fed LMCI crosses above 0 from below it precedes a time of economic expansion. The most recent examples are in '93/94 leading up to the DotCom bubble and then again in 2003 which led up to the Housing Bubble and Global Credit Crisis. Does this mean we are heading for a bubble? Maybe, probably, however that is still a few years off at best. The point today is that labor conditions are healthy, much healthier than many give credit, and leading the economy into expansion.
source - KC Fed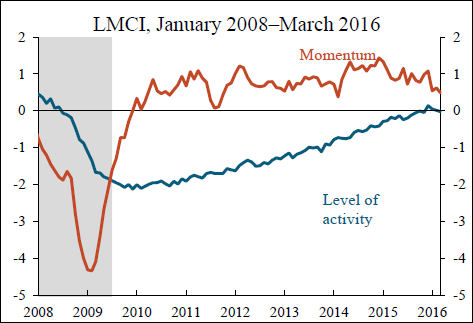 Digging deeper into the report other signs of labor market health exist, indicating low levels of turnover and a high availability of jobs. The #1 positive influence to activity over the past 6 months is the quits rate. The quits rate is a measure of people leaving work voluntarily, the assumption being they are confident of new or better work, and is widely considered to be a sign of health.
Other contributing factors to activity include the Labor Participation Rate and Temporary Hires. Positive factors influencing momentum include LPI (#1) and quits (#2) expected availability of jobs, the Challenger report on lay-offs and job creation, both ADP ((NASDAQ:ADP)) and NFP. On an individual basis any one of these could be dismissed but together indicate a labor market in which jobs are available, people are getting hired and employees are mobile.
The quits rate is an interesting component of the JOLTs report. JOLTs, Job Openings And Labor Turnover, is a measure of job availability, hirings, firings and other bits of data. It shows that job openings have been trending near 5.5 million over the past few months, record highs. The number of openings fell in the past month, but the loss is due to an increase in hiring. Hiring increased in March to 5.4 million monthly, a high not seen since November of 2006. The quits rate held steady near 3 million and 9 year highs.
Wages, Spending, Earnings
More jobs and more employed Americans means stronger earnings for business and vice versa. Now that the economy has some momentum jobs lead to labor and consumer strength which in turn lead to economic activity, earnings and growing business which in their turn lead to more jobs.
Albeit slowly, wages are growing. The latest data shows a 2.3% year over year increase in hourly earnings that, along with rising levels of employment, equal a wave of spending that could hit the economy at any time. This wave is growing on newly employed and upward mobility too, each time someone quits for a new job they are likely getting better pay, and they are leaving an opening for someone to fill behind them.
Retail sales data has also been improving but remains tepid. March data shows a mild decline in most categories from the previous month but remains positive, up 1.7% on a year over year basis. This is not strong but is steady, long term and when combined with ongoing improvement in the labor markets can be expected to continue into the future. There may not be a boom in activity, so long as there is steady improvement earnings will grow.
Who Benefits From These Trends Now
One business that is surely benefiting from labor trends is Cintas (NASDAQ:CTAS). Cintas is the fastest growing uniform and safety services provider for businesses and employees, basically, they rent or sell uniforms, floor mats, safety equipment, first aid and fire safety supplies to businesses and employees. I think it safe to say that the business is tied to labor trends, when employment grows they should grow. The company recently posted a near 10% year over growth in earnings, 9.7%, driven by 6.8% organic growth and this is not the first quarter. Cintas has been growing earnings at a steady pace over the past 12 months.
The retailers and consumer discretionary sectors are not yet showing much activity but this will likely change, perhaps going into the fall holiday season. The consumer staples sector is however showing strong activity, supported by a stronger consumer. While the broader market wallowed last fall and corrected at the beginning of this year the Consumer Discretionary SPDR XLP has been trending to new highs. The ETF broke out 2 months ago and is now consolidating at those levels.
Others benefiting from this trend include financial institutions with exposure to payroll and payment processing. Many of the banks are reporting growth in deposits and retail activity, more than coincidental in my opinion and a sign of strengthening in the consumer. Bank of America (NYSE:BAC) reported a 22% growth in profits from the consumer banking business and an 8% gain in deposits. Payment processor Visa (NYSE:V), Apple (NASDAQ:AAPL) and PayPal (NASDAQ:PYPL) are also positioned to profit from labor and consumer trends although competition in the space is growing.
Housing is yet another sector benefiting, and fueling, the cycle of employment and earnings. Lennar (NYSE:LEN) reported earnings two weeks ago and beat estimates by 21%, with a 21% increase in year over year revenue. Lennar also reported a 10% increase in new orders and a 13% increase in backlog, both signs of upward pressure for earnings and revenue.
The caveat with home sales is that they are stalling, falling in the latest reports, but even that will to drive employment. The most often cited reasons home sales are stagnant is low inventory, and high prices due to low inventory, which are leading to building and jobs. According to the NFP reports construction has accounted for more than 11% of all news jobs over the past 12 months.
The Looming Fed
The real risk to the economy right now is the Fed. Fear of interest rate hikes kept the market flat throughout 2015 and may do the same this year. On the one hand there is the fear that higher rates will derail the economy and cause a recession. On the other however, is the fact that an increase in rates is also a confirmation of economic health. The first hike caused a major correction in the market, one that has barely been recovered from, the second is likely to do the same.
Based on labor data it looks as if the Fed should have acted by now and they have. Based on inflation and other data it appears as if they should and can wait, and they are. The question is when will the next rate hike be and the trigger that needs to be watched is inflation. As labor markets heat up inflation should begin to rise and that is when rate hikes will be imminent, but there is little sign of that now.
The all-items CPI fell in March but is up 0.9% over the last 12 months. The rise mostly occurred over the past 6 months but is still below the 2% target set by the Fed. Since September 2015 consumer level inflation has risen nearly 1% after trending near 0 in the preceding months. On a core basis inflation has risen more than a half percent over the past 6 months and is now above 2.2%. This reading, ex food and energy, shows a much hotter rate of inflation but is not likely to push the Fed into hiking just yet. PPI on the other hand remains very tame, near 0, not indicative of impending rate hikes.
source - BLS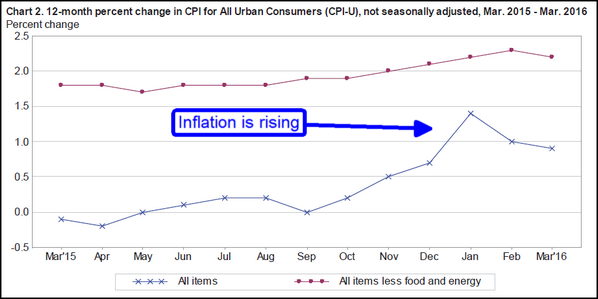 What investors need to remember is that we are only at the very beginning of an interest rate hiking cycle. Regardless of when the next one comes we can expect as many as 20 or more hikes over the coming years, if we only get 2 or 3 per year it will take at least 8 years for the cycle to run its course, 8 years of economic growth and expanding bull markets.
The risk of waiting too long though is present, as the labor market builds steam there is a growing possibility for a rapid increase in inflation and a rapid response from the Fed.
Labor Trends Will Lead The Market Higher
If the LMCI is right, and we are on the brink of economic expansion, any near term fear driven market corrections will only serve to provide entry points for investors. The economy has some momentum but it is still weak, there could be correction ahead, but once that momentum begins to grow the economy is going to take off and that could very well occur over the next 9 months. We are entering a seasonally strong period for hiring and industry, a period in which more Americans will go to work, more wages will be earned, more money will be spent and corporate earnings can grow.
It's hard to see it now, 4 quarters into what is likely to be a 5 quarter earnings recession, but outlook for earnings is good. Based on current estimates the average S&P 500 (NYSEARCA:SPY) company is expected to return to earnings growth by the third quarter, about 3% and this growth is expected to expand into the end of the year, about 11% in the 4th quarter, and grow further in 2017. Full year 2016 earnings will most likely come in about 2-3% and then expand to +13% or better in 2017.
This activity will carry the market higher into the end of the year, even if there is a correction between now and then, and set new all time highs for the major indexes. The S&P 500 could easily see 2,200, the Dow (NYSEARCA:DIA) 19,000, by end of year.
Disclosure: I/we have no positions in any stocks mentioned, and no plans to initiate any positions within the next 72 hours.
I wrote this article myself, and it expresses my own opinions. I am not receiving compensation for it (other than from Seeking Alpha). I have no business relationship with any company whose stock is mentioned in this article.