The networking and communications industry is undergoing a large change. Traditional hardware devices like switches, routers and video services only make up a fraction of the industry. SDG (Software Defined Networking) poses perhaps the biggest threat to Cisco (NASDAQ: CSCO) and its largest revenue segment, switches and other network equipment: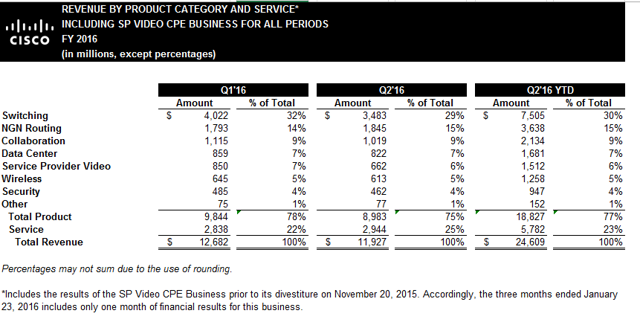 Click to enlarge
As you can see, this information, which comes directly from CSCO's website, shows the importance of their traditional switching revenue as it makes up 29% of their revenue, although this number is down from 32% in Q1 fiscal 2016 (middle of the year is the beginning of their fiscal year). Having virtualization and network traffic consolidation take place by overtaking hardware and directly through software threatens CSCO's oldest and most reliable cash cow.
SDG compounds its possible damage with low cost, low-quality offerings of "white box" hardware, which usually comes from eastern Asia regions. This hardware is extremely cheap and allows other firms to cheaply configure their networks with some of their own equipment, and then SDG to complete the process by using software to circumvent the need for advanced hardware provisions. White box is essentially a blank canvas that enables a tradeoff of quality to cost. Usually, this tradeoff is a losing situation, as it takes advanced expertise and sufficient labor to set up a network without the comprehensive support that CSCO offers.
I see neither of these threats as sufficiently endangering CSCO's future cash generation and valuation. I do recognize the risk in computing the firm's required rate of return and EPS estimations, but not in its growth multiples, and the rest of this article will outline what I believe is a suitable and reasonable valuation based on conservative estimations, while also accounting for the value of their 14 acquisitions made over the last 12 months.
Strategic Acquisitions
I wish to outline the emphasis CSCO has put on making strategic acquisitions to import more software integration and services into its revenue stream in an "importing" manner. CSCO started a move toward software and cloud servicing as well as advanced support starting three years ago as management wisely recognized the digital movement. They were forced to either start playing catch up or fall behind eternally and get overtaken slowly and painfully.
The company is working to establish a more organic use of service revenue, but the key acquisitions they make every year sum up to become more impactful than the large scale acquisitions that draw headlines, such as Intel (NYSE: INTC) acquiring Altera (NASDAQ: ALTR).
Most of the recent acquisitions made over the last three years are software related. Here, I will summarize some of the most relevant acquisitions of the recent past:
Leaba Semiconductor for $320M. Leaba's founders previously worked under Dune networks, which previously provided network related switches to Broadcom (NASDAQ: AVGO). Now, they primarily build custom silicon.
Neohapsis, a mobile security provider, also was acquired by CSCO recently.
OpenDNS for $635M known for cloud security software.
SourceFire for $2.7B. Sourcefire is a cyber security software provider known for its cyber intrusion prevention system.
Jasper Technologies for $1.4B. Jasper is known for its networked devices, or the Internet of Things. Of course, IoT is a developing market that should potentially grow into one of the largest industries in the world.
Strategic acquisitions like these will help to ease the transition to software from hardware in CSCO's sales mix and help to build a strong future income statement, bringing down their competition with a thousand proverbial paper cuts. Indeed, this quote in their 2015 annual report under the title "strategies" confirms their focus of these acquisitions:
"We are focused on providing highly secure, automated and intelligent solutions built on infrastructure that connects data that is highly distributed (globally dispersed across organizations). Together with our ecosystem of partners and developers, we aim to provide the technology, services and solutions that we believe will enable our customers to gain insight and advantage from this distributed data with scale, security and agility."
On another note, many more acquisitions of this size can happen as CSCO had nearly $28B in cash and cash equivalents at the end of 2015.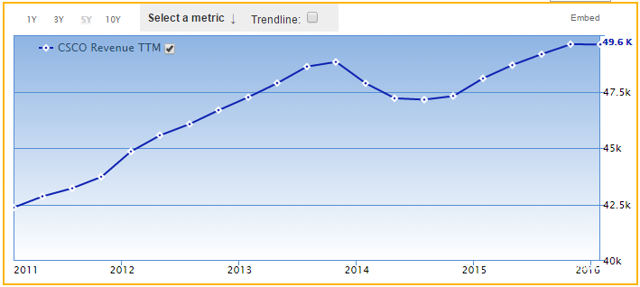 Click to enlarge
Free Cash Flow and Dividend
Perhaps the leading advantage for CSCO at this time is its strong balance sheet and statement of cash flow and industry leading short-term liquidity. Many years of cash cow products, steady dividend payouts and smart, proven and low-risk gambles have paid off handsomely for the firm.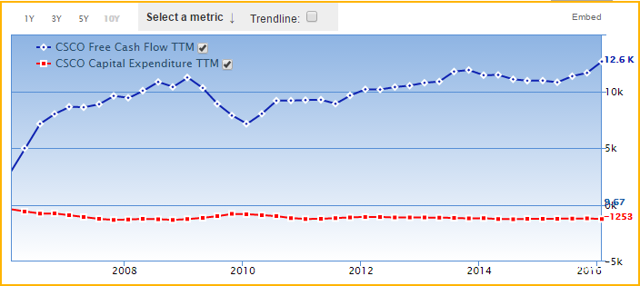 Click to enlarge
Above you will see a chart outlining the TTM FCF of the firm. Free cash flow, of course, is just operating cash flow minus operating expenditures. CSCO has been around long enough to achieve economies of scale and generate consistently larger amounts of cash over time, especially over the last five years.
In terms of its P/FCF valuation of 17.31 (as of April 19 closing), it ranks 4th out of 16 in the Networking and Communication devices industry, just behind Juniper Networks (NYSE: JNPR), which has a P/FCF of 17.19.
Outlined below are a few more ratios that detail CSCO's cheap valuation despite a 6.08% YTD return. As noted before, all metrics are measured based on the April 19 closing.
Price/Cash ratio of 2.39 (3/16 in industry)
Price/Earnings ratio of 14.03 (best in industry)
ROE of 17.3 (best in industry)
Return on invested capital is 40.32%
Quick ratio of 3.20 is 4th best in industry
10.10% ROI, 3rd in industry
EBIT growth TTM of 21.2%
Note: all statistics acquired from finviz and gurufocus
As far as the dividend reaches, we have seen a constant dividend increase since 2011, around the time FCF started to consistently rise. At the current price, we have a forward yield of 3.67%. Outlined below is CSCO's dividends per share increase over just the last three years.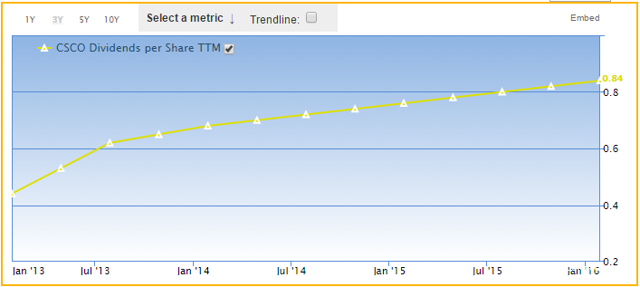 Click to enlarge
Valuation
Using discounted cash flow analysis using growth factors that took into account three- and five-year average growth in revenue, dividends, net income and free cash flow, I was able to determine a growth rate of 6.26, or 6.3% approximately, and project it as a growth over the next 10 years as CSCO moves toward more software and opens more growth opportunities in the future.
In also taking a terminal growth rate of 5% over another ten years, CSCO's tangible book value (a huge component of this large scale company), a discount rate of 11.38 based on a beta of 1.32 on the CAPM analysis, we come up with a fair value of $31.70, signaling 11.9% upside from current levels.
If one accounts the remaining three dividends of $1.04/share into the capital gains return for the remainder of the year, we get a total return of 22.91%. This projected return is certainly not bad considering the low business and financial risk one is taking on in purchasing its stock. There's enough evidence to support a claim that even at late 20s valuation, CSCO is undervalued relative to the rest of the market.

Click to enlarge
Disclosure: I/we have no positions in any stocks mentioned, but may initiate a long position in CSCO, AVGO over the next 72 hours.
I wrote this article myself, and it expresses my own opinions. I am not receiving compensation for it (other than from Seeking Alpha). I have no business relationship with any company whose stock is mentioned in this article.