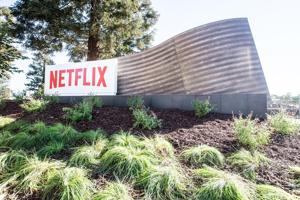 Netflix (NASDAQ:NFLX) reported its first-quarter results after the market close on Monday. As has been the case historically, the markets looked almost exclusively at the number of subscribers and the rate of forecast subscriber growth.
I like to pay closer attention to the company's cash flow burn, which has been increasing in recent quarter, thanks to the focus on international expansion. In Q1, Netflix posted free cash flow of -$237 million, bringing its total trailing 12-month cash outflow to nearly -$1 billion.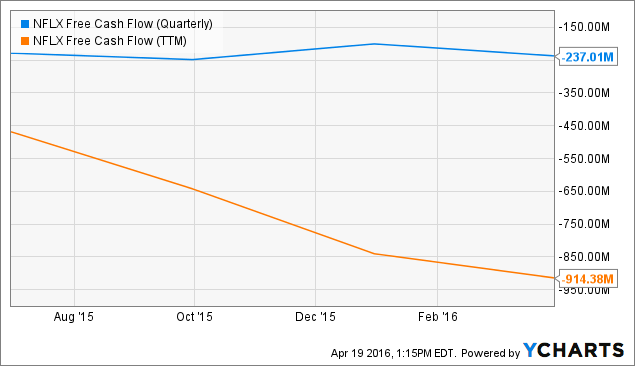 Now that the company's international expansion is largely complete, it's time to start showing that all the investment is going to pay dividends. The price for existing customers would add more than $408 million in revenue annually (assuming no attrition due to the price hike), which should help the cash flow situation. But, according to the management team, real results may not come until the second half of 2017.
However, for this quarter, the most interesting thing may be what management has to say about the impending monthly price increase for customers. More specifically, how many of those customers are going to ultimately reject Netflix's service at the new price point? Reed Hastings said in the shareholder letter that he expects the company to see "only modestly increased churn from un­grandfathering," but there are a wide array of thoughts on the subject.
To set the table, new customers began paying the new rate about two years ago, but existing customers were grandfathered into the old rate of $8/month until now. Some 17 million of Netflix's estimated 81 million customers (that's the Q1 estimate at least) will be affected.
How many customers will actually attrite is a matter of some speculation, but there seem to be differing opinions. Here are some things we do know...
80% of customers didn't know the price hike was coming
This comes according to a study from JPMorgan (NYSE:JPM). There's some downside to hitting customers with higher costs when they weren't expecting it, but it's also unclear how many of those folks watch their bills closely.
41% of customers surveyed say they'll cancel if there's a price hike
That's a gross exaggeration since nowhere near that number will actually leave. This article talks about how this UBS (NYSE:UBS) survey number more reflects people's opposition to higher costs as opposed to actually cancelling their service. It's still a lot lower than the 68% number when customers are asked about cancelling their cable TV subscription. So there's that.
The JPMorgan survey says that number is 15%
This is closer to the actual number but still way too high. I think these surveys demonstrate tough talk about having to pay higher fees for the same service but say little about actual action from customers.
Analysts suggest that 3-4% of customers affected will actually leave
While this is probably a reasonable estimate, I still think it's too high. Consider this. The trend of "cutting the cord" has been gaining steam for a while thanks to the emergence of services like Netflix, Hulu and Amazon (NASDAQ:AMZN) Prime. Cable costs increase every year, but it's estimated that only 1% of customers actually cancel their cable TV service every year. And the perception of cable is much lower than that of Netflix.
While it's not an apples-to-apples comparison, and considering the fact that this is the first real price hike for existing customers, I still feel like the actual percentage of customers that leave due to the price hike is closer to the 1-2% range.
Consider also the new $10/month price for Netflix is still cheaper than Hulu's $12/month rate, although more than Amazon Prime's $99/year fee. Amazon's new $9/month Prime Video membership plan could result in some attrition for NFLX, but considering that Netflix management credited the company's original programming lineup for fueling domestic subscriber growth, I think the hit will be lower than anticipated.
Either way, Netflix will be just fine. Even if the customer attrition rate is 4%, the company comes out way ahead. Assuming 17 million customers are affected, that would mean 16.32 million pay the extra $2/month and Netflix loses $8/month on 680,000. In this scenario, Netflix still makes an extra $27 million per month (or $327 million per year) in revenue. The attrition rate would need to be 20% for the revenue lost to negate the revenue gained completely.
In summary, I expect the number of existing Netflix customers to leave due to the price hike to be closer to 1-2% as opposed to the 3-4% number that analysts are expecting. And even if the number is on the higher end, Netflix is still going to make a boatload of new revenue.
Disclosure: I/we have no positions in any stocks mentioned, and no plans to initiate any positions within the next 72 hours.
I wrote this article myself, and it expresses my own opinions. I am not receiving compensation for it (other than from Seeking Alpha). I have no business relationship with any company whose stock is mentioned in this article.