With a market capitalization of $296bn and a P/E of 505 Amazon (NASDAQ:AMZN) is one of the most glamorous growth stocks out there. Because Amazon's valuation is clearly reliant upon future earnings growth it is difficult to generate a valuation that has a high degree of certainty. Even the slightest change in growth projections has a dramatic impact on Amazon's potential upside or downside. In order to gauge Amazon as an investment we must ask ourselves the following:
What is the implied level of growth Amazon needs to achieve in order to justify its current share price?
What are the underlying assumptions we must make about Amazon's barriers to entry?
Are both of the findings to the above reasonable and is there still room for additional upside?
We will see that Amazon is still being undervalued by the market even given the awesome outperformance it has achieved to date.
Growth assumptions
Let's dive right into it with a perpetual growth model for Amazon's free cash flows. Years 0-5 are variable and for year 6 and beyond we apply a perpetual growth rate to free cash flow discounted by WACC. The image below displays the top line results. I will discuss the assumptions behind these results soon.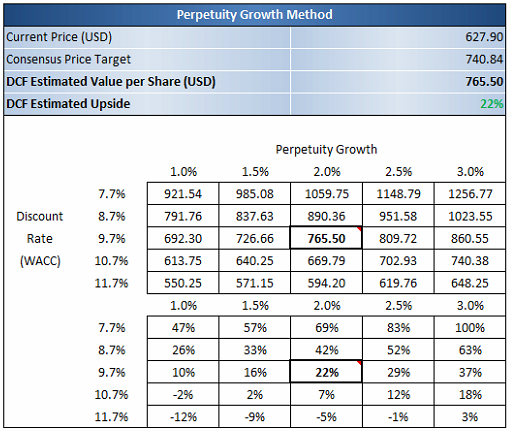 The above matrix indicates that at a perpetual growth rate of 2% in free cash flows after year 5 and a WACC of 9.7%, Amazon is worth $765.50 a share. This gives us 22% upside from the current price of $627.90. You will notice that this figure is broadly in line with analyst consensus of $740.84.
As you can see Amazon's valuation is very sensitive to small adjustments to the rate of perpetual growth and WACC. We can see that right now Amazon is trading at around an implied 1.5% perpetual growth in free cash flows after year 5 and an implied 10.7% WACC. In other words the market is still valuing Amazon relatively cautiously.
Here are some of the growth assumptions for years 0-5 (2016 to 2021)

Click to enlarge
We can see that I have assumed YoY revenue growth halves from 22% to 11% by 2021 and that EBITDA and free cash flow margins continue to improve as scale is achieved. It also has been assumed that in order to finance growth no additional equity or debt will be raised. It is worth noting that the potential addition of debt would reduce Amazon's WACC and boost its valuation, although this increases interest expense and the probability of insolvency.
Barriers to entry
The issue of barriers to entry is critical to this valuation model. In theory a company cannot produce profitable growth if there are no barriers to entry. Investment will always end up equaling return. Because we have assumed that Amazon's growth will be profitable Amazon must hold onto their competitive advantages in order to justify this valuation. Amazon's competitive advantage over the likes of Wal-Mart (NYSE:WMT) is their low cost and strategically placed warehousing as well as their investment in low-cost product distribution channels.
Is all the above reasonable?
I believe the above is very reasonable. Retailers with higher cost structures like Wal-Mart are miles behind Amazon's online investment and they are unlikely to ever catch up. On top of this Amazon benefits from the secular growth in global e-commerce.
On the valuation side of things halving revenue growth over the next five years also could be seen as being conservative given their track record. A 2% terminal free cash flow growth also is reasonable. The addition of debt is still possible and hence a reduction in Amazon's current 9.68% WACC also is possible. The WACC of Amazon's peers currently sits at 8.6% and giving Amazon this WACC would cause the valuation to jump to $890.36 a share.
To conclude, this valuation is still based upon uncertain future variables. We must use our experience and knowledge of the industry to ascertain whether Amazon's currently implied growth and discount rates are justified given their competitive advantages. I believe that the current price is not only justified but there is likely even more upside ahead based on the findings of this model.
Despite all of this, Amazon is clearly not a suitable investment for conservative value investors as actual future performance could deviate significantly from what has been assumed in my model. As I have demonstrated Amazon's fair value is extremely sensitive to assumptions. Furthermore some investors may feel more comfortable with a greater margin of safety by buying Amazon's future profitable growth at a steeper discount than 22%.
Bonus: Complete list of assumptions for years 0-5.
I have included a complete list of the assumptions underpinning this model in the below image. This is for the benefit of those who want to know exactly what has been assumed throughout this analysis.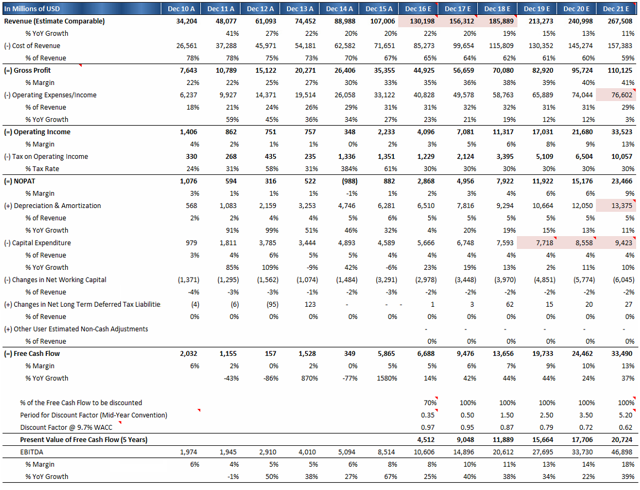 Click to enlarge
Thanks for reading. If you found this article interesting please make sure you follow me to stay up to date with my work.
Disclosure: I am/we are long AMZN, WMT.
I wrote this article myself, and it expresses my own opinions. I am not receiving compensation for it (other than from Seeking Alpha). I have no business relationship with any company whose stock is mentioned in this article.