GoPro (NASDAQ:GPRO) has announced the appointment of long-time Apple (NASDAQ:AAPL) designer Daniel Coster as Vice President of Design. Mr. Coster holds over 500 design patents and has played an important role in Apple's product success, including being the lead designer of the iconic Bondi Blue iMac and iPhone 4. In his new role, he will oversee all aspects of design which touch on the user's experience, including hardware, software and services, and will report directly to the company CEO and founder Nicholas Woodman.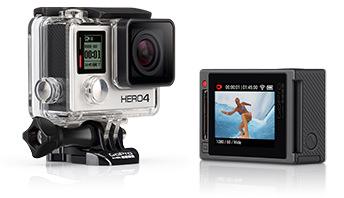 After a series of product, strategy and corporate governance missteps, this is certainly a positive development for the struggling GPRO. A strong design team could awaken innovation at the company and lead to interesting new product categories stemming from GoPro's popular lifestyle brand.
The key question now is if Coster will be able to succeed within GoPro's culture and be able to overcome the shortcomings of the company's leadership. Will he help GoPro to turn around?
The Apple way - outside of Apple
We have already seen several key Apple executives and employees trying to apply Apple's success formula at other companies.
Jon Rubinstein played a key role in Apple's hardware development and strategy in the Steve Jobs-return era. As CEO of Palm, however, he failed to find a successful answer to Apple's industry-changing iPhone.
Ron Johnson proved many retail analysts wrong with the creation and enormous success of Apple's brick-and-mortar stores. However, using the same Apple simplicity formula at the traditional retailer J.C. Penney (NYSE:JCP) resulted in one of the biggest disasters in retail history.
On these few examples, you can see how difficult it is to try and recreate a company's culture and ways of doing things within a different company environment. The key thing to watch for at GoPro will be the cooperation between Coster and Woodman, and the level of organizational support and autonomy that the CEO will give to the design team. You might remember the struggles of Robert Brunner's and later Jony Ive's design studio at Apple until Steve Jobs' return. At that time, the company culture and design process were engineering-driven and the design team's job was to merely "skin" products developed within engineering groups.
Leadership shortcomings
While GoPro CEO deserves credit for his decision to boost the company's product design capabilities, I am still skeptical of Mr. Woodman's ability to transform this organizational change into company success. The CEO has a mixed track record, having made many operational and strategic mistakes while leading GoPro.
Strategy mistakes. On the last earnings conference call, Mr. Woodman announced the company would double-down on its struggling action camera products, and would invest in its software and user experience.
"The problem is that it is still too hard to offload, access and edit GoPro content."
I don't think this is the reason for the product's falling sales. I believe GoPro is simply losing relevance as we increasingly capture the world around us with a smartphone camera. That is the most convenient product for video capture, access and editing. I expect action cameras to become further irrelevant as smartphone cameras gain increased durability, better image quality and more features like optical zoom.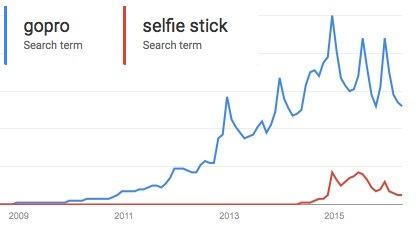 Does this mean the selfie stick needs better software? (Source: Google Trends)
In this light, the CEO's decision to invest $105M in iOS video-editing apps does not solve the reason why consumers cease buying GoPro cameras. Will Daniel Coster's design team even have enough resources for investments in new product categories and technologies if those are deployed by management to low-growth products and stock buybacks (see below)?
Operational mistakes. Over the past 12 months, we have seen many issues with GoPro's product development and marketing, namely the overpriced and unappealing Hero4 Session camera, lack of new products for the 2015 holiday shopping season and the much delayed Karma drone. Mr. Coster's team might design an excellent new product, but will that be shipped in time, at the right price point, and not over-serve the market with too many features so its next version has to be delayed?
Corporate governance mistakes. GoPro's $300M stock repurchase program stands out as an example of downright irresponsible corporate governance which destroys shareholder value.
GoPro ended 2015 with cash and equivalents totaling $474M, an increase of ~$52M from the end of 2014. Yet, in the fourth quarter of 2015, the company announced a $300M stock buyback authorization and nearly erased its annual cash gain by buying back its overpriced stock at the average price of $23.05, spending almost $36M. All of this at a time when management is aware that:
Sales are falling year-over-year
Investments in growth and new product categories are needed
There is not enough cash for investments, let alone excess cash for buyback
The company shares will likely continue to lose value
Stock buyback cannot compete with market forces
GoPro's share repurchase program is highly irresponsible.
Investor takeaway
With the help of a first-class industrial design studio, great products and strong management, GoPro might one day become a great, growing company. That day is certainly not today as GPRO is embarking on a turnaround effort, fighting falling sales, rebuilding its organizational structure and hopefully learning from its past mistakes. Much uncertainty awaits and the key question is if Daniel Coster will succeed within GoPro's culture and the constraints of its problematic leadership.
According to various case studies of company turnarounds (Bibeault, Slatter), their success rate is 25-33%. The odds are certainly against an investment in GPRO.
Author's Note: If you have enjoyed reading my article and found its content valuable, please take 5 seconds to follow me by clicking the Follow button next to my name at the top of the page.
Disclosure: I/we have no positions in any stocks mentioned, and no plans to initiate any positions within the next 72 hours.
I wrote this article myself, and it expresses my own opinions. I am not receiving compensation for it (other than from Seeking Alpha). I have no business relationship with any company whose stock is mentioned in this article.
Additional disclosure: This is no recommendation to buy or sell securities as that carries with it very high risks. The information contained in this article is for informational purposes only and subject to change at any time. Do your own due diligence and consult with a licensed professional before making any investment decision.