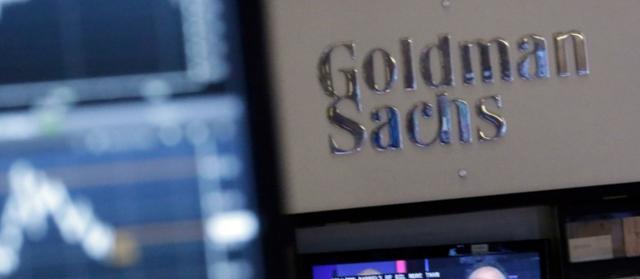 Click to enlarge
Goldman Sachs (NYSE:GS) has been absolutely pummeled in 2016 along with the rest of the financials as just about any headwind that could pop up, has. The stock was $180 at year-end and promptly fell to just $138 before bouncing. About a month ago I said the bottom was in before the Tuesday earnings announcement and with shares up about $10 since then, it seems that may have been proven correct. Goldman's Q1 was just awful - worse than some had expected - but shares are up as GS didn't say the world was ending. Is that good enough with shares back at tangible book value?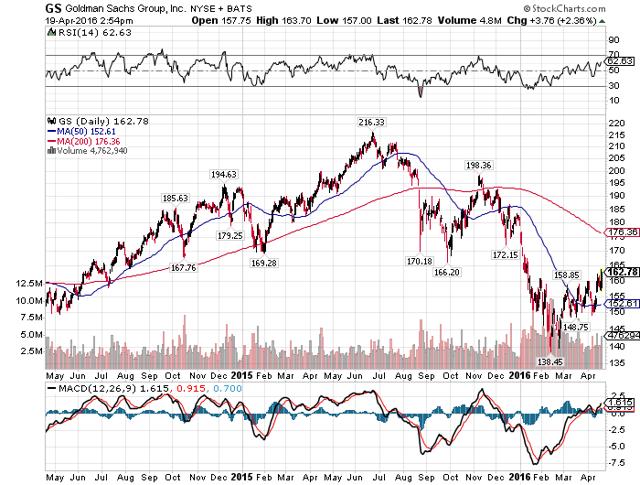 Click to enlarge
Goldman's Q1 was really something to behold (but not in a good way) on the revenue side. Virtually everything fell off a cliff and despite the fact that we knew it would be ugly, it was really ugly. All of the major segments (and most of the sub-segments) posted double digit declines in revenue as the firm-wide number plummeted 40% against last year. The poster child was Investing & Lending, as revenue in that segment basically evaporated. It's really quite extraordinary as revenue from public and private equity investments declined as well as various facets of GS' debt investments. This contributed to much of the decline in the overall revenue number but the short story here is that nothing went right for Goldman in Q1. In fact, this is one of the single worst quarters I can recall in the past couple of years for any financial and despite my very low expectations going in, Goldman managed to surprise me with its revenue numbers.
On the bright side, expenses fell markedly during the quarter as well as GS saw a number of tailwinds. Lower legal other expenses led to a 6% decline in non-operating costs but the real doozy was compensation expense, which fell 40% right alongside revenue. The company's total compensation is highly leveraged to revenue and profit so GS has tremendous discretion to adjust the number up and down based upon business conditions. That turned out to be GS' savior during Q1 because the business itself certainly struggled. The cut in compensation costs was timely and we'll have to see if some of the accruals for year-end compensation come back in the last three quarters of the year. For now, GS' comp ratio is still 42% of revenue, a very nice number.
One thing I worry about if the slowdown drags on is that GS may suffer from talent drain if total compensation stays low (relatively speaking, we are talking about Goldman Sachs) because the top talent in the world won't accept perpetually low compensation. European banks in particular have fallen victim to this over the past few years as they have struggled with profitability and have cut compensation as a result. GS isn't close to hitting this threshold but should weakness continue, it could put the long term value of the firm somewhat at risk. GS is only as good as its people and its people demand huge sums of money so hopefully for Goldman's sake, the epic weakness of Q1 will be short-lived.
On the capital side, GS saw some weakness as well. ROE for the quarter was just 6.4%, hardly surprising considering the 40% drop in revenue, but tough to swallow nonetheless. In addition, the firm's advanced approach CET1 ratio actually fell 20bps in Q1 from Q4 to 12.2%. While that level is still plenty high enough, the fact that capital was depleted during the quarter is certainly not a good sign. Goldman's fully phased-in SLR did get a bump to 6% - also well in excess of the required minimum - so the picture was mixed. GS also spent $1.55 billion buying 10 million shares as well during the quarter so the buyback is on track despite the lower capital generation. GS' capital levels are still a source of strength; Q1 was just a bump in the road.
The stock is now trading right at TBV so that condition has been worked through. GS was well below TBV earlier this year - an unusual condition - but with the recent rally, the stock is more on par with historical valuations. In addition, shares are now at 11 times this year's earnings as analysts have frantically cut forecasts for this year and next year in the past couple of months. Goldman is expected to hit $14.77 but estimates range from $12 to $18 so it is anyone's guess. However, if we look at the conditions that caused GS' very weak Q1 and ask ourselves if they are likely to reoccur this year, the answer has to be 'no'.
The sheer panic that occurred earlier this year in a variety of markets was painful for GS as it needs calm, orderly markets to make its money. If its clients are scared, its revenue suffers and that is why Q1 was so ugly. Could it happen again? Sure, anything can happen. But the odds are in GS' favor for the rest of the year and with shares trading for their TBV, it seems the bar is still pretty low.
In addition, recent strength in the stock is encouraging from a technical perspective as the uptrend that led the stock off of its lows is gaining momentum even now. That's a very bullish shorter term sign that buyers are still interested and that means the current rally is probably not done yet. Over time I expect GS will move higher as investors realize the likelihood of a Q1 repeat is low but for now, I think the short term bias is up as well. While GS isn't a screaming buy like it was earlier this year, it is still a good value and I think there is more left in it.
Disclosure: I am/we are long GS.
I wrote this article myself, and it expresses my own opinions. I am not receiving compensation for it (other than from Seeking Alpha). I have no business relationship with any company whose stock is mentioned in this article.