Amazon standalone service...
Amazon (NASDAQ:AMZN) announced a standalone plan that costs $8.99/month, $1 below Netflix's (NASDAQ:NFLX) standard plan of $9.99/month. Netflix's basic plan of $7.99/month does not include access to high-definition content. Amazon's standalone offering is an attempt for the e-commerce juggernaut to step up its competition against Netflix.
Why the Amazon standalone service is a threat to Netflix...
Amazon's announcement of the standalone plan has been viewed as a "significant negative development" to Netflix.
"Amazon's move represents a "significant negative development" for Netflix, says Mark Mahaney, analyst with RBC Capital Markets. Along with a lower price point, Amazon will offer access to 4K content, while Netflix offers Ultra HD programming through its $11.99 Premium plan. Mahaney says both factors could place pressure on Netflix to convert subscribers to pricier plans... Amazon certainly has the brand name, the customer relationships, and the focus on high-quality consumer experiences to impact the growth in Netflix's U.S. subscriber base, and perhaps eventually its global subscriber base," he says." - USA Today.
This announcement has been widely interpreted as a huge threat to Netflix partly because of the pricing pressure it can create for Netflix. This is so because it coincides with Netflix's planned price increases. Netflix announced in October of last year that its new $10 rate was going to take effect by May. But the company said it will now roll out the price hike gradually over the course of 2016. A strategy Netflix is calling "un-grandfathering." As a result, the new price increase makes Amazon's Prime Video competitive to Netflix because it is cheaper.
In addition to pricing pressure, Netflix is also facing a catalog shrinkage issue. According to a report on AllFlicks, a website that lists and categorizes Netflix content, the streaming service's library for American subscribers has shrunk by a third since 2014.
"The statistics are simple and remarkable: in January of 2014, Netflix offered its US-based users a selection of 6,494 movies and 1,609 TV shows, for a total of 8,103 titles. As of March 23, 2016, they offer just 4,335 movies and 1,197 TV shows - 5,532 titles in total. That's 2,571 fewer titles. In other words, Netflix's catalog has shrunk 31.7% in less than two and a half years!" - AllFlicks.
(Source: AllFlicks - Netflix's US Catalog Has Shrunk by More Than 2,500 Titles in Less Than 2.5 Years)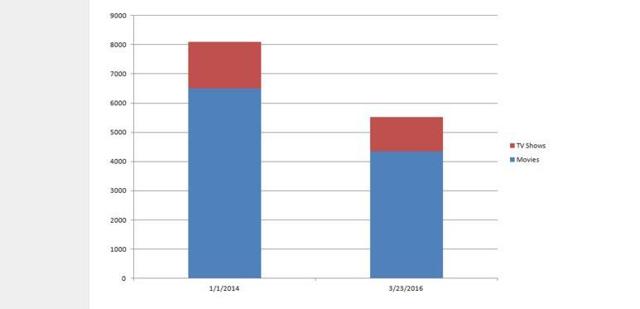 This shrinkage implies that Netflix's competitors might have a chance to decelerate Netflix's subscriber growth rate. This ties back to the pricing pressure mentioned earlier because it creates another threat that Netflix's subscribers will deflect from Netflix after the price hike given that its U.S. catalog has shrunk by more than 2,500 titles in less than 2.5 years. Meaning that Netflix's customers have few choices of movies to choose from.
This is crucial for Netflix because Amazon Video Prime is not the only competitor in town. Other rivals like Hulu are also backed by highly capitalized owners (Hulu LLC is a joint venture of The Walt Disney Company (NYSE:DIS), 21st Century Fox (NASDAQ:FOX) and Comcast (NASDAQ:CMCSA)). This increases acquisition costs for great content because producers suddenly have a growing number of well-capitalized bidders who want great, high-quality content.
Why the Amazon standalone service might not be a threat to Netflix...
The Amazon Prime Video might not be as serious a threat to Netflix because the market has room for more than one competitor. But besides having room for multiple dominant players, the video streaming market is essentially a battle of good value proposition.
Value proposition is critical for success in the streaming business. People do not go to Netflix because it is the biggest player in town but because there is content that is engaging, educational or entertaining for them.
This is where Netflix becomes a crucial player. Netflix is aggressively creating compelling value for customers by investing an insane amount of money on content creation. For instance, Netflix is planning to have 600 hours of original programming in 2016, and Netflix's chief content officer was quoted saying, "We're going to spend in 2016 about $5 billion on content on a P&L basis, which means about $6 billion in cash."
"Is there too much TV?" Sarandos asked, then coyly added, "I'll pause for a second," knowing reporters would want to get this next part: "We don't think there's too much TV. And if there is too much TV, someone else is going to have to slow down, because we have big plans for 2016 and beyond." - Ted Sarandos, Netflix's Chief Content Officer, during the Television Critics Association's press tour in Pasadena. Taken from the article, "Netflix to spend $6 billion on content this year. Six. Billion", by James Hibberd.
600 hours is a lot! Considering that Netflix's competitors are also investing heavily on original content, it is natural to ask the question, is there such a thing as "too much TV?"
The question "is there too much TV?" was in response to FX Chief John Landgraf who said that "there is too much TV... with more than 400 scripted shows in 2015" and that "2016 or 2017 will represent peak TV in America, and then we will see a decline."
This question is acute because it makes us re-examine our perception of what content is. Take pharmaceuticals companies for example, they invest in R&D or acquisitions to create or buy products that will create FCF. Netflix's investments in content are like that. Content is an asset for Netflix that will enable the company to create value now and in the future. Content is the product Netflix sells. Great content is good for customer retention, penetrating into new markets and for revenue growth, implying that the number of players in the video streaming business is irrelevant; what is relevant is the number of companies creating great, compelling content that people love.
Conclusion
The Amazon or Hulu competition is not new. Skinny bundles have a connotation of choice, giving consumers the freedom to choose which content they want to pay for. Streaming services are part of the choices people can choose from. Hence, there is a market for multiple players.
It is a market that can sustain multiple players because whoever creates high-quality and valuable content that resonates with a mass market will dominate the market. This is why the effect of the Amazon standalone service should not be blown out of proportion.
Therefore, investing in a portfolio of high-quality original content ensures that there is something for everyone. As long as Netflix continues to create and acquire high-quality content that consumers love, new entrants to the video streaming market will have less effect on the company. Content creation and content acquisition enables Netflix to resonate with a diverse range of users, retain old customers and keep acquiring new ones.
Disclosure: I/we have no positions in any stocks mentioned, and no plans to initiate any positions within the next 72 hours.
I wrote this article myself, and it expresses my own opinions. I am not receiving compensation for it (other than from Seeking Alpha). I have no business relationship with any company whose stock is mentioned in this article.