Lipocine (NASDAQ:LPCN) and Antares Pharma (NASDAQ:ATRS) are on a trajectory for a head-on collision. Lipocine's lead product candidate is an oral testosterone undecanoate pill dosed twice daily, referred to as LPCN 1021. It is currently under FDA review with a PDUFA goal date of June 28, 2016. Meanwhile, Antares is finishing up the Phase 3 clinical work on its QuickShot Testosterone ((QS-T)) product, which is a once weekly, patient administered subcutaneous Auto-Injector (AI) of testosterone enanthate. Antares expects to file the NDA for QS-T in 2H 2016. Both products will attempt to take market share in the $2B testosterone replacement therapy (TRT) drug class.
Additionally, Lipocine is in Phase 2 for both its once daily oral T pill (LPCN 1111) and its oral pill for the prevention of preterm birth (LPCN 1107).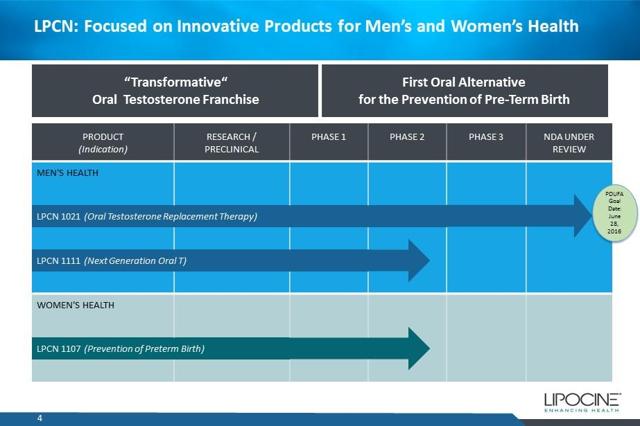 Click to enlarge
Source: Lipocine April 2016 Presentation
Antares is partnered with AMAG Pharma (NASDAQ:AMAG) for development of an AI to be used with Makena, which is indicated for the prevention of preterm birth.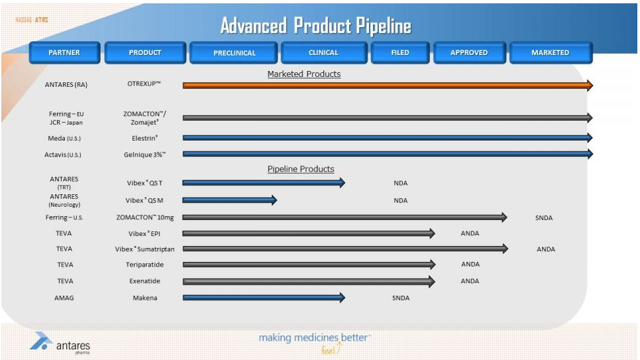 Click to enlarge
Source: Antares Website
Although Antares has other products that will not compete with Lipocine, the fate of each company will be impacted by the success and failures of the other. The focus of this article is to discern how closely the two companies' futures will be entangled.
TRT Product Comparison
With Lipocine essentially having a 1 year lead with LPCN 1021, it will be interesting to watch how the market reacts to developments as they unfold. For instance, will FDA approval of LPCN 1021 also boost Antares stock, since it can be interpreted that the FDA hasn't set the barrier too high for new TRT products? Or will the market send Antares' stock down as Lipocine could be seen as a formidable competitor?
Lipocine has indicated that the FDA will not convene an Adcom for LPCN 1021. Given that the FDA held/scheduled an Adcom for both Clarus' and Repos' (NASDAQ:RPRX) oral T pills, my assumption is that the efficacy and risk/benefit will not be a barrier to approval for Lipocine. So if the FDA issues a CRL, will the market send Antares' stock up on potential for less competition, or down if it's assumed that Antares could suffer the same fate with QS-T (remember that the contents of a CRL are only disclosed as much as the sponsor wants; a manufacturing correction could have no impact on competitors, although the market may not know this).
Additionally, the whole marketing aspect is up in the air. It would be a huge task for either company to hire a large sales force and try to market their products by themselves (much less raise the capital for this in the current environment), so each company has ostensibly started discussions with potential partners. So what deal Lipocine is able to strike with a marketing partner will likely set the tone for what the market will expect for Antares. And make no bones about it; Antares QS-T is certainly the superior product. Per the Lipocine press release for its food effect study, LPCN 1021 must be taken with quite a bit of food (800 - 1,000 calories), even if the fat content isn't a differentiating factor:
Administration of LPCN 1021 under fasted conditions resulted in significant reduction in bioavailability.
This means that in order for the drug to be efficacious, a typical person's entire daily caloric intake must be consumed just to administer LPCN properly. And looking into the data from the Phase 3 trial, compliance certainly appears to be an issue.
Out of the 210 patients originally randomized to LPCN 1021, 193 were considered to be in the "analysis" group (which was defined as at least 1 post baseline efficacy visit), and only 151 were considered in the final "efficacy" population (which was defined as no significant protocol violations). This means that 28% of the trial participants were not considered as part of the final "efficacy" population; this isn't necessarily the drop-out rate, but still a surprisingly large number in my book. Additionally, 3.3% of the trial participants were non-responders, which meant the Cavg was less than 300 ng/dL at the highest 300 mg dose.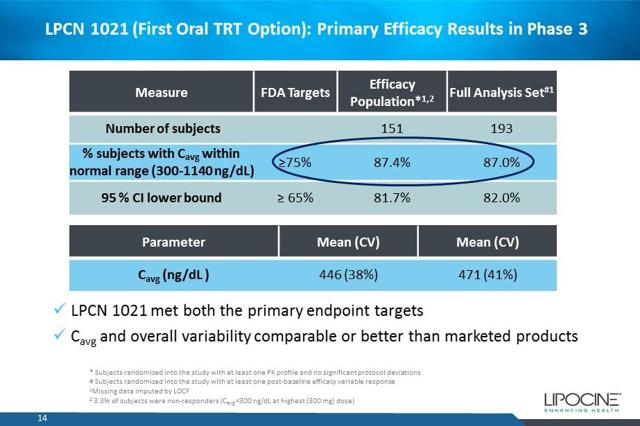 Click to enlarge
Source: Lipocine April 2016 Presentation
Comparing that with Antares QS-T Phase 3 trial, only 13 out of the original 150 patients did not complete dosing (8.7%). And where LPCN 1021 failed to meet secondary endpoints of greater than 85% of patients with Cmax < 1500 and no patients greater than Cmax >2500 ng/dL, Antares flew by without a blemish:

Click to enlarge
Source: Antares 2015 10-k
Ultimately, Lipocine appears to have the more attractive dosing option by being oral, whereas Antares has the efficacy advantage and will likely have better patient compliance. Since two 800-1,000 calorie meals are required with dosing of LPCN 1021, I wonder if its label will have some type of contraindication for patients attempting to lose weight. This could potentially be a major issue, as evidenced by Lipocine's graphic in its April 2016 presentation that 34% of TRT patients suffer from obesity as a Co-morbidity: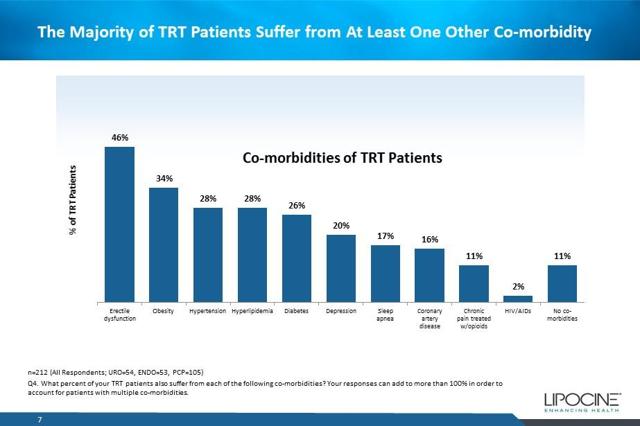 Click to enlarge
Antares QS-T, however, isn't completely out of the woods either. Both of its Phase 3 trials lacked an active control group, whereas Lipocine randomized 105 patients to Androgel 1.62% for safety assessment. I understand the rationale as to why Antares likely felt that an active control probably wasn't necessary (given the long history of data already compiled within the TRT class), but having the IM dosing as an active control for efficacy and safety would have only boosted the case for QS-T, would it not? Even if the additional recruitment would have added a few months to complete enrollment in the trial, having a direct control group would have helped eliminate any potential issues that may crop up during FDA review, at least in my opinion. It's just another case of questionable decision making from Antares management.
LPCN Patent Issue
To complicate matters even more, Lipocine has been sued for patent infringement by Clarus Therapeutics. According to Lipocine's 10-k:
On May 15, 2015, we filed a patent application with U.S. Patent and Trademark Office ("PTO"), and our application requests that the PTO declare an interference between our patent application and Clarus Therapeutics' U.S. Patent No. 8,828,428 ("the '428 patent"). In the request for an interference, known as a "Suggestion of Interference", we asked the PTO for a determination that our pending patent application has priority over Clarus' patent, and that the U.S. Patent Office should instead grant a patent to us. In this case we have asserted that we are the senior party, and thus entitled to priority over the Clarus' 428 patent. Pursuant to Lipocine's request, on December 4,2015, the Patent Trial and Appeal Board ("PTAB") declared an interference between the Clarus '428 patent and Lipocine's application to determine, as between Clarus and Lipocine, who was the first to invent the subject matter of the claimed invention. Lipocine was declared the Senior Party in the interference, by virtue of its earlier accorded benefit date, and Clarus was declared the Junior Party. As Senior Party, Lipocine has certain procedural benefits. The claimed invention relates to an orally delivered testosterone undecanoate composition. Preliminary motions must be filed by March 4, 2016, oppositions to those motions are due by May 9, 2016, and replies are due by June 20, 2016. Oral argument is scheduled for September 9, 2016.

On November 2, 2015, Clarus filed a complaint against us in the United States District Court for the District of Delaware alleging that LPCN 1021 will infringe the Clarus' 428 patent, and the complaint seeks damages, declaratory and injunctive relief. We intend to vigorously defend against these allegations and on January 5, 2016 we filed a motion to dismiss this complaint with the court.
With replies to preliminary motions due by June 20, 2016 - a mere 8 days before the PDUFA date - Lipocine will be mired in a court fight that will surely have Clarus seeking for large royalties if an injunction isn't granted. This alone adds a bunch of uncertainty, but it particularly compounds if you're looking for a partner.
So if you're a potential marketing partner, such as maybe an Abbvie (NYSE:ABBV), Endo (NASDAQ:ENDP) or Eli Lilly (NYSE:LLY), you're certainly going to be weighing your options and picking judiciously. This means that if Lipocine or Antares appears to be the better partner after due diligence (if either), then it may take the preferred partnership to get sealed before the other moves forward; unless, of course, either company is just that desperate to get something done and is willing to accept a partnership with less attractive terms.
Positioning Within TRT Class
Another part of the puzzle is how each drug would potentially fit within the TRT prescribing framework. With the gels now generic, both Lipocine and Antares would basically compete with just generics. The gels carry a black box warning about transference, whereas injectables typically require a visit to an office for a nurse to perform the injection. Therefore, both new drugs would appear to fill an unmet need with a patient administered product without the transference concern.
So now the question becomes how the payors (insurance companies) would view the products. With all the recent campaign rhetoric about drug costs and with PBMs becoming more aggressive about pricing/coverage, will any new branded TRT drugs have step edits or other difficulties in getting "first line" status?
Given the black box warning about transference with the gels, I have a hard time imagining that a generic gel would be required first. I mean, would a patient really have to document a transference concern, such as being married or having kids/grandkids, to bypass that step (if any reader knows of a requirement like this on another drug please leave a comment below).
For the injectables, the office visit just to have the injection is a nuisance, not to mention the additional fees that come with it. So while the doctors/practices currently making a large profit on TRT injections will certainly fight to keep market share, I don't see it being a hindrance from the PBM perspective. Recent prescribing trends in TRx appear to back this up as well, as the injectables are continuing to gain market share even as the gels go generic: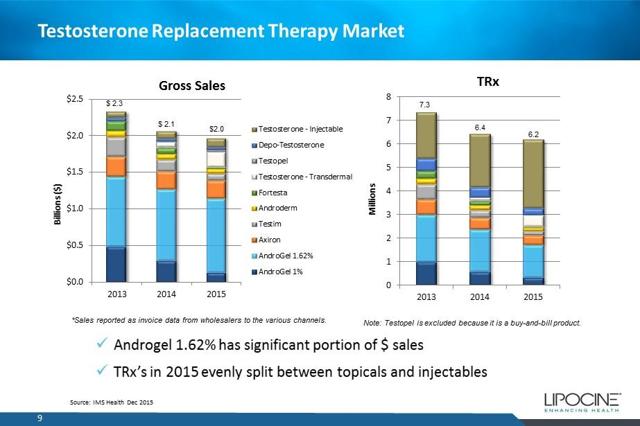 Click to enlarge
Source: Lipocine April 2016 Presentation
So what does my crystal ball say about how this will play out? Lipocine will have a difficult time finding a marketing partner with decent terms, especially if they're required to give up rights to LPCN 1111 (once daily pill for TRT) and/or LPCN 1107 (prevention of preterm birth). As a minimum, I would expect a potential partner to want the patent issue with Clarus resolved, which could potentially delay product launch. Clarus is obviously well aware of the situation, and is likely willing to let the patent fight drag out as long as it need be to get the best deal (or until the complaint is dismissed).
This uncertainty may also indirectly impact Antares, as Antares may want to see how PBMs position LPCN 1021 in its drug plans before making marketing decisions. But the irony with this is that PBMs also know that QS-T may be hitting the market about one year later, and may defer putting LPCN 1021 into a better tier or preferred status until that point. No matter what happens, it will certainly be an interesting 12-18 months watching this play out.
Takeaway
Lipocine and Antares investors will be keeping a close eye on each other. The TRT space is big enough for both companies to succeed, although compliance issues may be a hurdle for Lipocine to overcome. And with the recent campaign rhetoric and tactics of PBMs to control prescription drug spending, both Lipocine and Antares may need to sacrifice on price in order to gain market share. With superior efficacy and easier compliance, I give the early edge to Antares' QS-T, but how will the market react as events unfold? Keep the popcorn ready.
Disclosure: I am/we are long ATRS.
I wrote this article myself, and it expresses my own opinions. I am not receiving compensation for it (other than from Seeking Alpha). I have no business relationship with any company whose stock is mentioned in this article.
Editor's Note: This article covers one or more stocks trading at less than $1 per share and/or with less than a $100 million market cap. Please be aware of the risks associated with these stocks.