After reaching a 10-month low, the US dollar (NYSEARCA:UUP) saw a modest rebound overnight, rising for the first time in four days, triggered by a sharp 5% fall in China's Shenzhen index following comments by PBOC chief economist Ma suggesting a moderation in providing further monetary stimulus. Leaving short-term corrective activity aside, USD should remain under selling pressure for now, with lower US real yields leading the way.
Over recent weeks, market-priced inflation differentials have diverged, with the dovish Fed weakening USD and pushing commodity prices higher, allowing US inflation expectations to recover, while inflation expectations in Europe and Japan have remained subdued. As long as nominal bond yields stay low, it's the diverging inflation trend and its impact on real yields that drives FX.

When the US was seeing capital inflows expressed by a higher USD, the evolution of US yields would probably tell you more about the strength of the global rather than the US economy. Nonetheless, with the Fed no longer adding to its balance sheet and capital inflows ceasing, the US bond market yield may now act as a better indicator of US economic activity. When the demand for capital (investment) relative to the supply of capital (savings) rises then bond yields should move higher.
Currently low nominal bond yields suggest that there is little momentum within the US economy as confirmed by weak housing market data yesterday. The IMF has suggested that EM weakness emphasized in the second half of last year impacted the US economy going beyond the traditional FX and trade transmission. DM portfolio and banking sector exposure of EM economies exceeded 13% of DM GDP and, with EM assets depreciating, it may have been no coincidence to see US lending conditions tightening at the same time.
In this respect, the Fed's broadening of its reaction function, looking also at financial conditions, seems justified. With this move the Fed has widened its wings, becoming more international. In short, the Fed's new reaction function has 'globalized EM risk premiums'.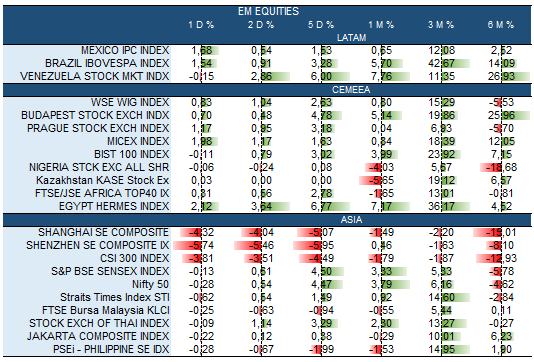 When risk premiums rise and weaken financial conditions, the Fed may come to the rescue. Accordingly, the Fed has provided an EM safety net, and this safety net should remain in place as long as the Fed can afford this policy approach. Should the US develop evidence of getting nearer to closing its output gap, the Fed may have to de-emphasize its currently more international approach, when EM risk premiums will likely rise again and EM currencies will likely come under selling pressure. Until that day, I expect the backdrop for EM currencies to remain benign in the near term with data in Asia continuing to come in higher than expectations amid ongoing softness in the US.
In order to get the timing right to participate in USD weakening requires a closer look at the US Treasury market. Rising bond yields within a non-US QE and international capital inflow environment may indicate a better US economy, seeing its savings declining and its capital demand increasing. Ultimately, the better economy would put the next Fed rate hike back on the agenda then, setting the turning point for USD. The problem is that bond yields have stayed offered so far, which is consistent with a sluggish US economy, indicating further USD weakness.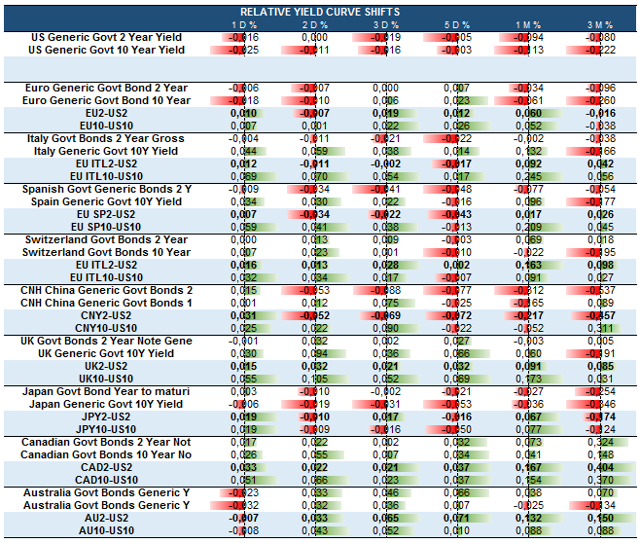 A broad further pullback in the dollar and solid rise in oil prices pressured Treasury yields slightly higher Tuesday, as much worse than expected housing starts added to data not showing much momentum for a significant pickup in growth in Q2 after the sluggish Q4 and Q1. All of the small losses in nominal Treasuries that peaked at 2.5 bp came in higher inflation breakevens.
Real yields fell and TIPS had their first day of solid outperformance in three weeks since the initial reaction to Chair Yellen's speech to the Economic Club of New York. Starts fell 9% in March, which didn't much impact the outlook for Q1 growth but was negative for Q2. We still see Q1 GDP gaining 0.7%, more than half of which is expected to be accounted for by a 12% rise in residential investment, but the weakness in starts points to slower housing activity in Q2.
The weak U.S. growth backdrop continuing into the spring and likely pullback in core inflation in March won't provide any impetus for the Fed to shift back into tightening mode soon. That backdrop along with the recent signs of improvement in China's growth supported a significant further drop in the dollar, which along with gains in equities and credit and lower real yields within the small nominal backup made for good further easing back in financial conditions.
The Fed's broad trade-weighted dollar index was at 119.7 on Friday, down 5% from the most recent fourteen-year high hit in January after hitting a six-month low of 119.3 last Tuesday. We estimate it's now down to a new six-month low of 118.9, 6% from the peak after falling 0.5% Tuesday. The Fed's index has 26 components, 23 of which aren't currently fixed against the dollar, and the dollar weakened against 21 of those, the only exceptions being strengthening against the Japanese yen from a bit below to a bit above 109, an additional positive global development, and against the Argentine peso amid large issuance flows.
The weaker dollar helped convince investors to quickly set aside, at least for now, disappointment with the Doha talks failure, and May WTI oil rose $1.30 a barrel, +3.3%, to $41.08, somewhat below the pre-Doha peak close for the year of $42.17 hit a week ago, but up from Friday's $40.36 close and well above the intraday low of $37.61 hit overnight Monday.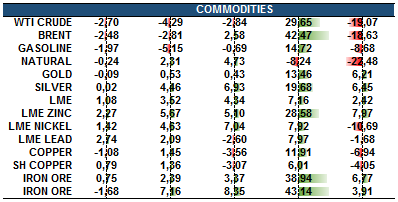 There was also good upside in base metals prices, which are typically sensitive to sentiment about China growth, with the LME's composite gauge gaining 1.8% to a level less than 1% below the high since October hit March 4. That carried over to good upside in the energy (+1.9%) and materials (+2.1%) sectors of the S&P 500, but the overall market only managed a 0.3% rally -- still enough to set a new high close since November -- as weak earnings results hit tech (-0.6%) and consumer discretionary (-0.5%). Energy and mining company gains were more impactful in credit, and the IG CDX index tightened a comparatively stronger further 2 bp to 76 bp, nearly back to the best level since last summer hit a few weeks ago.

Treasury market losses on the other side of that were small and all in a resumed rebound in depressed inflation expectations. At 3:00, the 2-year yield was up 1 bp to 0.76%, 3-year 2 bp to 0.92%, 5-year 2.5 bp to 1.25%, 7-year 2 bp to 1.56%, 10-year 1 bp to 1.78%, and 30-year 1 bp to 2.59%.
Our desk noted fast money selling in 10's and real money selling in 5's, and our swap desk saw the persistent paying they've been seeing from investors recently finally starting to outweigh receiving demand tied to bank debt issuance. On the other hand, there was good fast money demand for short-end inflation breakevens and continued real money real yield buying at the long end that supported a strong day for TIPS.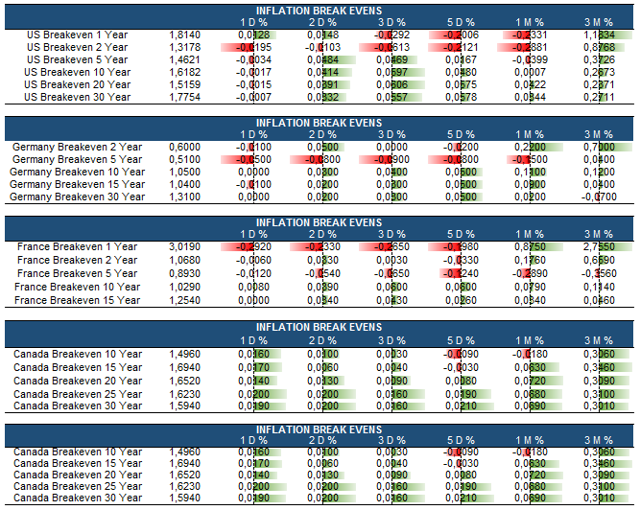 The 5-year TIPS yield fell 3 bp to -0.33%, 10-year 3 bp to 0.16%, and 30-year 2 bp to 0.82%, boosting respective inflation breakevens by 5, 4, and 3 bp, the first meaningfully positive day for breakevens since March 30, a day after Chair Yellen's speech. At the close on March 30, the 10-year breakeven was at the high for the year of 1.65% calculated from the Fed's constant maturity yield figures after rebounding from the extremely depressed low of 1.18% hit February 11.
Subsequently it pulled back and stalled out at 1.56%-1.57% at the close of the last six trading sessions before Tuesday's rise to 1.60%. The Fed staff's 5-year/5-year forward gauge was last reported at 1.57% as of Friday, up from a February record low 1.34% but off the late March high of 1.64%. It should be near 1.61% now based on market moves the past two days.
That's still, of course, far away from being consistent with a 2% inflation target in PCE terms. Futures market pricing of the Fed rate outlook shifted a little less pessimistic over the next couple years in eurodollar futures losses that peaked at 4 bp in the Dec 17 to Sep 18 contracts. Near term, conviction is still high that nothing's going to come out of next week's FOMC meeting suggesting a June rate hike is under serious consideration, with July fed funds at 0.41% after losing 0.5 bp only pricing 4 bp of tightening through June. The first fed funds contract that fully prices in one 25 bp rate hike shifted in a couple months, though, from August to June 2017, and a 4 bp loss in the Jan19 contract to 0.98% is now almost pricing 2.5 total hikes through the end of 2018.
Housing starts were a lot weaker than expected, pointing to much slower growth in homebuilding activity in coming months after a strong Q1. Starts fell 8.8% in March to a five-month low of 1.089 million. Single-family starts looked unsustainably strong compared to the pace of sales after surging 9.1% in February to a cycle high, so a 9.2% drop in March to 764,000 was bigger than we expected but not surprising.
Persistent recent weakness in previously soaring multi-family starts, with a 7.9% drop in March to a 13-month low of 325,000 has been more surprising but not out of line with more cautious industry outlooks for slower rent gains and rising vacancy rates as a lot of apartment supply remains in the pipeline.
Disclosure: I/we have no positions in any stocks mentioned, and no plans to initiate any positions within the next 72 hours.
I wrote this article myself, and it expresses my own opinions. I am not receiving compensation for it (other than from Seeking Alpha). I have no business relationship with any company whose stock is mentioned in this article.