Click to enlarge
We have been invested in Square (NYSE:SQ) since it suffered a sharp sell-off during the market turmoil at the end of January. Despite the incredible 60% gain we still believe there could be more to come for shareholders. For this reason, we continue to resist calls to sell and plan on holding on for the foreseeable future.
As you can see below, the share price has been on a tear since the start of February. Although it has dropped a touch after being downgraded by BTIG, we still significant gains ahead for anyone investing at this point.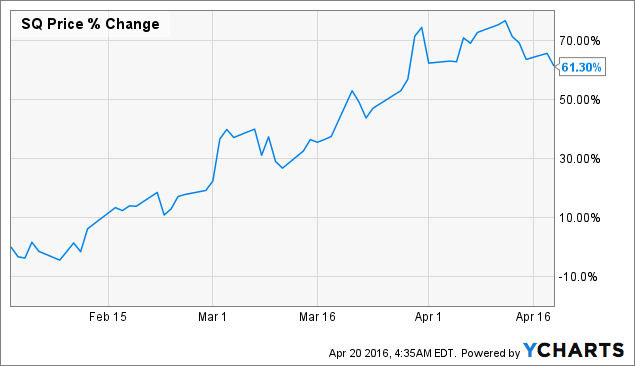 The downgrade by BTIG was related to share price reaching what they deemed to be fair value. But they did acknowledge that the company is well-positioned for sustained growth and profitability, which is something we completely agree with.
Square is one of those companies that is hard not to love. The technology, software, CEO, and the way it helps small businesses start and flourish is simply brilliant. We are not alone, it does appear that small business owners are in love with Square too.
Which is exactly what the company wants. For us, small businesses are the lifeblood of Square. The good news is that technology is making starting a business so much easier than ever, with the costs to start-up much lower now than around 10 years ago. Which could go some way to explaining why there has been a rise in new small businesses.
Small business activity increases at last
After six years of declines small business activity in the United States picked up at long last last year according to the Kauffman Index. The report shows a small increase in small business ownership to 6 percent, but the density of small business grew to an all-time high of 1,006.6 companies per 100,000 people. This is equal to 3.16 million businesses. The research shows that the main driver of this growth is an increase in micro-enterprises, which employ less than 10 employees. These are exactly the businesses which we feel Square's payment solutions are perfect for.
We see this as very encouraging. The percentage of small business ownership has dropped significantly from the 7.6 percent level it was at in 1996. Admittedly, it may be too soon to claim this small increase of a couple of percentage points is a sign we have hit the bottom, but it is definitely a very positive step forward.
Square is more than just a payment processor
Square does provide small businesses with so much more than just a payment processor. The recent integration with Facebook ads (NASDAQ:FB) is a great initiative and also a potentially lucrative revenue stream. We feel most owners will want their sales data and ads management in one place, so this is great for them. Additionally, opening up its API to developers is definitely the right move. We feel Square is an incredibly innovative company, but necessity is the mother of invention. Every day there will potentially be little features that users need in order to make their business run that little bit more efficiently. This should allow for that, enhancing the overall experience and hopefully boosting sales which is a win for both the small business and Square.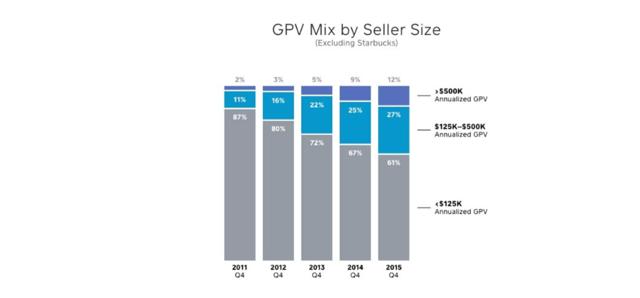 Click to enlarge
Sourced from Square 10K
As you can see above, we believe that although small businesses with less than $125,000 of sales is still the core business. It is attracting larger businesses to its platform. The table above, which excludes Starbucks (NASDAQ:SBUX), shows that its GPV Mix by seller size has seen a distinct rise in the $500,000+ category. This should be viewed very positively, especially if the trend continues in the current fiscal year.
Trusting in Jack Dorsey
Another thing that attracts us to Square is its founder and CEO Jack Dorsey. As a well-known and respected entrepreneur himself we feel small business owners are inspired and motivated by what he has achieved. Just last week he visited Australia to visit early adopters of the Square platform. This connection with the company's customers sets it apart from Paypal (NASDAQ:PYPL), in our opinion, who also compete in the same space.
As a CEO, even with divided responsibilities we feel he has what it takes to take Square to the next level. Which is what investors will be expecting considering it has yet to turn a profit. But we are sure that is coming in the next fiscal year.
The company will be in profit soon
Like the market consensus, we too are expecting a loss this year. Currently analysts are expecting a loss of 23 cents per share, with a 9 cents per share loss expected when the company announces its first quarter earnings in a couple of weeks. But we differ from the consensus next year. Currently the market sees the company delivering a loss of 3 cents per share, but we think with the help of growth in small businesses the company will burst into profit of at least 10 cents per share.
Should the company start making profit earlier than the market expects, we imagine there will be a lot of buying pressure on the shares. This will undoubtedly drive the share price up even higher and through the $20.00 mark. In our opinion it is a good time to be a shareholder of Square, and we hold on regardless of the gains we have made so far.
Best of luck with your investments!
Disclosure: I am/we are long SQ.
I wrote this article myself, and it expresses my own opinions. I am not receiving compensation for it (other than from Seeking Alpha). I have no business relationship with any company whose stock is mentioned in this article.