For FuelCell Energy (NASDAQ:FCEL), 2016 has turned out to be a very good year so far with shares appreciating over 35%. This is despite the fact that around a month ago, FuelCell Energy posted weak first-quarter results, missing estimated by really big margins on both earnings and revenue. But, despite the post-earnings crash, FuelCell shares have started gaining momentum once again, which is not surprising given the margin enhancement moves being undertaken by the company.
As such, in this article, we will take a closer look at the moves being adopted by FuelCell Energy to enhance its financial performance, and why the stock looks set for strong gains in the long run.
Making progress in key areas
Last quarter, FuelCell had reported a decline in its earnings and revenue due to a weaker revenue mix. Last year, the company's top and bottom lines were driven by the sales of entire power plants, which resulted in a higher top line and better margins. In comparison, last quarter, FuelCell's revenue mix comprised of net electricity sales, as a result of which its financials took a hit. The following chart shows the decline in FuelCell's gross margin of late: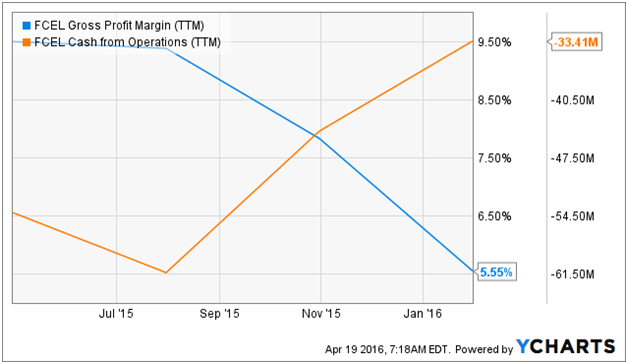 However, going forward, it is likely that FuelCell will be able to improve its gross margin profile as it is changing the business strategy to deliver better gross margins. A look at the following chart clearly indicates how FuelCell's changing business strategy will impact its margins: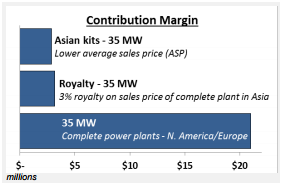 Source: FuelCell Energy
As seen above, FuelCell's sale of kits in Asia for 35MW power plants has a very low contribution margin of less than $5. Similarly, the contribution margin that it gets as royalty from completed power plants sold in Asia is also quite less. In comparison, FuelCell's 35MW power plants completed in North America and Europe have a way higher contribution margin of over $20.
Therefore, the company has decided that it will now focus more on selling entire power plants in order to generate higher contribution margins. As a result, FuelCell Energy has decided to retain projects in a selective manner so that it can sell them on at a higher value going forward, therefore leading to a higher payoff in terms of both revenue and margins. Thus, it won't be surprising if FuelCell Energy manages to improve its margin profile going forward due to the reasons mentioned above.
Focus on improving the cash flow profile
As seen in the first chart given in the article, FuelCell has been able to improve its operating cash flow of late and has moved it closer to positive territory. In fact, from a negative operating cash flow of $61.5 million at the end of July last year, FuelCell Energy has managed to bring the operating cash flow to a negative $33.4 million at the end of January.
The improvement in the company's cash flow is a result of its focus on shifting the revenue mix toward more profitable areas. For instance, as shown in the charts given below, FuelCell Energy has increased the component of service backlog in its overall portfolio.

Click to enlarge
Source: FuelCell Energy
As shown above, FuelCell has illustrated an attractive sequential and year-over-year increase in both its services and advanced technologies backlog, while reducing the product backlog at the same time. This is because FuelCell is shifting toward growing its services and advanced technologies segments since these require low costs and carry higher margins. As such, FuelCell does not have to manufacture much product now as it is focused on delivering services that carry lower overheads due to no production costs.
More specifically, the company has a service backlog of $303 million, while the product backlog is a measly $66 million. Now, this level of service backlog is almost twice the revenue of $163 million made by FuelCell Energy in the last four quarters, which indicates that it will see an improvement in margin along with the top line going forward.
Also, as seen in the chart above, FuelCell has increased the quantum of long-term project assets and completed plants in its inventory. This indicates that the company is retaining projects so that it can sell them on at a later date for a higher price, thereby generating higher cash flow. Moreover, the continued reduction in the company's work-in-process inventory is in line with its focus on increasing completed projects held for sale, as this will allow it to generate stronger revenue and margins in the long run.
Conclusion
Due to FuelCell Energy's focus on improving its business in the right areas, the stock has gained impressive momentum this year despite a weaker-than-expected performance last quarter. The company is now following a smart business strategy to improve its contribution margins, which is why investors should remain long FuelCell Energy shares.
Disclosure: I/we have no positions in any stocks mentioned, and no plans to initiate any positions within the next 72 hours.
I wrote this article myself, and it expresses my own opinions. I am not receiving compensation for it (other than from Seeking Alpha). I have no business relationship with any company whose stock is mentioned in this article.