Thus far in the 21st century, the rise of biologic drugs[i] has been a major theme in the global pharmaceutical industry. According to IMS Health, global biologic sales increased from nearly $46 billion in 2002 to $160 billion in 2012 with expected sales in 2017 of $221 billion (20% of total global pharmaceuticals sales). The rise of biologics has coincided with increasing healthcare costs on governments worldwide. On average, biologic drugs are 22 times more expensive than traditional drugs, and it is expected that biologics will account for 50% of US prescription drug expenditures by 2018. As a result, regulatory authorities are focused on containing spiraling healthcare costs and capturing a "generic drug" savings premium, and have started laying the groundwork for generic biologics, generally called biosimilars. Unlike Europe and Japan, the US only adopted universal healthcare (via the Affordable Care Act, also known as Obamacare) in 2010, which explains the delay in establishing a regulatory pathway for approvals of biosimilars in the US. With the major US presidential candidates of both political parties publicly calling for controlling spiraling drug prices, biosimilar cost savings represent a very simple way to cut costs. According to various estimates, healthcare savings from the use of biosimilars range from $25 billion to $250 billion over the period 2014-2024.


As a result, biosimilars have become one of the fastest-growing segments of the global pharmaceutical sector. According to allied research projections, global sales of biosimilars are conservatively expected to rise from $2.5 billion in 2014 to $26.5 billion by 2020, reflecting an annualized growth rate of over 48%. A key trigger for the biosimilars growth is expected to come from the expiration of patent protection for blockbuster biologic drugs. According to estimates by EvaluatePharma, biologics with aggregate US sales of $79 billion will lose patent protection between 2013 and 2018.[ii]


The European Experience
Although a significant majority of EU members do not allow for the interchangeability of biosimilars with original biologics, biosimilars have still experienced reasonable success in Europe. If one categorizes biologics into broad categories, biosimilars have remained limited to EPO[iii] and GCSF[iv] products, but have still managed to capture nearly 25% of the EPO and 50% of the GCSF markets, by monthly volume, within the first seven years of launch. Overall, the adoption of biosimilars has been much slower than generics, which typically capture 90% of volumes with a few months of introduction. This can be attributed to the fact that biosimilars are typically sold at discounts of 15-25% vs. biologics compared to an average discount of 40% for traditional generics vs. their brand-name competition, as well as restrictions in the EU regarding the use of biosimilars as direct replacements for the original biologics.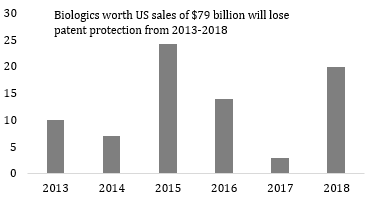 There does seem to be direct relationship between biosimilar adoption rates and pricing, as evidenced by the success of the biosimilar drug Remsima in the EU. At a global level Remsima, developed by Celltrion (068270:KOSDAQ), became the first approved biosimilar MAB[v] when it was approved by the European Medicines Agency (the EU equivalent of the FDA in the US) for sale in the EU. Remsima currently sells at nearly a 45% discount (70% in the case of some Nordic countries) to its brand-name biologic competitor Remicade, which has allowed it to capture big hospital drug mandates in Europe. Many European governments have commissioned studies focused on promoting the biosimilar replacement of Remicade among physicians, payers and patients. In fact, the impact of discounted pricing can be gauged by the fact that, according to Merck & Co. (NYSE:MRK), which has international marketing rights for Remicade, international sales for Remicade dropped by nearly 25% in 2015 on a YoY basis. According to analyst estimates, Remicade sales should keep dropping, and could drop 50% below 2014 levels by the end of 2017 (Source: Bloomberg).
Biosimilars in the US
The approval of biosimilars in the US could have a significant impact on industry dynamics, unlike in the EU, as US guidelines allow for the interchangeability of biosimilars with the original biologic. In addition, as the US currently accounts for more than 50% of biologic usage, large numbers of biosimilar approvals in the US is expected to create strong opportunities over the next five years. As an example of this, Zarxio, launched by Novartis (NYSE:NVS) in September 2015, became the first ever biosimilar to be launched in the US, and is selling at a 15% discount to its biologic competitor Neupogen. Together with Granix (sold by Teva (NYSE:TEVA) as a biosimilar to Neupogen), these two biosimilars had already taken 25% of Neupogen's market share in terms of volume by the end of 2015.
There also appears to be strong interest in the adoption of low-cost biosimilars by a key group in the US: doctors. In a recent survey of 150 doctors by InCrowd, 83% indicated a preference for a biosimilar in the event of a 25% discount to the biologic, and 33% indicated a preference for a biosimilar even if the discount was just 5%.
Despite strong interest and favorable political support in the US from presidential candidates, regulatory guidelines still lack clarity in terms of the biosimilar approval process. For example, Zarxio was approved by the FDA, but is still not interchangeable with its biologic reference drug. That said, it is expected that the biosimilar Remicade will be approved by the FDA this year and that the process will become clearer. If the FDA goes along these expectations, it would not only make biosimilars more mainstream and bring clarity to regulatory guidelines, but could also be extremely favorable to the biosimilar drug market due to the sheer size of the US drug market.
How to Invest in Biosimilars
The biosimilar drug segment is still growing and evolving, and there is no investable product that currently provides a pure-play exposure to the space. That said, leveraging its extensive research into the space, Indxx has developed the Indxx Global Generics & New Pharma Index to provide access to the companies in this industry. The index includes exchange-listed companies on a global basis that derive a significant proportion of their revenues (or that have the potential to derive a significant proportion of their revenues) from the generic drug industry, or that have a primary business focus on the generic drug industry. The products of these companies are pharmaceuticals that are identical, or bioequivalent in the dosage form, safety, strength, quality and intended usage to brand-name pharmaceuticals.
The index currently provides significant exposure to the biosimilar space, and pure-play biosimilar drug companies are nearly 15% of the total index weight. In addition, most generic drug companies (which are also included in the index) are focused on biosimilars as their next growth opportunity. The index is fairly representative of the global biosimilar opportunity, with nearly 10% of the index weight allocated to biosimilar companies based in South Korea, Japan, Taiwan and India. 14 of the 20 biosimilar companies in the index belong to these countries.
As of December 31, 2015, the index included 78 securities of companies with a minimum market capitalization of $1 billion and a weighted average market capitalization of nearly $14 billion.
Indxx has licensed the index to noted New York-based asset manager and ETF sponsor Van Eck Associates Corporation for their exclusive use, and Van Eck has launched an ETF tracking the index - the Market Vectors Generics Drug ETF (NASDAQ:GNRX).
---
[i] A biologic is a substance that is made from a living organism, or its products, and is used in the prevention, diagnosis, or treatment of cancer and other diseases. Biological drugs include antibodies, interleukins, and vaccines. Also called a biologic agent or a biological agent.
[ii] Generating value in generics: Finding the next 5 years of growth by McKinsey
[iii] Erythropoietin, also known as EPO, hematopoietin, or hemopoietin, is a glycoproteinhormone that controls erythropoiesis, or red blood cell production.
[iv] Granulocyte-colony stimulating factor (G-CSF or GCSF), also known as colony-stimulating factor 3 (CSF 3), is a glycoprotein that stimulates the bone marrow to produce granulocytes and stem cells and release them into the bloodstream.
[v] Monoclonal Anti Body. Antibodies that are produced by identical immune cells.
Disclosure: I/we have no positions in any stocks mentioned, and no plans to initiate any positions within the next 72 hours.
I wrote this article myself, and it expresses my own opinions. I am not receiving compensation for it. I have no business relationship with any company whose stock is mentioned in this article.