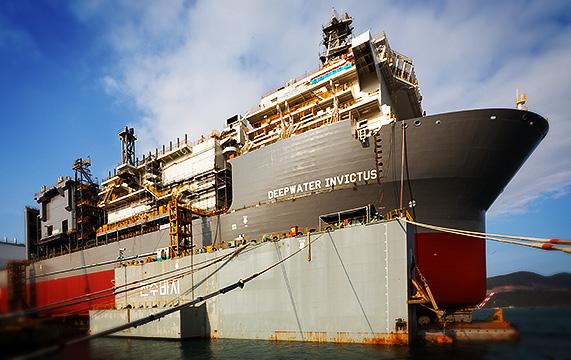 Image: The UDW Deepwater Invictus at the shipyard during construction. The rig arrived in the Gulf of Mexico in May 2014.
Today, Energyoffshoretoday announced the following:
BHP Billiton, the Australian conglomerate, will invest $2.7 billion in petroleum activities in 2016.

Around a half of the amount, $1.4 billion, will be spent on "high-return" infill drilling opportunities in the U.S. Gulf of Mexico and life extension projects at Bass Strait and North West Shelf in Australia. The remaining amount would be spent on the company's U.S. onshore operations.

The company's exploration program is focused in the deepwater Gulf of Mexico, the Caribbean and the Beagle subbasin off the coast of Western Australia where the company is pursuing Tier 1 oil plays.

BHP Billiton said that petroleum exploration expenditure for the nine months ended March 2016 was $390 million. However, the company is boosting its exploration budget, with $640 million exploration program now planned for the 2016 financial year.

The planned program will fund "additional access and testing of our future growth opportunities," BHP Billiton said in its operations update on Wednesday.
Commentary:
BHP Billiton (NYSE:BHP) is in many ways very similar to Freeport McMoRan (NYSE:FCX). When we look at the company website we read the following:
We are a leading global resources company. Our purpose is to create long-term shareholder value through the discovery, acquisition, development and marketing of natural resources.

We are among the world's largest producers of major commodities, including iron ore, metallurgical coal, copper and uranium, and have substantial interests in conventional and unconventional oil and gas and energy coal. Our unrivalled portfolio of high quality growth opportunities will ensure we continue to meet the changing needs of our customers and the resources demand of emerging economies at every stage of their growth.
However, while Freeport McMoRan gave up on the deepwater in the Gulf of Mexico and placed recently three UDW rigs on special standby owned by Noble Corporation (NYSE:NE) - The UDW Noble Sam Croftand the UDW Noble Tom Madden - and Rowan Companies (NYSE:RDC) TheUDW Rowan Relentless, while the company is selling its oil and gas assets at a steep discount. BHP Billiton, CEO Andrew Mackenzie said on Wednesday:
We have a pipeline of projects in copper and oil that allow us to bring high-margin volumes to market when the time is right. And as others cut back on exploration, our investment will go further and help create new options for the future.
Freeport McMoRan is not the only oil company that is cutting offshore expenditure in the Gulf of Mexico. BP is also backtracking significantly, and today, I commented on the West Capricorn owned by Seadrill Partners that has been placed on extended standby, with a loss of 112 jobs scheduled in May.
Thus, this news is quite a good news in a sea of troubles, and I am glad I was able to comment on this exciting news. Can we qualify it as a "green shoot"?
Unfortunately, in the same article, BHP Billiton is indicated:
The company in March drilled Shenzi North-ST3 offshore well, in the U.S. Gulf of Mexico, using the Deepwater Invictus drillship. According to its operational update, the well encountered hydrocarbons, and was plugged and abandoned. BHP did not reveal further details on the amount or the kind of hydrocarbons encountered. The well was targeting oil.
BHP Billiton operates two fields in the Gulf of Mexico Shenzi and Neptune, and holds non-operating interests in three other fields.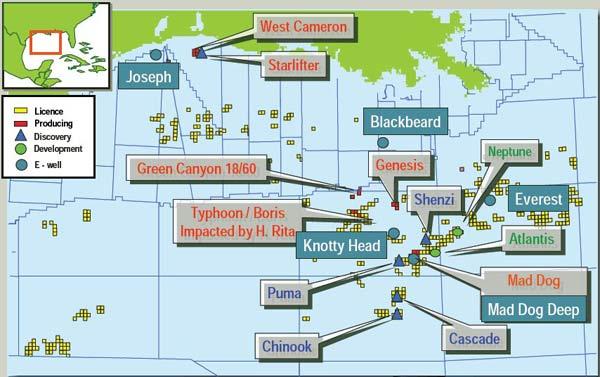 See article in Offshore-technology.com
BHP Billiton's deepwater Shenzi oil and gas field lies in the Gulf of Mexico in Green Canyon blocks 609, 610, 653, and 654, approximately 120 miles from the coast of Louisiana, US. It has a water depth of approximately 1,311m (4,300ft). BHP Billiton is the operator of the field, with a 44% stake, while Repsol and Hess each have 28% stakes. Shenzi holds an estimated recoverable reserves of between 350 million and 400 million barrels of oil equivalent, although additional potential reserves will be targeted for follow-up development. Gross costs for the full field development until 2015 have been put at $4.4bn.
An opportunity for Transocean?
It is very early to be assertive on this difficult issue, however, with this positive momentum that we have experienced with the oil prices lately, we can imagine a positive trend for the tendering activity which has disappeared for the past two years.
If this trend is confirmed later it could be an opportunity for Transocean (NYSE:RIG), Seadrill (NYSE:SDRL), Pacific Drilling (NYSE:PACD), Noble (NYSE:NE) and a few other drillers that are or were involved in the Gulf of Mexico. However, It will take many months before better oil prices translate to a noticeable increase in deepwater tendering.
Many important projects in the Gulf have been put on hold due to the crash in oil prices, but it may be the right time, soon, to revive some long-term projects, such as the Stampede project for example. Stay tuned.
Disclosure: I am/we are long RIG.
I wrote this article myself, and it expresses my own opinions. I am not receiving compensation for it (other than from Seeking Alpha). I have no business relationship with any company whose stock is mentioned in this article.
Editor's Note: This article covers one or more stocks trading at less than $1 per share and/or with less than a $100 million market cap. Please be aware of the risks associated with these stocks.