Potential 25 percent upside in 2016 for GM
On April 16, Barron's reported that shares of General Motors (NYSE: GM) are poised for a substantial increase in 2016. The upside for the company is 25 percent. A key factor driving GM's upside is continued strong expected automobile sales. In the U.S., cars currently average 11-years-old and trucks average 13-years-old. This means a large number of vehicles will need to be replaced each year due to their ages.
In the first quarter, sales of new vehicles for GM were on pace to reach 17 million per year. Some investors are concerned about the sluggish economy in China and what they consider to be a potential slowing of the auto industry. Even if a slowdown happens, Barron's states sales should still plateau somewhere between 16.5 million and 17 million, and GM has said it would still be fine even if sales dipped to 11 million units per year.
GM still in a good position even with Ford's upside
Ford Motor Co. (NYSE: F) is similarly predicted to see surges in sales of up to 25 percent. Despite this, GM's position still appears strong. The company has turned its focus toward retail vehicle sales, which are more profitable than are fleet sales. While Ford's sales topped those of GM for the month of March, 40 percent of Ford's sales were to fleet buyers in less profitable transactions. Ford also is looking forward to a future involving its new subsidiary Ford Smart Mobility. While Ford's core business will still be on building and selling automobiles, its subsidiary is working toward the development of technology for use in vehicles as well as multiple modes of transportation other than vehicles. The company will be devoting some of its resources toward advancing technological developments with the idea that younger people are less likely to drive their own vehicles in the future and more likely to rely on services such as Uber (Private:UBER).
Recent results bode well
Trading of GM has been at 5.6 times its expected earnings for 2016. For 2015, the company reported $9.7 billion of net income. The company's earnings per share for 2015 rose by 65 percent to $5.02 when compared to 2014. Following Barron's report, share prices for GM rose with the expectation of the company's experiencing a surge for the year. As of market close on April 19, the price was up to $31.97.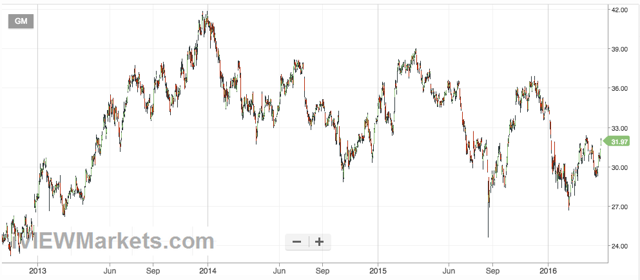 Click to enlarge
The company pays dividends to its investors that yield 4.9 percent. Even if the company's surge is not as high as expected, investors could still expect a strong return when combined with the dividends they receive.
Recommendation: Buying Opportunity For GM Stock Enthusiasts
General Motors' stock prices currently appear inexpensive. With the age of vehicles on the road, the fears of a downturn in the automobile market may be unfounded since so many cars will need to be replaced. Building on our prior thesis that GM has taken positive steps to address threats from ride-sharing companies and a competitive EV market, we strongly suggest investors consider initiating or adding to an existing position in GM at this time.
Disclosure: I/we have no positions in any stocks mentioned, and no plans to initiate any positions within the next 72 hours.
I wrote this article myself, and it expresses my own opinions. I am not receiving compensation for it (other than from Seeking Alpha). I have no business relationship with any company whose stock is mentioned in this article.