As industry followers wait eagerly for the end of the month and the much anticipated news from Delta Air Lines (NYSE: DAL) (the talk is an order for up to 125 CSeries) that could catapult Bombardier's (TSE: BBD.B) prospects, we decided to take a look at what the latter might do with a stretch of the CS300.
Take a look at some numbers.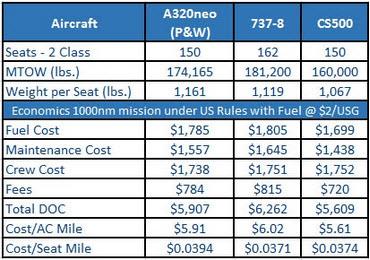 We are aware that Delta asked for a stretch back in 2011 during the last campaign. Indeed, British Airways (LN: IAG) and others also asked about this. As we can see at Airbus and Boeing, a family of three is the preferred solution. So since the CS300 is the base model, with a CS100 on the smaller side, it is not outlandish to consider a CS500. Besides what aircraft has Bombardier built that it has not stretched?
While Bombardier has not said anything about stretching the CS300, it is telling the firm has trademarked that name. Draw your own conclusions.
The table above demonstrates just how disruptive a potential CS500 might be. It would be over 8% lighter than the A320neo and nearly 12% lighter than the larger MAX. On a weight per seat basis, you can see our estimate for the CS500 makes it highly competitive. The last two row of numbers summarizes what such an aircraft could accomplish.
In the words of one fleet manager we spoke with, a CS500 could offer equivalent economics to the A321neo while being much smaller. A CS500 could be a really interesting don't you think?
There are two critical items for investors to consider;
Confirmation that Delta has ordered the aircraft. This will be a crucial endorsement the program needs to change momentum. The Air Canada order was good news. A Delta order would be great news, providing the program with sufficient orders to get more leasing firms to also place orders and thereby create market liquidity.
The next item will take longer to emerge. Once Bombardier has their CSeries program humming, watch for talk about a stretch to CS500. Such an aircraft will be disruptive to Airbus and Boeing, which is why Bombardier will not even discuss an idea like this now.
Disclosure: I/we have no positions in any stocks mentioned, and no plans to initiate any positions within the next 72 hours.
I wrote this article myself, and it expresses my own opinions. I am not receiving compensation for it (other than from Seeking Alpha). I have no business relationship with any company whose stock is mentioned in this article.
Editor's Note: This article discusses one or more securities that do not trade on a major U.S. exchange. Please be aware of the risks associated with these stocks.